Nevada rancher Cliven Bundy's war against federal officials may have suffered a racist meltdown of epic proportions, but his cause against government-controlled land is alive and well in the neighboring state of Utah.
In what the Denver Post has dubbed the next Bureau of Land Management showdown, a Utah county commissioner is trading in Nevada's horses for ATVs and urging fellow activists to illegally ride through a publicly owned 11-mile canyon on Saturday as a statement against federal "overreach."
"Our action is not aggressive or mean, it is purely defensive and intended to demonstrate that, despite heavy-handed federal action against us and our community, we still look to the BLM to respect the law and to follow their own rules and regulations which protect local interests and appropriately recognize State and County jurisdictional authority," said San Juan County Commissioner Phil Lyman, a conservative Republican.
Recapture Canyon, located near Blanding, Utah, was closed to motorized vehicles in 2007 to protect Native American ruins after officials discovered an illegally constructed trail that ran through 1,000-year-old ancestral Puebloan archaeological site. Violating the closure can cost a person up to a $1,000 fine and 12 months in jail.
But on Wednesday, Bundy's militia lent its voice to the cause by urging followers to join the foray into the Utah canyon.
"All who can go out and support this please do!! We need to stick together and continue to make a stand!" read a post on the official Bundy Ranch Facebook page.
Federal officials, including the FBI, the Utah attorney general's office, the Utah Department of Public Safety and San Juan County Sheriff Rick Eldredge, are planning to allow Lyman and his supporters into the canyon. But Utah's director of the BLM issued a statement this week warning Lyman he could be subject to criminal action.
"I strongly urge you to cancel the proposed ride in the closed portion of the canyon," BLM's canyon country district manager, Lance Porter, said. "To the extent that you or anyone else uses a motorized vehicle within the closed area, BLM will seek all appropriate civil and criminal penalties."
Lyman, who maintains that he has "huge respect" for BLM employees, said his protest was planned before Bundy Ranch.
"It's not on the level of a Bundy event," Lyman said. "If we have more than 1,000 [riders], I'll be surprised. If we have less than 100, I'll be surprised. Who knows?"
The protest, which is scheduled to start 9 a.m. Saturday, has already ruffled feathers in the local community.
A group of war veterans were forced to cancel "a traditional Navajo Warrior welcoming home ceremony" scheduled to take place in the wilderness near the area out of concern that the ATV ride could get out of hand.
And local tribal groups also view the event as yet another example of disrespect aimed at Native American cultural heritage.
"We believe the [Bureau of Land Management] should be providing more law enforcement to protect and preserve the cultural and natural resources for which it is the Nation's caretaker, and not providing more motorized access to areas containing cultural and natural resources that it has demonstrated that it is unable to protect," said Leigh J. Kuwanwisiwma, a preservation director with the Hopi Cultural Preservation Office.
Before You Go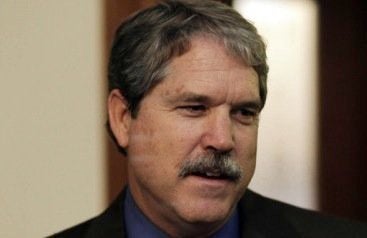 Racist Remarks Made By Politicians
Popular in the Community