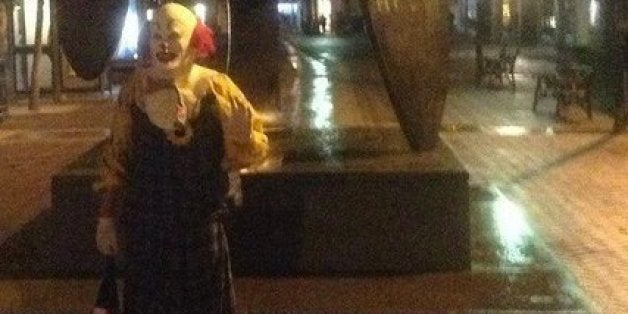 A terrifying clown gaining notoriety for ominously standing around the streets of Northampton, U.K., has spoken to the media, while a self-described "clown catcher" is in hot pursuit.
"Most people enjoy being a bit freaked out and then they can laugh about it afterwards," the clown, who wishes to remain anonymous, told the Northampton Chronicle.
The clown said he was "absolutely amazed" by the overwhelming response to his appearances in town.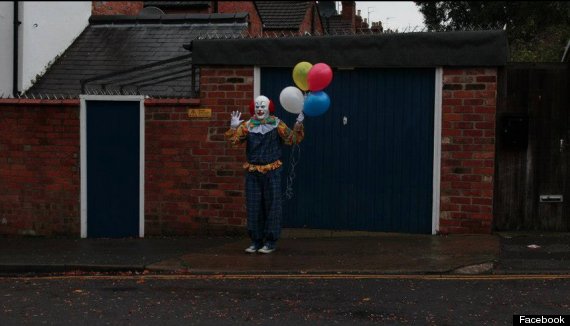 "Naturally, some people would have been extremely frightened by what they saw, but I hope many are starting to see it as a bit of harmless fun," the so-called Northampton Clown told the newspaper.
At least one local resident is playing along with the fun. In a bizarre turn of events, a Northampton man dressed up in a blue muscle suit claims he'll hunt down the clown.
The man, who calls himself Boris The Clown Catcher, says he has been stalking the street of Northampton in hopes of catching the elusive bozo, and has posted updates about his progress on Facebook.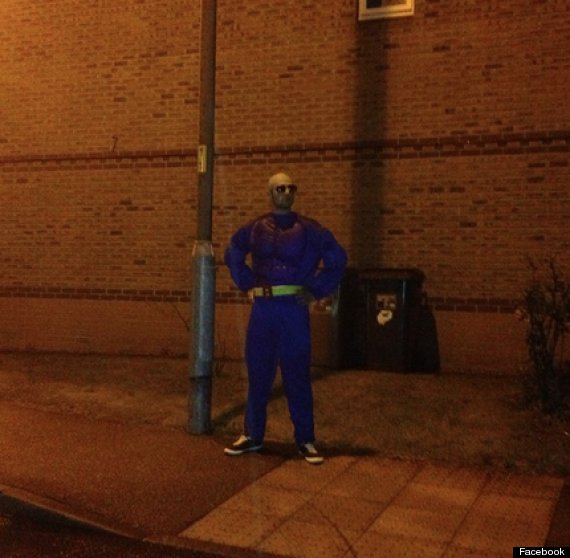 "My name is Boris. I am the official clown catcher," he says on his official Facebook page. "I am not here to scare anyone. I am not here to hurt anyone. I come in peace!"
Boris hopes to either join forces with the clown to "fight evil" or simply get a photo with it.
Despite his tenacity, Boris isn't the most graceful hunter.
"I wasn't able to get to Gloucester Avenue to try and catch the clown," Boris said on his page. "I hurt my leg whilst I was climbing up a tree looking for him earlier."
In response to Boris' bravado, the clown said on his Facebook page that a "big surprise" is coming.
Calling all HuffPost superfans!
Sign up for membership to become a founding member and help shape HuffPost's next chapter
BEFORE YOU GO
PHOTO GALLERY
Creepy Clowns