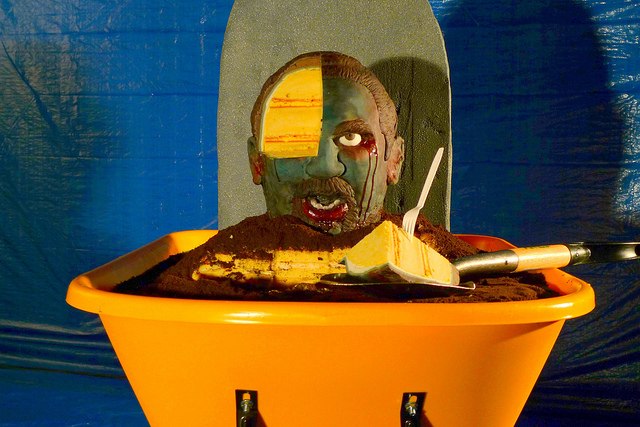 Walking into a party, even at Halloween, the last thing you're expecting to see is a beheaded zombie, especially with a chunk taken out of his head. But when the theme is creepy, and the attire is gruesome glam, it's an effective decorative element -- and is certain to give many guests the chills.
In Pictures: 13 Creepy Cakes
Halloween is the one time of year where frightening friends and grossing others out is expected, almost required. The front porches are bedecked in spider webs, bright orange pumpkins with menacing countenances greet trick-or-treaters, and sometimes a witch can be spotted flying through the air (suspended from a tree limb high above). So, encountering a cake featuring fingers, but no hand, might be as expected as having to reach into a bowl of cold noodles (brains!) or wet grapes (eyeballs!), right? Not always.
Related: 15 Party Fouls You Should Never Make
Whether you're hosting a Halloween party or not, there is one guaranteed way to get guests into the seasonal spirit, and that is by serving one unforgettable cake that may cause chills to run down your spine, or, for others, their stomach to churn ... but hopefully not kill one's appetite. Though this cake just might do the trick.
Related: 10 Wild Weddings
Some of these creepy cakes can't be replicated at home, like this over-the-top, multi-tier haunted house cake, complete with flying bats and ghosts, that has an eerie, human-like grin that might make one think it's alive. Yet others, like a three-dimensional skull cake or a white-frosted layer cake decorated with marshmallow "ghosts," are easy enough for an amateur baker to put together in just an afternoon. Are three-bite cupcakes more your thing? Keep the creepiness factor high and tempt guests with Martian cupcakes, inspired by the Yip Yips on Sesame Street. Or, for the ultimate test, incite fear in all your guests and challenge them to pick their own poison, offering something just like this.
- Allison Beck, The Daily Meal
More from The Daily Meal:
Is Your Kid-Friendly Party Adult-Friendly, Too?
Host an Allergy-Free Party
Are You a Lazy Host?
6 Oddball Games to Play with Food
Setting the Scene for Date Night at Home
PHOTO GALLERY
13 Creepy Cakes
Calling all HuffPost superfans!
Sign up for membership to become a founding member and help shape HuffPost's next chapter