Jesus Christ needed just two feet and some good will to spread his Gospel message throughout the world. Televangelist Creflo Dollar apparently can't do it flying coach.
"Let me tell you something about believing God," he's shown saying in a YouTube video of a sermon given at the World Dome, his 8,500-seat sanctuary in College Park, Georgia. "I can dream as long as I want to. I can believe God as long as I want to. If I want to believe God for a $65 million plane, you cannot stop me. You cannot stop me from dreaming."
Dollar claims it was the devil that stirred the campaign against him. He believes Satan was trying to discredit him in order to stop the gospel from spreading.
"The enemy has got to discredit the voices of faith and grace and truth because he don't want you to know that you can walk on the water if you can look at Jesus. I've got to discredit that man before he starts showing people Jesus," Dollar said during the sermon.
He argued that he never asked his congregants to dig into their pockets for the funds, saying that he had a network of donors worldwide who were eager to have him fly to their countries to preach. His members seemed to sign off on Dollar's message of prosperity, giving the preacher a standing ovation for the sermon.
Dollar's church did not respond to The Huffington Post's requests for comment.
Dollar is one of the most popular preachers of the prosperity gospel, a teaching within Christianity that argues that material wealth is a sign of God's favor. The movement began in the 1970s, but it has boomed in recent years.
Joel Osteen, pastor of Houston's Lakewood Church, has built an international following with books that promise to show readers the way to "Your Best Life Now." Televangelist Benny Hinn tells his followers that they have "the legal, heavenly right to prosper."
"Be courageous today. Be bold. Step into your covenant position and your prosperity anointing. Secure your financial tomorrow with a step of faith so the prosperity anointing will be released upon you," Hinn posted on his website before asking believers to send him a "seed-gift" donation to pray over.
Although Dollar has denied that he's preaching a prosperity gospel, his sermons suggest otherwise. He argues that God wants the best for him -- even if it's a $65 million jet. The same goes for all his followers.
"I dare you to tell me I can't dream. I dare you to tell me that I can't believe God. If I find Jesus, I'm gonna look at Jesus until it comes to pass, because with God all things are possible to him that believe," the pastor is seen saying in the same video filmed at the World Dome. "Dream for the best healing. Dream for the best deliverance; dream for the best house. Dream for the best car. Just 'cause the world don't have it, doesn't mean you can't have it. You are the children of the Almighty God. Dream, dream."
Religion Dispatches columnist Cathleen Falsani said in an op-ed that the prosperity gospel has flourished among the poor and working class.
"Told that wealth is a sign of God's grace and favor, followers strive for trappings of luxury they can little afford in an effort to prove that they are blessed spiritually," she wrote. But she claims its message stands in contrast to the example set by Jesus in the Bible.
"Jesus was born poor, and he died poor," she added. "During his earthly tenure, he spoke time and again about the importance of spiritual wealth and health. When he talked about material wealth, it was usually part of a cautionary tale."
CORRECTION: This article originally stated that Cathleen Falsani worked at the Chicago Sun-Times.
Related
Before You Go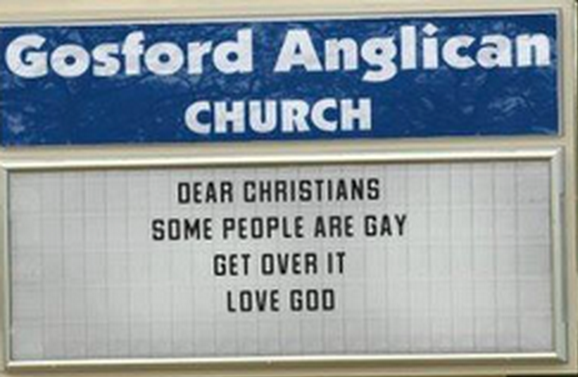 Controversial Church Signs
Popular in the Community