WASHINGTON -- Virginia state senator and 2009 gubernatorial candidate Creigh Deeds was stabbed at his home in the Millboro community of Bath County, Va., early Tuesday. His 24-year-old son, Gus, is dead from a gunshot wound.
Corrine Geller, a spokeswoman for the Virginia State Police, said that Sen. Deeds had been stabbed multiple times in the head and upper torso. After the stabbing, Geller said, Deeds left the scene and walked down the hill to Route 42. He was picked up by a cousin who happened to be driving by. The two drove to the cousin's home, where a 911 call was placed. The cousin has not been identified by police.
Geller said at a press conference Tuesday afternoon that investigators are leaning toward viewing the incident as an attempted murder and suicide, but stressed that the investigation is ongoing.
The Richmond Times-Dispatch and WRIC originally reported that Deeds was in critical condition at University of Virginia Medical Center after the incident. According to a UVA Medical Center spokeswoman, Deeds' condition has since been upgraded to fair.
Geller, speaking to reporters at noon, said that Deeds' son was found in the home suffering from life-threatening injuries related to a gunshot wound. He died at the scene.
She noted then that police were not looking for any suspects and that the incident happened before the 911 call. Sen. Deeds had spoken to investigators, she said.
A woman who answered the phone at the Bath County Sheriff's Office said that law enforcement had responded to a call at 7:25 a.m.
Virginia State Police had earlier released a statement confirming that Deeds had been taken to UVA for "serious injuries sustained in the assault." The statement also noted that "a second individual at the residence is deceased," but at the time did not identify that person as his son.
Virginia Gov. Bob McDonnell (R), who defeated Deeds, a Democrat, in the 2009 gubernatorial race, put out a statement of condolence. "In this tough and sad time, our thoughts and prayers are with the Deeds family. The news from this morning is utterly heartbreaking. Creigh Deeds is an exceptional and committed public servant who has always done what he believes is best for Virginia and who gives his all to public service," he said. "I urge all Virginians today to join me in praying for a full and complete recovery for Creigh and for many more years of his public service to the Commonwealth. At this moment, our state unites in prayer for Creigh Deeds and his family."
Brian Coy, a spokesman for Gov.-elect Terry McAuliffe (D), wrote HuffPost in an email, "The Governor-elect is obviously following this situation closely and praying for Sen. Deeds and his family today."
The College of William and Mary released a statement on Gus Deeds, revealing that he had withdrawn from college last month. "William & Mary is very saddened to hear this tragic news. Gus Deeds was a member of the William & Mary community. He had been enrolled as a student at William & Mary since 2007, though not continuously. He withdrew from the College last month and was not currently enrolled at the time of his death. Our hearts go out to the entire Deeds family," said Brian Whitson, associate vice president for communications and university relations.
The college also noted in an email to students that the younger Deeds was a 2007 graduate of Bath County High School and a music major with a "strong academic record."
Sen. Deeds had very recently returned from a trip to Ireland with his wife, Siobhan, according to a picture she posted on the Facebook page of her gift shop, Pumpkinseeds. She is Gus Deeds' stepmother.
This is a developing story ... check back for more information.
Before You Go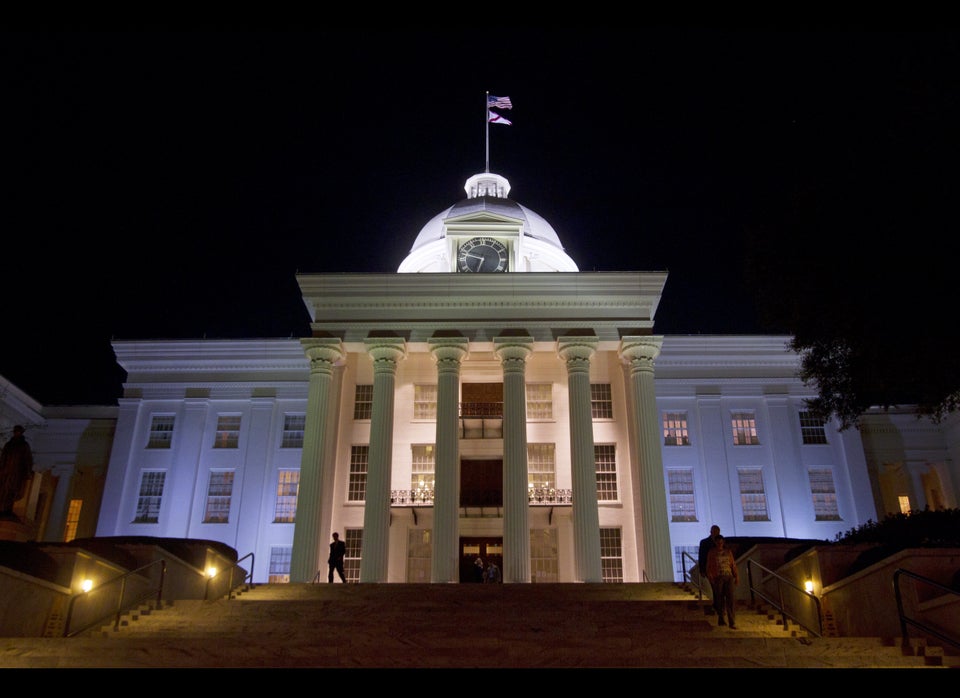 U.S. State Capitol Buildings
Popular in the Community