WASHINGTON -- The day before he stabbed his father and apparently shot himself to death, the 24-year-old son of Creigh Deeds, a Virginia state senator who was a 2009 Democratic gubernatorial candidate, failed to get psychiatric help because no beds were available.
Austin "Gus" Deeds died from a gunshot wound Tuesday morning at the Deeds home in the Millboro community of Bath County, state police said. His father, a prominent Democrat, was hospitalized in fair condition with stab wounds to his head and torso. Police said it appeared to be an attempted murder and a suicide.
The 24 hours preceding the violence had been tumultuous. An emergency custody order had compelled Gus Deeds to Bath County Hospital for a mental health evaluation, according to the Richmond Times-Dispatch. Deeds was released because no psychiatric facility in Western Virginia had an available bed, Dennis Cropper, the executive director of the Rockbridge County Community Services Board, told the Richmond paper.
Two years ago, a state inspector general spotlighted the psychiatric bed shortage and called on Gov. Bob McDonnell's administration to address it. A 2012 report from the Office of the Inspector General for Behavioral Health Developmental Services found that 72 of about 5,000 Temporary Detention Orders -- issued after a mental health professional determines that a person poses a threat of serious harm to himself or others -- went unexecuted in a three-month period. Thirty-two of the unexecuted TDOs were in Southwest Virginia, where Deeds lived, compared with just five in Northern Virginia.
In 12 of the 32 cases of unexecuted TDOs in Southwest Virginia, no psychiatric beds were available. In addition, 273 TDOs statewide took longer than six hours to execute, exceeding the time allowed by state law. The report called for the state to rely more on private psychiatric beds in Southwest Virginia "until a reliable state-operated safety net is recreated."
Meghan McGuire, the communications director for the state Department of Behavioral Health and Development Services, said in an email to The Huffington Post that her department had been working with local service providers to examine the issue and "assess its true prevalence." She said there had been funding increases to crisis stabilization programs.
"Many improvements have been made over the past several years as part of a bipartisan effort to improve our public mental health system and it is understood more work is needed," McGuire said. She said the department plans to publish a report next month in collaboration with the University of Virginia "to document the current status of access to beds with precision and accuracy."
Mental health advocates have long complained about the decline of psychiatric beds in Virginia. A 2011 report by the National Alliance for Mental Health said Virginia had slashed funding for mental health by $38.6 million from 2007 to 2011, or about 9 percent. The number of state hospital beds declined from 5,697 to 5,309.
"The net result has been that there have been both inpatient beds and community services," Ron Honberg, legal director of the mental health alliance, told HuffPost. "There's not enough of either."
Space was tight at state hospitals, officials said Tuesday.
Northern Virginia Mental Health Institute, a Falls Church facility accepting mostly uninsured patients, had two beds available out of 123, according to an official with knowledge of the hospital. The official added that there were 30 to 40 individuals waiting in other facilities to be placed at Northern Virginia Mental Health Institute.
Eastern State Hospital in Williamsburg had a waiting list for transfers from prison or other facilities, according to an official.
The Southwestern Virginia Mental Health Institute in Marion had few beds, an official said.
The Southern Virginia Mental Health Institute in Danville had six beds available, Martha Crider, the admissions coordinator, said. That's "rare," she said. "Normally we're full. There's a dearth of beds. It's gotten critical. ... We get admissions as soon as we discharge them."
Patients enter the state mental health system frequently through a Community Services Board, a local screening center where care is available 24 hours a day.
Even in the suburbs of Richmond, finding an available bed for someone in crisis can be a problem. Debbie Burcham, the executive director of the Chesterfield Community Services Board, told HuffPost the board has seldom failed to find free beds. But in those rare cases, she added, the board puts a plan in place.
"We don't just discharge people either," Burcham said. "If we can't find a bed, we work with a family, we create a safety plan. Of course, if things escalate, the family can call the police and we can start the process over again."
Cropper, the Rockbridge County Community Services Board executive director who spoke to the Times-Dispatch, said in a statement that he could not confirm whether an order was issued for Gus Deeds. Cropper did not respond to HuffPost's requests for comment.
There may have been a bed available for Gus Deeds on Monday night at Rockingham Memorial Hospital, a private hospital two hours from the Deeds home in Rockingham. Debra Thompson, director of corporate communications, told HuffPost via email that beds were open at the facility.
"If we had gotten a call from a community services board, another hospital, etc. asking if we had a bed available, anytime last night or today -- in fact, in the last 24 hours -- RMH would have requested clinical information, and IF the [patient] met the admission criteria, we would have had a bed and gladly accepted that patient upon medical clearance," Thompson said.
Susan Lawrence, a parent and mental health advocate, said she wasn't surprised the community services board couldn't find Deeds a bed. After a member of her family went into crisis, she went to the Rockbridge Area Community Services Board seeking a bed. She told HuffPost the board simply pulled out a facilities list and started calling places all across the state. "There's no, 'What's the best facility, who can provide evidence-based support services,'" Lawrence said. "It's just: 'Who's got a bed?'" She said the community services board is staffed by well-meaning people, but the resources are just too thin.
In the end, Lawrence said her family member didn't get a bed. He got juvenile detention. "Imagine if houses kept burning to the ground because there's no firetrucks and no firemen to drive them and fight the fires," she said. "That's mental health services in Virginia."
UPDATE: Bath County Hospital on Wednesday released a statement saying that it cannot provide inpatient mental health services.
"Our rural hospital is not equipped to provide inpatient mental health services. We depend on other health care providers for mental health services. Our protocol requires us to contact Rockbridge Area Community Services Board for assessment and treatment determinations for any patient needing mental health services," said the hospital's executive officer, Jason Paret.
The hospital added that it could not comment on medical information involving a patient due to federal privacy laws.
Before You Go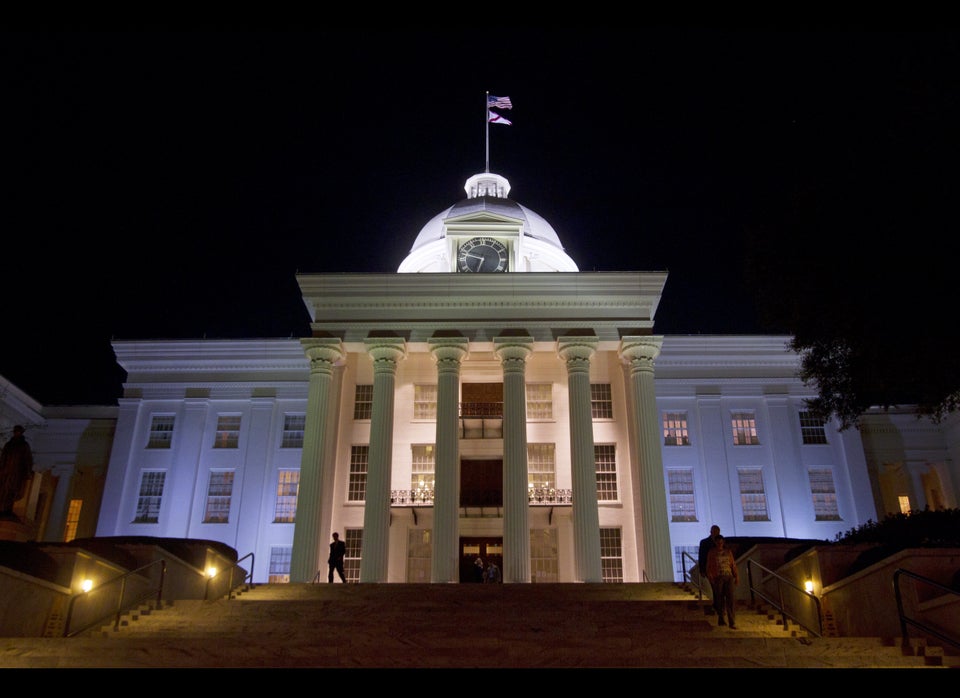 U.S. State Capitol Buildings
Popular in the Community