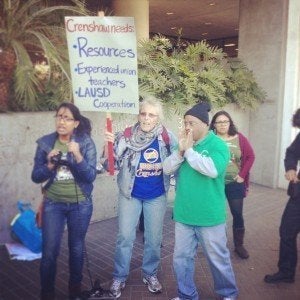 The Los Angeles Unified school board voted Tuesday to reconstitute Crenshaw High School by breaking it up into three distinct magnet schools. The school's teachers will also be asked to reapply for their positions. Below, LA School Report takes us inside the contentious board meeting that led to the vote.
The planned protest against the Crenshaw reconstitution drew about 15 parents and students, who were chanting things like, "Hey Deasy, it's easy, put Crenshaw students first," (see LA Times, KPCC)
But the real action was inside in the meeting, where about 30 parents and students showed up to speak out against the plan. (For more background on the fight, see: Crenshaw Protest Heads to Board Decision).
Parents accused the board of "opening the door for the privatization of our schools," and demanded to have a say in the future of the school. "This is so wrong what you're doing," said one female student. "You haven't even asked the students." Said a parent: "You wouldn't do this in Beverly Hills. You wouldn't do this in the Valley."
After public comment, it was Superintendent Deasy's turn, and he spoke with a frankness seldom seen by public officials.
"This is not about blame, this not about shame," he said. "Students at Crenshaw have the lowest achievement rate of any school in LAUSD… I visited the school 13 times in last year, and the quality of instruction is nowhere near what it needs to be."
Parents and students sat stone-faced as Deasy listed various benchmarks which Crenshaw High has failed to meet – attendance, enrollment, graduation and test scores, which unlike the District as a whole are getting worse instead of better. Deasy argued the reconstitution plan was designed to help the school, not hurt it.
"We will put more resources and more personnel into the school and attract more students," he promised. "Every single student who attends Crenshaw will continue to, and staff will continue [to stay employed]. The most successful model in LA has been the magnet programs."
Next to speak was Board Member Marguerite LaMotte, whose District 1 includes Crenshaw High, and who has often times opposed Deasy, but this time found herself on his side.
"Crenshaw has been a political mystery to me," she said, sounding truly pained. "There've been lies, there've been secrets. And I'm angry. Because I live in the community. I want people to say, 'I want to go to Crenshaw.'"
She continued, speaking directly to the audience: "I've never stood against you before, but we're going to get a quality school."
The rest of the Board praised LaMotte for her emotional speech, and then voted unanimously in favor of the plan. The audience immediately stood up and chanted, "The fight is not over! We will take over!" as they filed out of the room, while LaMotte watched in apparent dismay.
In the KPCC story on the Board meeting, LaMotte was quoted as saying "I want to know why anybody would want their child to go to a broken school?"
LA School Report's mission is to publish original news, analysis, and commentary, as well as act as a hub for today's most important education-related issues in Los Angeles. To read more, click here.
Related
Popular in the Community