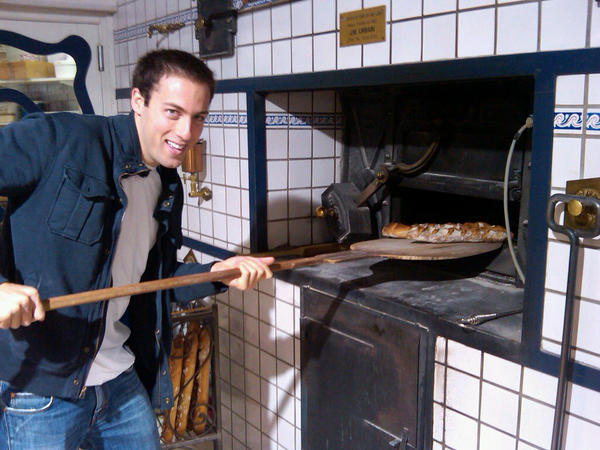 Warm and soft. Sweet and chewy. Nutty and cocoa filled. A Nutella Crepe on the streets of Paris. So simple it was. Yet this delightful street food was my only salvation on a cool, dark, eerie night in the city of the Eiffel Tower, Notre Dame and the Mona Lisa. I'd been walking for hours when I stumbled upon a tiny Crepe shop in Bastille. Thus far my day had been spent wandering the streets of Lyon, not Paris, eating braised Cochon, Terrines of duck liver and sweetbreads, chocolate filled croissants, and charcuterie. Then, somehow, instead of taking the train back to Roanne where I am currently staging at La Maison Troisgros, I was headed straight to Paris. Uh oh! A new journey had begun.
Since deciding to come to work in a kitchen in France I had dreamed of eating in classic Bistros. Whether it was the pages of "My Life in France" the story of Julia Child, or my imagination of what truly started the culinary world as we know it...I wanted classic French cuisine. I wanted it bad. Bistro food was the apple in my eye and the reason I had traveled to Lyon on my day off.
Walking the cobble stone streets of old Lyon, Bistro after Bistro served up classic fare of pate, salade Lyonnaise, homemade sausages, stew of pig's cheeks, pike dumplings, roasted tripe with onion and garlic, pigs foot, cheeses, and don't forget the beautiful sweet treats like the profiteroles!
I ate countless dishes at several different places. It seemed like every Patiserrie I passed I felt the need to stop and taste. The unique personality and style of each shop gives such meaning to their offerings, something you don't find as much in the USA.
Although, I'd prefer to say all the food I ate was amazing, I just simply can't do it. France is no exception, some places are good and some are not. While cornichons at one lovely looking Bistro may give you a fresh crunch and burst of sweet tangy flavor, others are sure to mush in your mouth with soft mediocrity. What I did find at one point was a butcher hand grinding beef for his customers...as they ordered it. Good'ol USA could use some more of that kind of service and quality.
My plan had been to stay in Lyon for the night. However, unable to secure a hotel room anywhere in Lyon I decided to head back to Roanne, or so I thought!
About an hour into the train ride I realized we were going much faster than on my journey from Roanne to Lyon. What's more a bunch of people had a lot of luggage with them. Hmmm. I turned to the guy behind him and asked him if we were headed to Roanne. Shockingly he notified me we were headed straight to Paris. What!? How could this be?
Arriving in Paris at 11pm I knew no one, my phone was about dead, and I was getting tired. My best bet was to find a place to stay until the next train in the morning. Almost three hours later I found myself on the other side of Paris with no hotel. From dingy to posh...not a single hotel had any vacancy. I couldn't even find a hostel! Hours later I eventually arrived back at the train station.
The dimly lit streets of Paris were cold, damp, and mysterious. Few people scurried in the streets. Those who were out were often rambling to themselves, looking for a smoke, sleeping, or seemingly up to no good. Suddenly it hit me; I'd exhausted all the options, for the first time in my life I'd have to sleep on the street. My body and mind needed a rest. After searching for about 20 minutes for what looked to be the safest and most suitable spot to lay my head, I lowered my body to the cool, brutally-hard, pebbled pavement. For the next two hours I dozed in and out of sleep. Occasionally I'd get jolted awake by someone walking by or asking for a smoke. My backpack was under my head but I gripped it tight in fear of my camera and computer being stolen. My back and hips were beginning to ache from the unforgiving concrete pressing against them.
Although this wasn't the most desirable I looked at it as a humbling experience. There are people who do this night after night, and their bellies are not full of tasty delights from earlier in the day.
My only salvation was the thought of that rich yet simplistic crepe which had slowly melted away in my mouth hours earlier. Food can be such a salvation. For those of us who have the luxury of not only having it at our disposal, but also relishing in it frequently, we should consider ourselves lucky.
Morning came and this time I got on the right train. Back to Roanne I went. What a story. What a crepe!
Olympic gold medalist Garrett Weber-Gale is the co-founder of AthleticFoodie. He plans to use the skills he learns in the world's best kitchens to help others enjoy great-tasting food that is healthy.

Calling all HuffPost superfans!
Sign up for membership to become a founding member and help shape HuffPost's next chapter