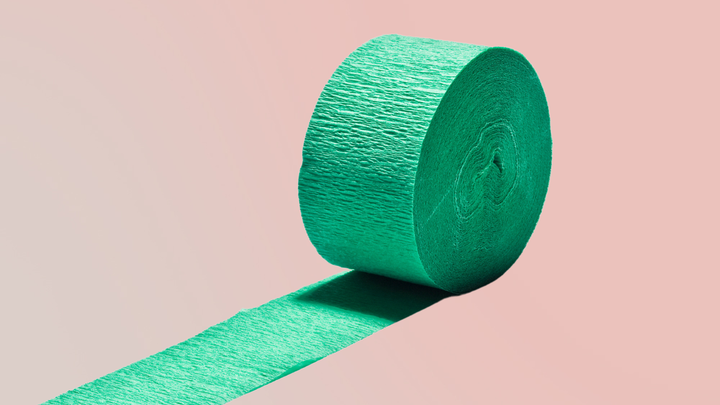 Crepes may be delectable, but crepey skin? Not so much.
The term describes skin that, like crepe paper, appears thin and crinkled and typically lacks the elasticity, thickness and firmness of youthful skin.
"Crepey skin is primarily an aesthetic concern but it can also be indicative of potential health issues," board-certified dermatologist Dr. Shoshana Marmon told HuffPost. "Since it usually develops as a result of substantial sun damage, individuals with crepey skin may be at increased risk for the development of skin cancer. Additionally, since crepey skin is thinner and less elastic, it may be more susceptible to bruising and tearing, which could lead to infection if not properly cared for."
Plenty of creams and lotions claim to alleviate the appearance of crepey skin, and anyone who wants to take care of it quickly can seek doctor-administered treatments. We spoke with experts who weighed in on what works best and whether there's anything you can do to prevent crepey skin from forming in the first place.
Why and when crepey skin forms.
As Marmon hinted, crepey skin primarily results from sun exposure. "A frequent misunderstanding is that crepey skin develops solely from aging, but lifestyle factors like sun exposure and smoking are significant contributors," she said. "While everyone is susceptible to crepey skin, people with lighter skin tones, who are more prone to sun damage, are particularly at risk."
Sun exposure causes the skin to lose volume due to dehydration. "It doesn't store water the same because the integrity of the skin is damaged," board-certified dermatologist Dr. Shani Francis told HuffPost. That leads to degradation of collagen and elastin, the proteins that hold water and therefore help the skin keep its structure.
Any ultraviolet exposure, even from tanning beds, can lead to the formation of crepey skin. "It's really not the sun itself — it's ultraviolet radiation," Francis explained. "Any type of ultraviolet radiation exposure is going to damage and degrade the collagen and the elastin tissues."
Genetics play a factor, too. "If you look at your parents, if they have crepey skin, you know you need to start the process of preventing a little bit earlier," Francis said.
According to Marmon, many women begin to notice crepey skin around the time they hit menopause because the drop in estrogen during that time speeds up the decrease in collagen and elastin, resulting in a thinning of the skin with a loss of moisture and fat.
"It starts around middle age and gets worse as we age," Francis reiterated. "The elastic fibers, they start off very strong. Twenty-something-, 30-something-year-olds, their skin snaps right back. Once you get to 40, it doesn't quite work that way."
Board-certified dermatologist Dr. Noëlle S. Sherber told HuffPost that crepey skin from UV damage usually shows up around the eyes, the chest and the backs of the hands. Some people also see it above the knees and on the inner arms.
What you can do to prevent crepey skin.
Wearing sunscreen may seem like the obvious way to ward off crepey skin, but Francis said another method may be more effective.
"You can't see light through your clothes — that's better," she said, "Sunglasses, a hat, those things are always better than sunscreen because they're on and in place. Sunscreen doesn't last. It's not permanent. Sun protection instead of sunscreen is much more comprehensive. I always tell people, think of sunscreen as your last line of defense."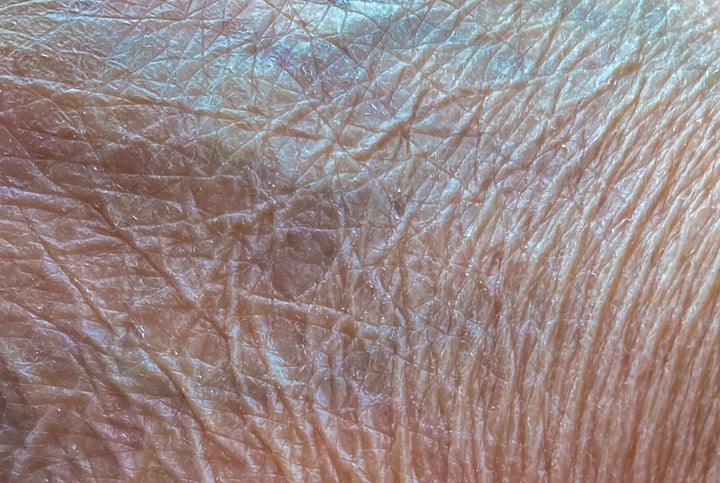 For the areas that clothing and accessories can't cover, apply sunscreen. The American Academy of Dermatology recommends a water-resistant one that offers broad-spectrum protection with SPF 30 or higher.
Some over-the-counter options to try for crepey skin.
Marmon wants to temper expectations of seeing results from over-the-counter treatments claiming to eliminate the appearance of crepey skin. "While creams, moisturizers, lotions and especially sunscreen are helpful in maintaining skin health, eliminating all signs of aging is pretty much impossible," she said.
However, with regular use, topical products with ingredients such as retinoids, alpha hydroxy acids, peptides, growth factors, hyaluronic acid and antioxidants can help to stimulate collagen production, therefore improving skin quality.
"These products generally take several months before you see their potential benefit," Sherber warned, adding that a high price tag doesn't equate to a higher likelihood for results. "A misconception is that only high-end skin care products can combat crepey skin, when in fact, consistent use is far more important than the price tag."
You want to make sure the moisturizer you pick also contains water to rehydrate the skin. "Water is the number one hydrator," Francis said. "A big mistake people make is coating skin with oil when they're already dehydrated because all that's going to do is improve the barrier."
Francis particularly loves products with niacinamide, a form of vitamin B3, as a way to help alleviate the appearance of crepey skin. It can also be taken as a supplement.
Sherber offered an easy way to test whether a moisturizer is thick enough to properly hydrate: "When you open the jar and flip it upside down, if it doesn't drip, then it should be a good barrier support product."
Doctor-administered treatments to address crepey skin.
On May 15, the Food and Drug Administration approved the first skin booster, Skinvive by Juvederm, to improve skin smoothness in adults over 21. The booster is an injectable hyaluronic acid with a serum texture that has been used for years overseas, where they refer to it as Volite. "Unlike fillers, which volumize, skin boosters replenish skin's deep hydration and can give fantastic results for skin quality improvement, especially in thin-skinned areas that are prone to crepey texture," Sherber explained.
Other injectables, like Radiesse and Sculptra, stimulate the body to synthesize collagen. Options such as radio frequency skin tightening and fractional non-ablative lasers stimulate the body's natural healing process, leading to the production of new collagen and elastin that promotes thicker and more elastic skin. "Both can significantly improve skin quality," Sherber said.
For certain anatomical areas, such as around the eyes, she suggested neuromodulators like Botox for reducing crinkling.
Still, "while we can somewhat improve the appearance of crepey skin, the aging process is ongoing and inevitable," Marmon said. "It is important to have realistic expectations in terms of what to expect from anti-aging products regardless of what they claim to do. Aging is a natural part of life and much better than the alternative."
Looking to boost the youthful appearance of the skin on your body? Try one of these skin care products for your body that include retinol.
HuffPost may receive a share from purchases made via links on this page. Every item is independently selected by the HuffPost Shopping team. Prices and availability are subject to change.
A skin-smoothing body lotion with encapsulated retinol
An argan oil body butter with a gentle pro-retinol and antioxidants
Before You Go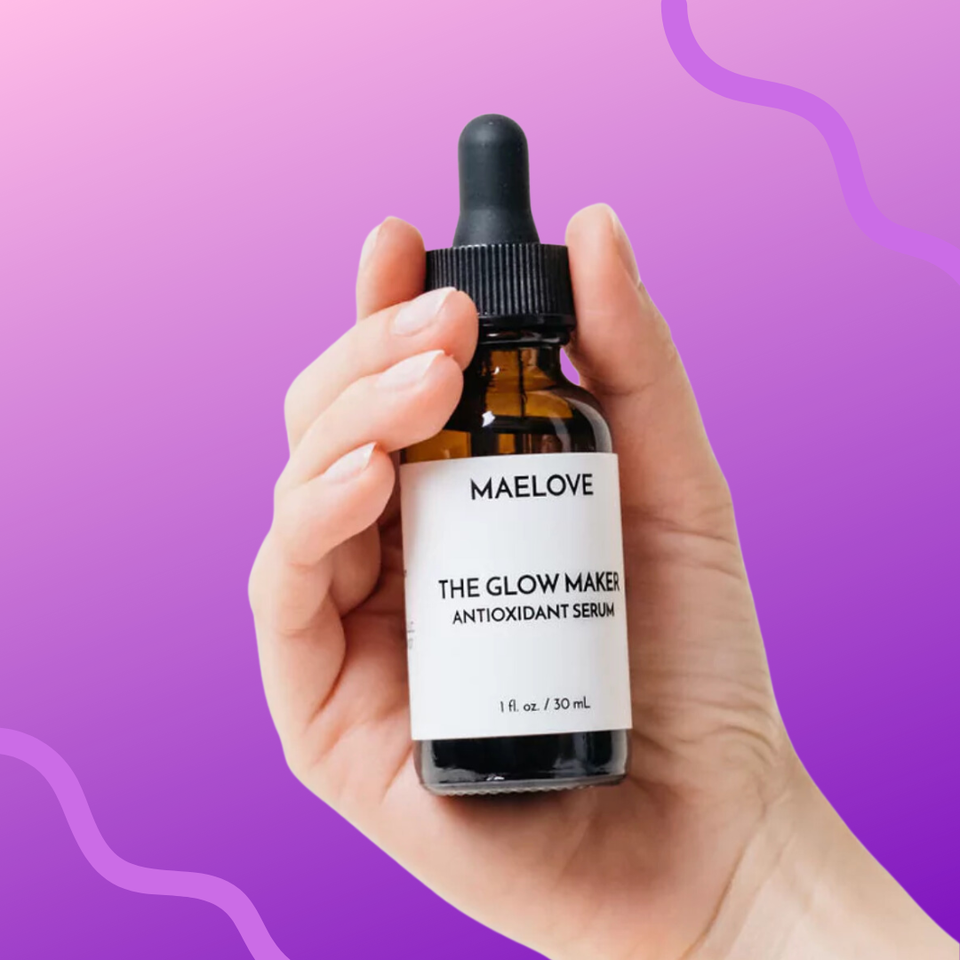 Skin Care Products Under $50 That Actually Work