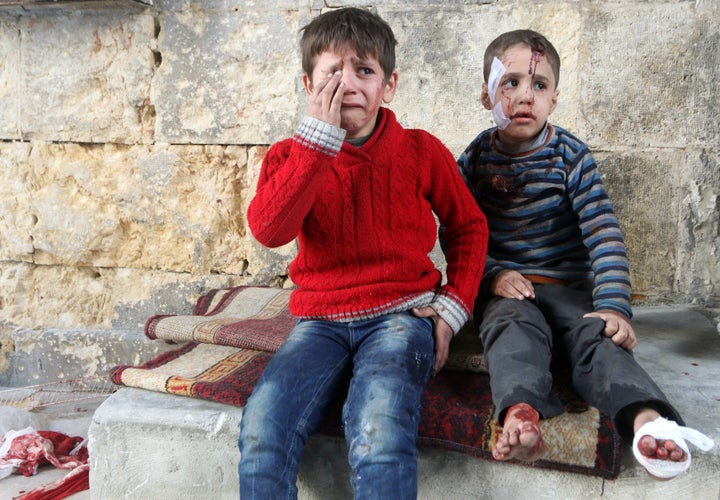 Cries from Syria, a documentary on HBO, tells such a horrific story. Unfortunately, the one you know if you've been paying attention to Syria, is its government's military efforts against protestors, use of chemical weapons on its citizens, and general violations of human rights. The regime claims it is protecting the country from terrorists. Most often the victims are children, and it is through their voices director Evgeny Afineevsky tells this untoward recent history bringing viewers up to date with Syrians relocating to European countries where they are shunned, and children wishing to return home. Introducing the film at a special screening last week at the Council on Foreign Relations, Sheila Nevins appealed to the audience: "Please, let's change this."
With Morning Joe anchor Ayman Mohyeldin presiding, a post-screening panel included Afineevsky, Ciaran Donnelly of the International Rescue Committee and Philip H. Gordon from the Council on Foreign Relations, but most memorable was the activist and journalist from the film, Kholoud Helmi, still waiting to find her brother who was incarcerated. Helmi, a founder of an underground newspaper reporting on daily life in Syria, like her colleagues, faces detention or death for her work.
Donnelly noted the film confirms the suffering of civilians with children most vulnerable. Said Gordon, "Let's not pretend that there could be an easy solution. We did not do enough, and we would have to bomb. Trump's travel ban is not the answer. We will probably see Trump support Russia in calling civilians terrorists." But Helmi holds back tears and gets right to the point: "Before we talk resolution, STOP KILLING PEOPLE NOW."
REAL LIFE. REAL NEWS. REAL VOICES.
Help us tell more of the stories that matter from voices that too often remain unheard.
BEFORE YOU GO