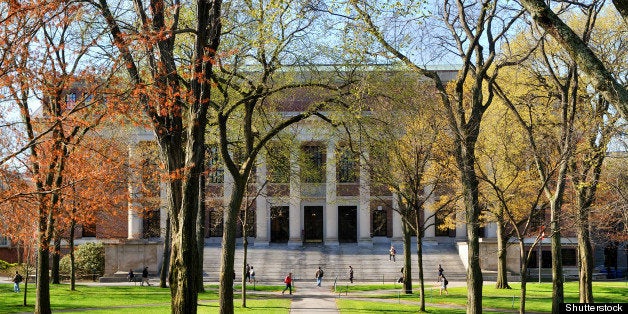 Every year, parents send their kids off to college with the expectation that they will be receiving their education in a safe environment. However, the reality is that college can be a dangerous place for students. Beyond sex, drugs and alcohol, campus crime is a serious issue even at the top schools.
Many parents and students focus on academic rankings by organizations like Forbes and US News, but often give little thought to the amount and type of crime that occurs on those same campuses.
Are you enrolled in or have a son or daughter attending one of the top U.S. colleges? Have you seen the campus crime reports for your school?
Before the spring semester kicks off, take a look at the data from the last few years and see how your school stacks up. You can click on your state to zoom in for a closer look or sort by type of crime.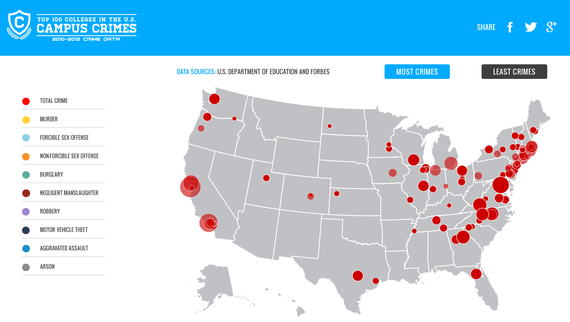 Most Reported Crimes Overall
Stanford - 517
University of California Los Angeles - 433
University of Maryland College Park - 371
University of California Berkley - 337
University of Virginia Main Campus - 265
Sexual Assault
Harvard - 83
University of Michigan Ann Arbor- 64
Stanford - 59
University of North Caroline Chapel Hill - 52
University of California Berkley - 49
Burglary
Stanford - 383
UCLA - 319
Wake Forest - 185
University of Virginia Main Campus - 183
University of Georgia - 174
Motor Vehicle Theft
University of Maryland College Park - 105
California State Polytechnic University - Pomona - 51
Stanford - 49
Duke - 35
University of Florida - 35
What about the rest of the higher education system?
While all colleges and universities have been required to disclose information about the crime on and around their campuses since 1990, critics argue that many schools purposely underreport crime to protect their images. Specifically, schools have been very slow to accurately report sexual assaults in their Clery Act crime statistics. In fact, of the 11,063 campuses in the Clery Act database, only 1,670 reported even a single incident of sex related (forcible or non-forcible) crime.
In the last few years, these discrepancies and under reporting issues have brought a number of schools under intense scrutiny and even investigation. The White House has even dedicated a task force to the sexual assault problem on college campuses.
Notably, Yale University recently faced a $165,000 fine from the Department of Education for failure to report forcible sex offenses in it's campus crime statistics in 2001 and 2002. It appears as though the university got the message, as Yale reported 44 sexual assaults in 2010-2012.
Overall, it seems that schools are beginning to report more and more sexual assaults and crime overall -- and that's a good thing. Whether it is due to harsh criticism and media coverage or a tightening of Department of Education enforcement, Universities are finally acknowledging the problems instead of burying their heads in the sand for the sake of their image.
Under reporting doesn't make the crime occurring at schools or their victims any less real. However, taking steps to address them will allow students, parents, and faculty to better prepare themselves for the realities of college life, instead of the idealized fantasyland it has been portrayed as in the past.
Popular in the Community