Pro-Russian supporters in Crimea erupted in celebration Sunday night after exit polls indicated 97 percent of voters in the Ukrainian peninsula favored joining Russia.
The Guardian reports after preliminary results were announced, thousands flocked to the central square of Simferopol, Crimea's capital, to join rowdy celebrations. The newspaper writes: "The crowd was split between drunken groups of men and families with children, but all joined in a rendition of the Russian anthem, and a green laser beamed 'Crimea is Russia' on to the imposing Soviet-era council of ministers building."
Crimea has been part of Ukraine since the former Soviet republic gained independence in 1991, but has always maintained a degree of autonomy over its own affairs. On Monday, Crimea's pro-Russian parliament officially asked Russia to accept the peninsula as a new subject of the Russian federation. Ukraine's leaders and Western countries said they would not recognize the referendum, and have raised concerns about voting anomalies.
Not everyone in Crimea, however, celebrated the results.
Wary ethnic Ukrainian and Tatar minorities said they would boycott the referendum, and did not join in the revelry. The Tatar community in Bakhchisarai, a town 20 miles southwest of Simferopol, stayed at home to watch the results on television, nervous about the future, according to The Guardian.
The town's Tatar leader Akhtem Chiygoz told TIME: "We've lived under totalitarians and idiots on this land, but in Ukraine at least we've felt free. The struggle for our rights has been open and declarative in Ukraine. Now we will have to continue that struggle under an occupation."
Check out the images below to see pro-Russian Crimeans jumping, dancing and waving flags to celebrate the results of their independence vote. Artists of the Russian Black Sea fleet dance and music groups perform for pro-Russian Crimeans celebrating in Lenin Square, in Simferopol, Ukraine, Sunday, March 16, 2014. (AP Photo/Max Vetrov) People celebrate in Lenin Square, in downtown Simferopol, Ukraine, Sunday, March 16, 2014. (AP Photo/Ivan Sekretarev) Pro-Russian Crimeans celebrate in the central square of Sevastopol, Ukraine, early Monday, March 17, 2014.(AP Photo/Andrew Lubimov) Celebrations in Lenin Square, Simferopol, Ukraine, after polls closed in the Crimean referendum, March 16, 2014. (AP Photo/Vadim Ghirda) Pro-Russian Crimeans celebrate in Lenin Square, in Simferopol, Ukraine, March 16, 2014. (AP Photo/Vadim Ghirda) Artists of the Russian Black Sea fleet dance and music groups perform for pro-Russian Crimeans celebrating in Lenin Square, in Simferopol, Ukraine, March 16, 2014. (AP Photo/Vadim Ghirda)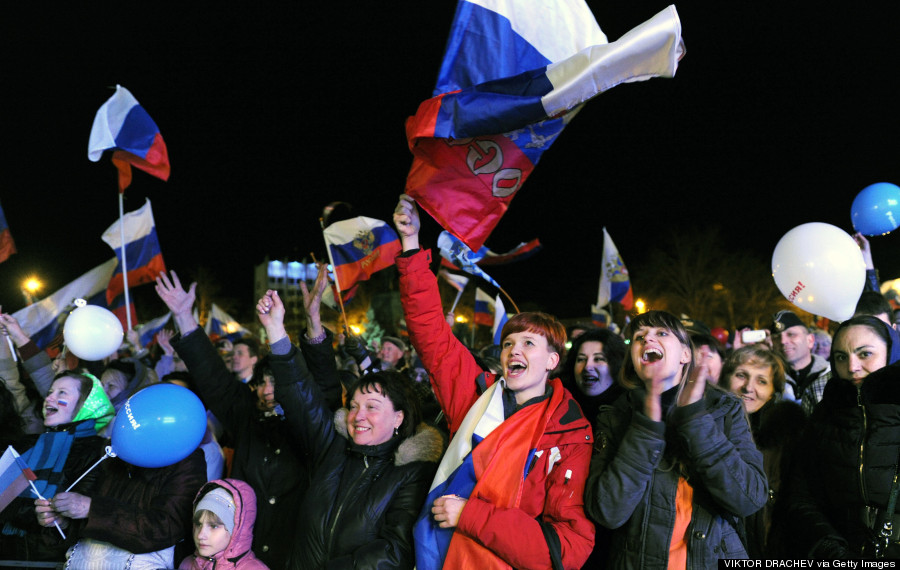 Pro-Russian Crimeans celebrate in Sevastopol on March 16, 2014 after polls show a large majority of voters in Ukraine's Crimea region supported union with Russia. (VIKTOR DRACHEV/AFP/Getty Images) Pro-Russian supporters celebrate in Lenin Square after the referendum, in Simferopol, Ukraine, March 16, 2014. (AP Photo/Max Vetrov)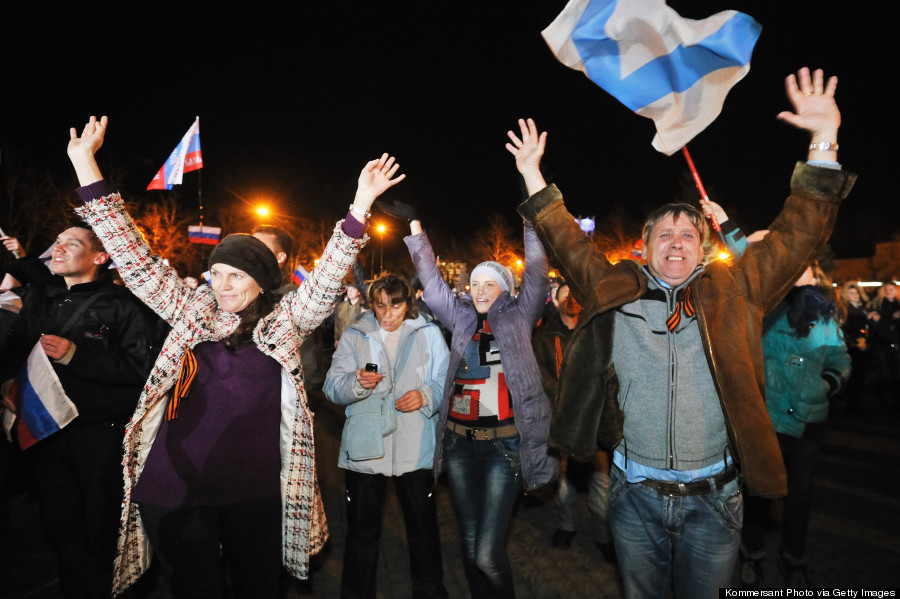 Celebrations in Sevastopol, Ukraine after the exit poll is announced, March 16, 2014. (Petr Kassin/Kommersant Photo via Getty Images)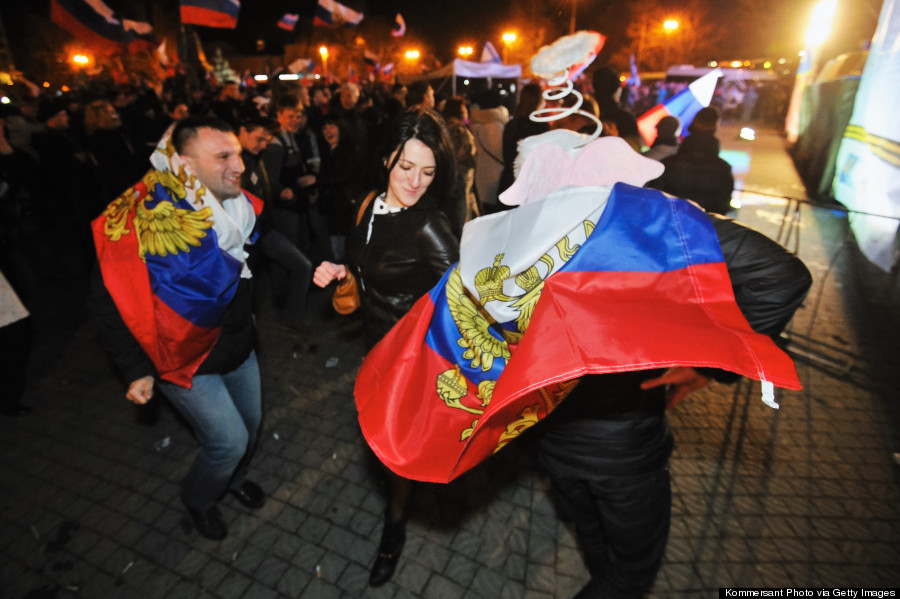 People celebrate in Sevastopol, Ukraine after exit polls show most of the population in Crimea voted to join Russia on March 16, 2014. (Petr Kassin/Kommersant Photo via Getty Images)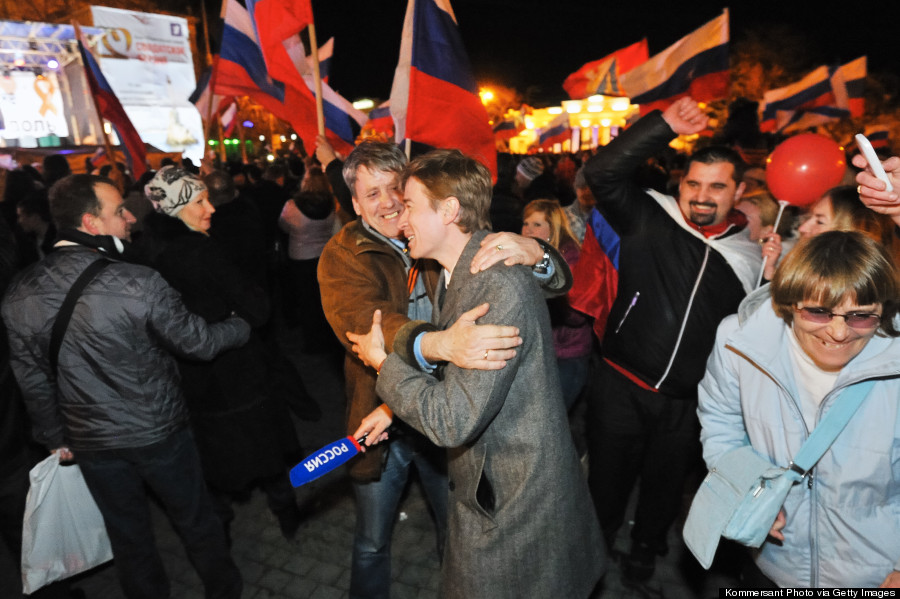 A man gives a hug to a Russian TV crew during celebrations after exit polls show most of the population of the Crimea have voted to join Russia on March 16, 2014 in Sevastopol, Ukraine. (Petr Kassin/Kommersant Photo via Getty Images)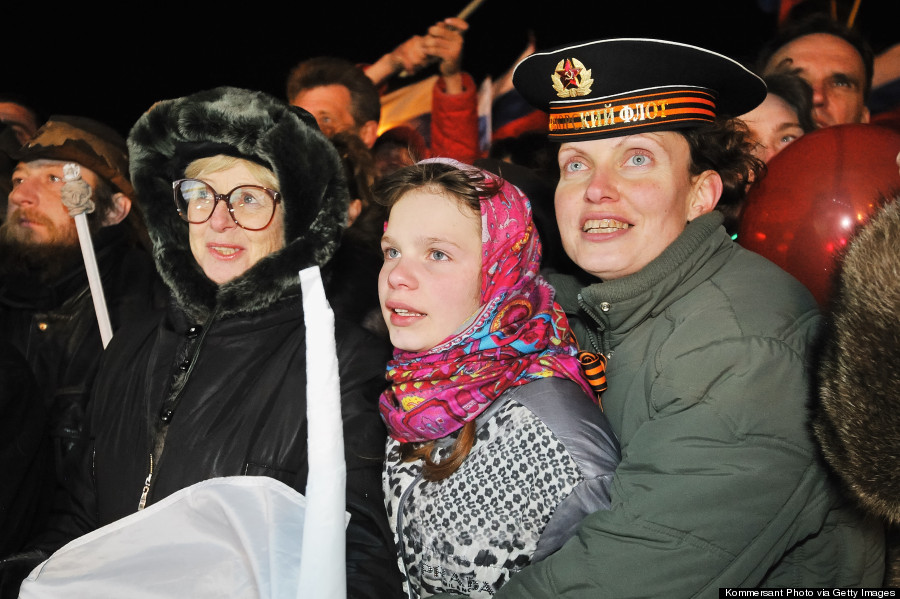 People celebrate after most of the population of the Crimea vote to join Russia on March 16, 2014 in Sevastopol, Ukraine. (Petr Kassin/Kommersant Photo via Getty Images) Pro-Russian Crimeans celebrate in the central square in Sevastopol, Ukraine, late Sunday, March 16, 2014. (AP Photo/Andrew Lubimov)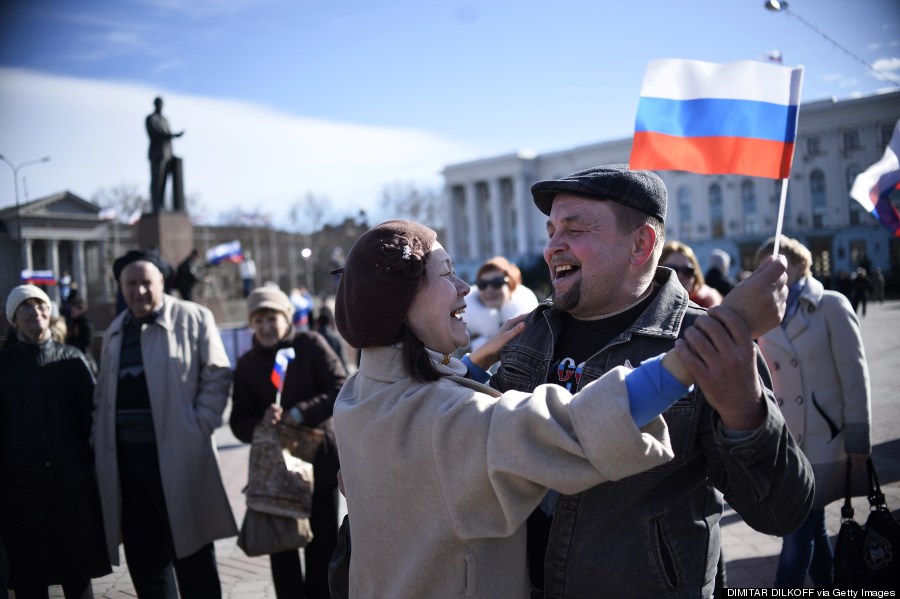 A man holds a Crimean flag outside the Crimean parliament building in central Simferopol on March 17, 2014. (DIMITAR DILKOFF/AFP/Getty Images)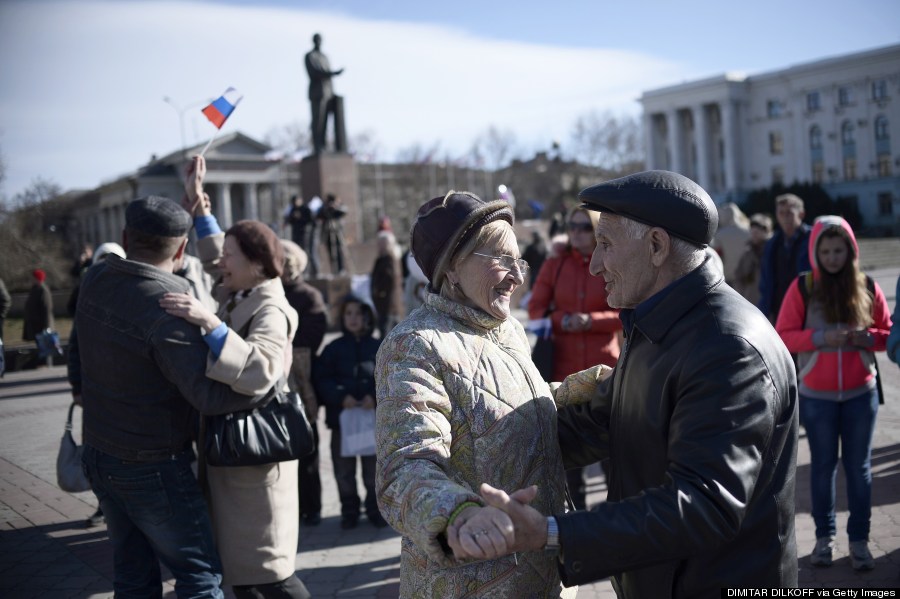 Outside the Crimean parliament building following the pro-Russia referendum vote, central Simferopol, March 17, 2014. (DIMITAR DILKOFF/AFP/Getty Images)
Before You Go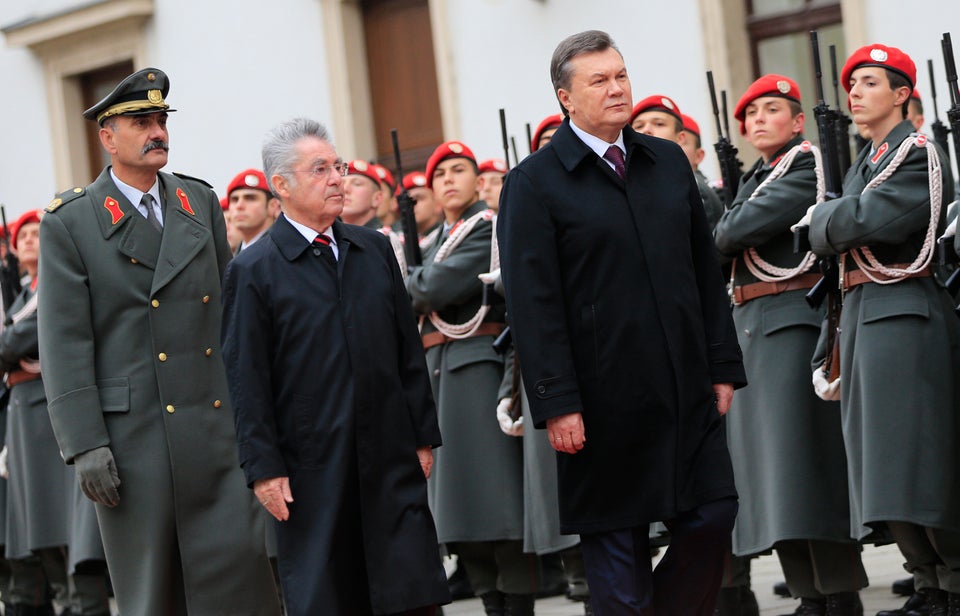 Timeline Of Ukraine's Political Crisis
Popular in the Community