I was watching the Dolphins hang a loss on the Vikings when the phone rang. "Paul, hurry! Someone's breaking into the house next door."
It was Steve, my neighbor up-the-hill, wired, his voice tight. His house had been burglarized the day before by thieves posing as moving men.
"Call the cops," I told him.
"Just did. Can you come up here?"
I opened the night stand drawer and pulled out my 9 mm Glock. Slammed in a clip, slid a round into the chamber. Stopped...
What the hell was I doing?
Someone was breaking into an unoccupied, about-to-be-foreclosed house where the only thing to steal might be some copper wiring. And I was grabbing a lethal weapon I had last fired about 8 years ago, missing all but the outer rings of the target. My novelist's eye saw myself trotting up the hill, waving a gun as Los Angeles cops tore around the corner, on the lookout for a burglar. This might not end well.
The gun was my second-generation Glock. The first one was stolen from my Coconut Grove house in the early 1990's. About a year later, a detective in Ft. Lauderdale called to tell me they'd found my gun at the scene of a homicide. It had been used to kill a man. I muttered some words of remorse.
"No big deal," the detective said. "Dead guy's a drug dealer."
I put the gun back and reached for a notepad. Maybe a plot idea would germinate on the not-so-mean streets of Studio City. Then I grabbed my camera.
I live in the foothills of the Santa Monica mountains. The houses are three stories, set into the hillside. The unoccupied home being broken into had a dandy view of the San Gabriels across the valley.
By the time I climbed three flights of stairs and reached the street, my heart was pounding and my little Panasonic camera was dangling from my neck like some tourist at the Louvre. I spotted the suspected burglar was in an old gray Honda, trying to drive away. His confederates could be expected shortly. At least, this is what happened to Steve the day before. By now, Steve had moved his SUV down our one lane, curvy street, blocking the only way in or out. I approached the Honda, whipped out my digital camera and clicked off several shots of the guy. (If you recognize him, let me know).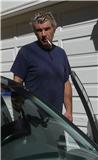 "What are you doing here?" I asked.
"Changing locks," he said with a pronounced Russian accent.
"Broker, I guess."

"That your car?"
Shook his head, lit a Winston. "Maria gave it to me."
He shrugged. "Tell your friend to let me out."
"Let's just wait for the cops."
At the word "cops," he winced. "I got some problems with my driver's license." Which I figured was like Jeffrey Dahmer saying he had problems with his digestion.
The guy abandoned the car, walked up the hill, then slid down a weedy slope on his butt toward Coldwater Canyon Avenue.
When the cops arrived ten minutes later, I told them the guy was late 30's, 6-1, 190 pounds, bleached spiked hair and spoke with a Russian accent. The car, I suggested, was possibly stolen. Maybe owned by a woman who was a life insurance broker in Orange County. She might need assistance walking, and it's possible her initials are "L.F."
The cops gave me sideways glances. Like who the hell was this guy, "The Mentalist?"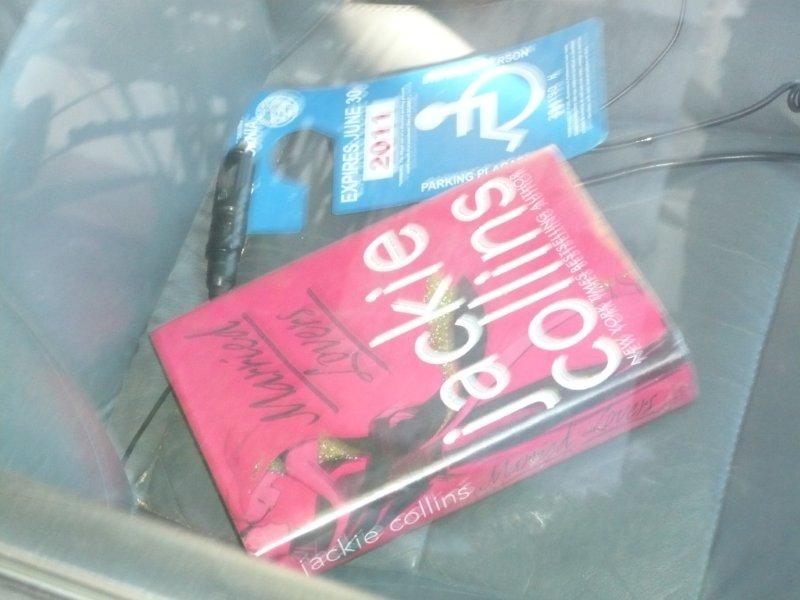 I explained. The license plate holder is from a dealer in Anaheim. In the front seat, there's a blue handicapped parking sticker and a hardcover book. Married Lovers by Jackie Collins. Men don't read her. The personalized license plate is "LF CLU."
"Her name might be Lois Fenstermacher," I suggested, helpfully. "And she could be a Chartered Life Underwriter."
The cops weren't impressed. All they had was a misdemeanor of trespassing, and they couldn't impound the Honda.
One of my neighbors asked if they would do a DNA analysis of the cigarette butts left in the car. Even I had to laugh, figuring it would take a triiple homicide to provoke that kind of police response. Too much C.S.I, I thought.
Later that evening, I was watching more football when two women walked up our street. According to Steve and our neighborhood posse, they got into the old Honda and drove off. Had I been there, I would have inquired about buying some life insurance.
Related
Popular in the Community