Baltimore State's Attorney Marilyn Mosby gave an update on the investigation into the death of Freddie Gray, the 25-year-old who died after suffering a spinal cord injury while in police custody in April, calling his death a homicide.
"We have probable cause to file criminal charges," Mosby said in a press conference Friday.
Charges including second degree murder, involuntary manslaughter and assault, among others, will be filed against the officers involved in Gray's arrest, Mosby said.
The New York Times' Alan Blinder tweeted out a photo of the documents listing the charges for each of the six officers:
Mosby noted that "no crime had been committed by Mr. Gray." Police had said Gray was arrested for possessing a switchblade, but Mosby said Friday the knife in Gray's possession was not a switchblade and was lawful, and said officers "illegally arrested" Gray.
"We are very much committed to pursuing justice," Mosby said.
Mosby went into detail about Gray's arrest, noting he was not secured by a seatbelt while traveling in a police van after his arrest. Investigators found Gray suffered an injury in the van that ultimately led to his death. Mosby also noted Gray told police he couldn't breathe "at least twice" as he was taken into custody and requested a medic, which officers did not provide.
Mosby also noted officers were "willfully negligent" when they stopped the police van Gray was riding in to pick up another suspect despite Gray's pleas for medical help. Mosby said Gray was "no longer breathing" when removed from the police van.
Mosby said her office's conclusions about Gray's arrest came from information obtained both by Baltimore police and through an independent investigation conducted by her office.
Mosby addressed the protesters who've been calling for accountability in Gray's death.
"Accountability... you're getting it today," she said.
The Baltimore police officers union sent a letter to Mosby Friday asking for a special independent prosecutor to be appointed for the investigation. The union expressed concern over Mosby's ties to an attorney of the Gray family, and suggested that her marriage to Baltimore City Councilman Nick Mosby made her involvement in the case politically questionable. "Most importantly, it is clear that your husband's political future will be directly impacted, for better or worse, by the outcome of your investigation," the union wrote.
The union argued none of the officers suspended in the investigation is responsible for Gray's death. "Not one of the officers involved in this tragic situation left home in the morning with the anticipation that someone with whom they interacted would not go home that night," the letter read.
Saying she would remain on the case, Mosby replied, "The people of Baltimore City elected me and there is no accountability with a special prosecutor."
By Friday night, all six officers had been taken into custody. As the Guardian's Jon Swaine noted, all of the officers' bail amount was set lower than an 18-year-old arrested during riots earlier in the week. All six were released on bail later that evening.
Photos of the officers were released later Friday night.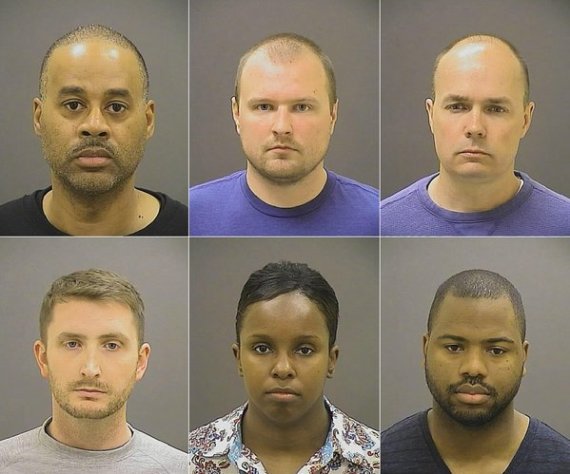 Clockwise from top left: Officer Caesar Goodson, Officer Garrett Miller, Lt. Brian Rice, Officer Edward Nero, Sgt. Alicia White, Officer William Porter.
Before You Go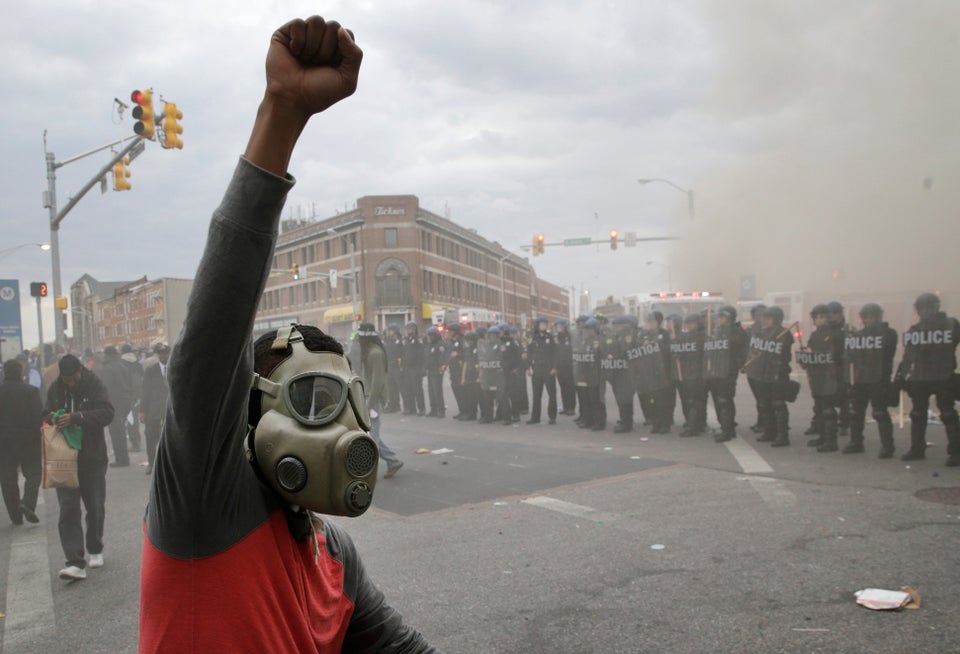 Baltimore Protests
Popular in the Community