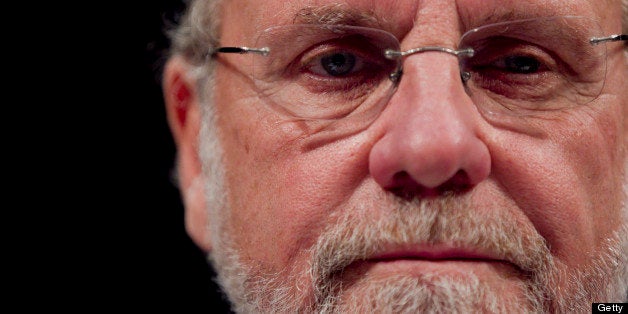 The collapse of Jon Corzine's brokerage firm MF Global has all the traits of your standard Wall Street scandal: Stupid things being admitted in panicked emails, wild risk-taking -- and absolutely nobody going to jail.
In the government case against MF Global, which went belly-up after dipping into customer money to pay creditors, there really seems to be little on which federal prosecutors can hang criminal charges. But a lack of charges will add to the government's sad track record of toothlessness since the financial crisis, and to the growing sense that personal accountability on Wall Street is rare.
A federal lawsuit details how the former major commodities brokerage got itself killed betting heavily on European sovereign debt. These bets were the handiwork of Jon Corzine, a former Democratic New Jersey governor and senator who was brought in to help restore the firm to profitability. Instead, the bets went bad in a hurry. Facing a cash crunch in October 2011, MF Global used some customer money for creditor payments, but quickly went bankrupt -- leaving more than $1 billion in customer money missing.
Even after the fiasco, a civil suit may be all the government can ever muster, the New York Times reported this week, citing anonymous law-enforcement sources. The Times' Ben Protess wrote:
After nearly two years of stitching together evidence, criminal investigators have concluded that porous risk controls at the firm, rather than fraud, allowed the customer money to disappear, according to the law enforcement officials with knowledge of the case.
To its credit, the Commodity Futures Trading Commission probably did the best it could to lay out an aggressive civil case against MF Global, former CEO Corzine and former executive Edith O'Brien. The now-defunct MF Global settled the suit immediately, promising never to be bad again and to pay $100 million in penalties if it has any cash left over after paying off creditors and customers.
Corzine and O'Brien are fighting the suit, which would have them give back their salaries and bonuses and pay penalties for their alleged sloppiness in overseeing $1 billion in customer money that went missing as the firm collapsed. The suit would also bar them from ever working on Wall Street again.
The question is whether the many, many dumb emails and recorded telephone calls presented as evidence in the CFTC's lawsuit demonstrate that either executive committed fraud. That is in the eye of the beholder.
Notre Dame law professor Jimmy Gurulé, a former Treasury official, said he thinks there could be enough to prove wire fraud and a conspiracy to commit fraud. Although MF Global apparently didn't intend to take money from clients, it did intend to borrow that money in a way that clients probably didn't expect: to keep itself alive.
"You could make the argument that there was a scheme to defraud the customers and to transfer their money for purposes they did not authorize, that they didn't consent to," Gurulé said.
On the other hand, the word "fraud" is never mentioned in the CFTC's complaint. An anonymous lawyer suggested to Reuters that there didn't seem to be much in the way of actual fraud in the case.
A spokeswoman for the U.S. Attorney's office in Manhattan declined to comment. Neither Corzine's attorney, Andrew Levander, nor O'Brien's attorney, Evan Barr, responded immediately to requests for comment. In a statement to the press on Thursday, Levander wrote, "After 20 months of thorough investigations by the Department of Justice, two bankruptcy trustees, and the CFTC, no evidence has been found that contradicts Mr. Corzine's sworn testimony before Congress. Mr. Corzine did nothing wrong, and we look forward to vindicating him in court."
The most damning evidence in the complaint against Corzine still seems too ambiguous as a hook for criminal charges. In this exchange in a recorded phone call printed in the legal complaint, Corzine seems to tell an employee to use client money to help the firm in a short-term borrowing market called the "tri-party repo" market:
Corzine: We have a money management account at Chase, if my memory serves me.

Employee # 1: Yeah, it's the JP Morgan Trust account, but that's cash seg for clients. It has nothing to do with greasing our wheels for Chase to move.

Corzine: I understand, but you put it in a tri-party, and then once the securities have started moving, then you move it back to the, um-- this is the same thing we did last night, they left it in the tri-party, the seg money.
This exchange will probably not win Corzine any awards for customer care, but it is possible that Corzine did not think he was suggesting doing anything illegal with client money.
There is also the not-small problem that using limited amounts of client money for trading in some instances was actually permitted under CFTC rules at the time all this was happening, believe it or not. MF Global had a firm-wide policy not to mingle the money, but abandoned its principles when the going got rough. That made it risky and sloppy -- but not criminal.
O'Brien, the chattiest MF Global official when it came to discussing questionable things in email and phone calls, probably has immunity from prosecution "for now," the NYT reported. In her many recorded conversations, the line between "dumb" and "fraudulent" is pretty blurry.
In one instance, O'Brien emails the Bank of New York that it is totally legitimate, from a regulatory standpoint, to shift some client money into an MF Global account. She doesn't loop anybody else at MF Global into the email exchange because, as she tells a colleague in a recorded phone call, "I don't want to take anyone down with me." Hardly confidence-inspiring -- but you could also see it as evidence there was no conspiracy to defraud anybody.
In another phone call from the complaint that will go down in dumb Wall Street communication infamy, O'Brien bemoans just how irretrievable some "borrowed" client money has become. In the following quote, "seg problem" refers to a problem with having too much client money sucked away from segregated client accounts:
O'BRIEN: It is a total clusterf*ck .... They have to move half a billion dollars out of BONY to pay me back .... Tell me how much money is coming in and I will make sure it gets posted. But if you don't tell me, then tomorrow morning I am going to have a seg problem .... I need the money back from the broker-dealer I already gave them. I can't afford a seg problem.
Again, this doesn't look great. But it also doesn't necessarily look criminal. It could just be that O'Brien is frazzled dealing with a legally approved practice gone wild.
Given these many ambiguities, proving fraud beyond a reasonable doubt -- the standard in a criminal case, higher than in a civil case -- might be too high a hurdle for prosecutors.
So the Justice Department may have legitimate reasons for not prosecuting in this case. The problem is that it has lost all credibility after giving a free pass to so many banks and bankers after the financial crisis and the Libor scandal. The involvement of the politically connected Corzine does not help matters, and cynicism and distrust of Main Street toward Wall Street and Washington will only grow.
Popular in the Community