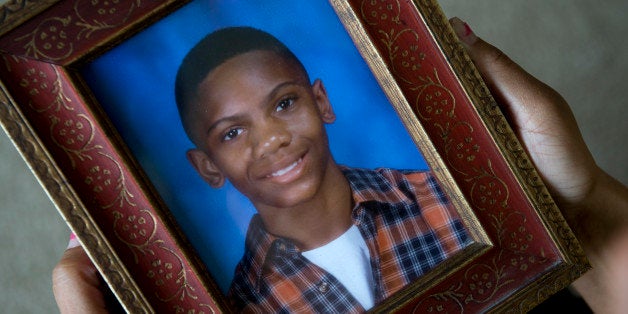 Ethan Saylor was like many men his age. He enjoyed going out with friends to a movie or a karaoke bar, he was a loving big brother to his two siblings, he adored his mother, and he happened to have Down syndrome. What is heart wrenching is that to those who didn't know Ethan personally, he is most commonly remembered for his tragic and untimely death. Ethan lost his life at the hands of three off duty sheriff deputies while being evicted from a movie theatre following a dispute over an unpaid movie ticket. His larynx was crushed during the confrontation, and his last words were cries for his mother. Ethan had no previous history of violence. His death was senseless and avoidable.
More than three years ago this tragedy turned a national spotlight to a critical problem facing our criminal justice system - the lack of training for law enforcement on how to safely and effectively interact with people with intellectual and developmental disabilities (I/DD). Yet, here we are today, and current drafts of criminal justice reform legislation, from both houses of Congress, make little mention of people with disabilities and no mention of the I/DD population. Sadly, we have even more reminders of the holes in our system as we look to Florida where Charles Kinsey, a direct support professional for people with I/DD, was shot in a situation involving one of the individuals he served, Arnaldo Rios.
How is this possible? The numbers paint a bleak picture. As many as 1 in 5 prisoners self-identify as having a cognitive disability. Yet the majority of law enforcement, corrections, probation and parole officers, and court personnel receive little or no training on interacting with this population. It's astonishing to think that Ethan's life could have been saved if law enforcement training on I/DD was mandatory at the time, or how many lives could be saved if this training is required in the future.
The consequences of this knowledge gap are dire. Suspects with I/DD are prone to give false confessions, resulting in innocent people going to prison. Victims with I/DD are often presumed to be incapable of giving a witness statement or testifying reliably, resulting in their perpetrators going free. What starts as a routine encounter can go terribly wrong when an officer perceives an individual as "not cooperating" when they simply don't understand the questions and directions of an officer or the gravity of the situation in which they are involved.
When an individual's disability is not immediately apparent, their "invisible disability" can lead to misunderstandings, miscommunication, unnecessary escalation and tragic consequences. This is exactly what happened to Neli Latson (pictured above), a young black man wearing a hoodie, who was sitting on a bench waiting for his local public library to open. Reported by a passerby as "suspicious" and as possibly having a gun, Neli was approached by law enforcement officials, he complied with a search and no gun was found on him. Yet, unaware that Neli had autism and intellectual disability, the situation soon intensified leading to a physical altercation. This interaction snowballed into a years-long injustice that included additional physical altercations with corrections officers, additional charges filed, solitary confinement, and mental breakdown. It was only resolved when the state's Governor stepped in and granted a pardon so that Neli could access the treatment his disability and mental illness required. Had the officers, attorneys, and prison staff involved in this case had training on interacting with individuals on the autism spectrum, this case would have turned out much differently.
Ethan's and Neli's stories made national headlines, but they are just two of the countless examples of our criminal justice system failing the I/DD community. How can an officer properly support a suspect with autism who has a unique way of communicating if he or she doesn't have training on recognizing or interacting with someone with such a disability? How can a correctional facility accommodate an inmate with a Fetal Alcohol Spectrum Disorder if there are no screening protocols to even identify the presence of a disability? The result is a never-ending cycle where people with I/DD are sucked into a criminal justice system that is unprepared to support their needs. Ultimately, this is a widespread failure to provide access to justice to people with disabilities.
We need to ensure that people with I/DD aren't left behind as Congress makes bipartisan strides in criminal justice reform. Any policy must require mandatory training for all sectors of the criminal justice system, from law enforcement, prison staff, and court personnel, to ensure that individuals with I/DD get the support they need at every step in their interaction with the criminal justice system. We also need better systems for identifying individuals who have I/DD, including opportunities for self-identification to first responders and mandatory screening upon arrest and in processing. Training and building relationships between law enforcement officers and people with I/DD is the key to preventing future tragedy and injustice.
Time is running out for Congress to act this year, and people with I/DD and their families desperately need solutions that include them. Without inclusion, there is no hope for equal justice.
The Arc is the nation's largest and oldest human rights organization for people with intellectual and developmental disabilities (I/DD), serving more than a million individuals and their families. Through its National Center on Criminal Justice and Disability, The Arc is helping people with I/DD, families, and people in the criminal justice field to address the issues outlined in this article.
Calling all HuffPost superfans!
Sign up for membership to become a founding member and help shape HuffPost's next chapter