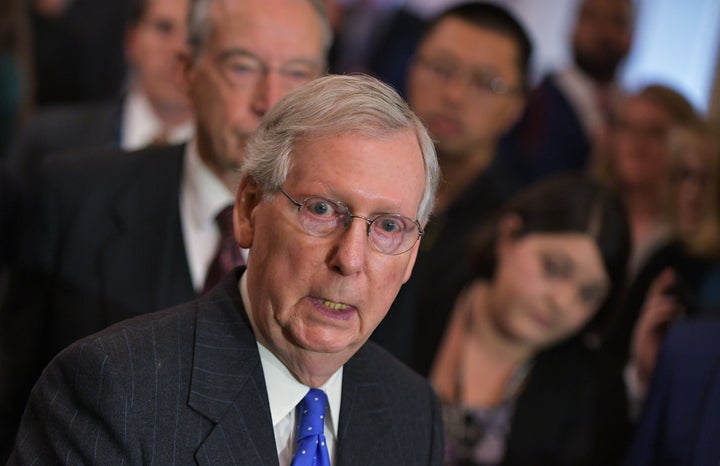 Sens. Lindsey Graham (R-S.C.) and Rand Paul (R-Ky.) often find themselves on opposing sides of debates in Washington. But on Sunday, both called on the fellow Republican who controls the Senate agenda ― Majority Leader Mitch McConnell of Kentucky ― to reverse course and schedule a vote on a bipartisan reform bill to reform harsh U.S. prison sentencing laws.
"It'll get 80 votes" Graham said on NBC's "Meet the Press." Urging President Donald Trump to "pick up the phone and push the Republican leadership," he said his own party is "the problem here, not the Democrats."
Graham, who is set to chair the Senate Judiciary Committee in next year's new Congress, argued that passing the bill ― endorsed by Trump last week ― would allow the country to "heal" after the divisive midterm elections.
The First Step Act would lower mandatory minimum sentences for drug-related offenses and reduce the "three-strike" penalty for multiple convictions of certain felonies from a life sentence to 25 years. It also aims to help federal inmates better adjust to life after prison by expanding their employment opportunities and incentivizing their participation in rehabilitation programs, among other measures.
It has the support of liberal and conservative groups, including the American Civil Liberties Union and the Fraternal Order of Police, as well as the billionaire Koch brothers.
Paul, a long-time advocate of criminal justice reforms, similarly urged McConnell to bring up the legislation before the year's end, estimating that it would pass with 65 to 70 votes.
"It's all up to one person. Sen. McConnell has the ability to call any vote he wants to anytime," Paul said on CBS' "Face the Nation." 
Asked whether he was suggesting McConnell opposed the legislation, Paul demurred.
"I haven't talked to him directly about it. The last time I talked to him about it, he said he was open to allowing a vote after the (midterm) election," Paul said.
McConnell has said time may not permit the bill's consideration before the Senate adjourns for the year, despite the overwhelming bipartisan support for the legislation. Proponents of the effort, however, fear he is using the calendar as a pretense to kill the measure, given that its passage may be more difficult in the new Congress.
After Democrats become the House's majority party in January, they may add provisions to the bill that will bog it down in the Senate, which will remain under GOP control.
Calling all HuffPost superfans!
Sign up for membership to become a founding member and help shape HuffPost's next chapter