Last year, on the night of International Human Rights Day at 2am, Abdallah Abu Rahmah was arrested from his home in the West Bank city of Ramallah. Abu Rahmah is the coordinator of the Bil'in Popular Committee Against the Wall and Settlements and was arrested for coordinating the weekly unarmed protest against Israel's separation barrier. During his arrest seven military Jeeps surrounded his house as Israeli soldiers broke the door, and took Abdallah from his bed. After briefly allowing him to say goodbye to his wife Majida and their three children, he was blindfolded and taken to the Ofer military prison.
Bil'in has become an internationally recognized symbol of Palestinian unarmed and largely nonviolent resistance to Israel's controversial separation wall and continued settlement expansion. Thousands of Israelis, Palestinians and international supporters including former U.S. President Jimmy Carter, Mahatma Gandhi's grandson, Desmond Tutu and Naomi Klein have joined in Bilin's weekly demonstrations since they began. The village's struggle is the subject of a riveting documentary, "Bil'in, Habibti," by Israeli filmmaker/activist Shai Pollak.
Israel has responded to the international attention on Bil'in with a campaign of repression which has included waves of arrests, daily night raids, repeated use of high velocity tear gas projectiles against protesters (resulting in the death of Bassam Abu Rahmah in 2009 and countless injuries) and the use of military courts to persecute the leaders of the popular committee against the wall. According to Adv. Gaby Lasky, Abu Rahmah's lawyer, "Soldiers have killed and injured dozens and hundreds of protesters in the attempt to stop the Palestinian popular struggle, but have failed. They are now trying to illegitimately use the courts and the legal system in the same way. The international community must take a tough stand on this issue."
Abdallah Abu Rahmah, along with another popular committee member Adeed Abu Ramha, is the latest nonviolent grassroots Palestinian leader to stand before Israel's military court. Abu Ramha has represented the village of Bil'in around the world. On December 10th 2008, Abu Rahmah received the Carl Von Ossietzky Medal for Outstanding Service in the Realization of Basic Human Rights, awarded by the International League for Human Rights in Berlin.
Since his arrest, Abdallah Abu Rahmah has not been able to see his wife or children. Israel considers the Ofer military prison, where he is being held, to be part of Israeli sovereign territory despite its location in the heart of the West Bank. In order to visit her husband, Abu Ramha's wife is required to get an entry permit to Israel. She has been routinely denied this permit because her husband is considered a 'security risk'. Abu Rahmah is not even permitted to make phone calls because of his security status.
To understand the absurdity of the charges brought against Abu Rahmah, consider that he was initially indicted for making an art exhibit out of used tear-gas projectiles and bullets. Who knew that a peace sign constructed out of instruments of repression could threaten Israeli security? This absurd arms possession charge is a clear example of how eager the military prosecution is to use legal procedures as a tool to silence and smear unarmed dissent.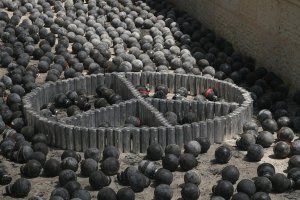 Abdallah Abu Rahmah's verdict was read on Tuesday August 25, 2010 in a packed military court room, concluding an eight months long show-trial. Diplomats from France, Malta, Germany, Spain and the UK, as well as a representative of the European Union were in attendance to observe the trial. The court found Abu Rahmah guilty of two of the most draconian anti-free speech articles in military legislation: incitement, and organizing and participating in illegal demonstrations. It did so based only on testimonies of minors who were arrested in the middle of the night and denied their right to legal counsel.
Under Israel military law, incitement is defined as "The attempt, verbally or otherwise, to influence public opinion in the 'area' in a way that may disturb the public peace or public order" (section 7(a) of the Order Concerning Prohibition of Activities of Incitement and Hostile Propaganda (no.101), 1967), and carries a 10-year maximal sentence. The use of this law reflects Israel's last ditch effort to crush Palestinian grassroots nonviolent mobilization.
Israeli Military law defines illegal assembly as any assembly of more than 10 people without receiving a permit from the military commander. Abu Rahmah's case is first time the military prosecution had used the organizing and participating in illegal demonstrations since the first Intifada. This verdict could set a precedent for Israeli military court in their ongoing repression of unarmed and largely non violent Palestinian demonstrations which take place weekly throughout the West Bank.
In response to the verdict, European Union High Representative Catherine Ashton released a statement condemning the verdict against Abu Rahmah calling him a human rights defender. "The EU considers Abdallah Abu Rahmah to be a Human Rights Defender committed to non violent protest against the route of the Israeli separation barrier through his West Bank village of Bil'in. The High Representative is deeply concerned that the possible imprisonment of Mr. Abu Rahmah is intended to prevent him and other Palestinians from exercising their legitimate right to protest against the existence of the separation barriers in a non violent manner. "
Abu Rahmah's sentencing will take place next month, and the prosecution is expected to ask for a sentence exceeding two years. The Popular Struggle Coordination Committee has organized an awareness campaign for Abu Rahmah in order to apply pressure on the Israeli government to allow peaceful Palestinian protest take root in the West Bank. Abudallah Abu Rahmah is the latest target in Israel's campaign to repress nonviolent protest and ensure that a Palestinian Gandhi will not be able to rise in the West Bank.
Popular in the Community