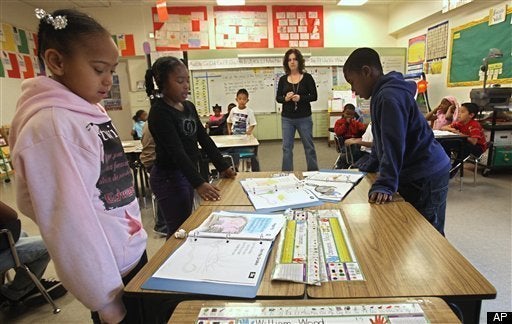 Crippled by budget deficits, states officials have been eying money in the $26 billion federal jobs bill that's intended for schools. State leaders in California and Oregon have expressed interest in taking their fraction of the federal money from the $10 billion Education Jobs Fund and stashing it away for rainy day funds or using it to retire state debt. In Texas, Rep. Lloyd Doggett added a state-specific amendment to the federal legislation to prohibit precisely this behavior.
It's not the first time state leaders, finding themselves short on money, have opted to use federal funds to replace rather than supplement state spending. Similar concerns were raised when, after the $100 billion economic-stimulus law passed, many states pared down their own education spending after the federal money was infused. And a recent study by Center on Reinventing Public Education at the University of Washington found a significant decline in state education spending following the federal stimulus in 13 of the 23 state budget plans examined.
Policymakers at the state and federal levels may want to take a closer look at how money is being spent, and whether it is matching their desired outcomes, the study's author, Marguerite Roza, told Education Week.
Although states are not allowed to use the federal money to reduce or retire debt obligations incurred by the state, a House Democratic Aide tells the Huffington Post, there are ways around rules, and some lawmakers are eager to skirt them.
In California, legislators, including state Sen. Darrell Steinberg, have proposed using the $1.2 billion in federal money designated for the schools to help offset the state's $19 billion deficit. Steinberg has since backed off those statements under public pressure.
"With the new school year already underway and students facing unprecedented larger class sizes due to $17 billion in cuts to public schools over the past two years, California's lawmakers need to take urgent action to ensure that federal funding passed by Congress is distributed to schools immediately and not used to fix the state's budget crisis," wrote Robin Swanson, spokeswoman for Education Coalition, a 2.5 million-member group that includes teachers, parents and other school officials.
In Oregon, Governor Ted Kulongoski told superintendents to be "judicious and prudent" with the $118 million expected from the federal-aid bill, as the state's deficit has grown an estimated $200 million to $500 million this year, according to The Oregonian. A superintendent quoted in the The Mail Tribune said the budget shortfall "effectively erases the federal funds."
"I will be working with legislative leadership on how we can resolve the deficit if the forecast materializes as expected," Kulongoski wrote. "If I am required to use my allotment authority to bring the state budget for this biennium (2009-11) back into balance, it will require another round of budget cuts, including cuts to the state's allocation for schools."
After Rep. Doggett introduced a Texas-specific provision into the federal legislation requiring Texas to use the money for education and not divert it to other programs, Gov. Rick Perry originally threatened a lawsuit.
"Texas will not surrender to Washington's one-size-fits-all, deficit spending mindset," said Perry in a statement.
Clay Robison, spokesman for the Texas State Teachers Association, disagrees with Perry's assessment.
"All it required him to do is basically say the state will make its commitment to do its best effort to keep the state's share of school funding the way it is now," Robison told the San Angelo Standard-Times.
Democrats have said they added the provision because of the way many states mishandled last year's federal stimulus money. Doggett, who led the effort, has said the way state lawmakers handled stimulus funds was an abuse of the intent of the federal stimulus act, and that his provision will ensure Texas state officials won't divert federal education dollars to other parts of the budget.
Doggett's amendment has inspired editorials in The Dallas Morning News called, "Is Washington Picking on Texas?" And some education groups believe that the amendment should apply to other states too.
"We don't think it's fair that they're just singling out Texas," Debbie Ratcliffe, a spokeswoman for the Texas Education Agency told The Associated Press. "If this is a good idea, then why not make it apply to all states?"
"We have listened to the needs of parents and school leaders across Texas, we overcame the opposition of the Obama Administration, and we are writing into federal law a requirement that federal education dollars not be diverted again from local schools..." said Congressman Doggett in a statement. "Compliance is very easy, unless there remains a hidden Republican agenda to avoid accountability and to engage in more of the shenanigans of last year, which replaced state education dollars with federal dollars, leaving our schools no better off than if we had done nothing. Instead of concocting phony legalistic arguments to deny our local schools the funds that they so desperately need, Governor Perry should join with us in support of public education."
But beyond lawmaker's attempts to close the legal loopholes, public censure has been highly effective.
Soon after Steinberg's comments were printed in The Sacramento Bee last week, Steinberg and Assembly Speaker John Pérez met with Education Coalition leaders to discuss the fate of the federal money. Sen. Barbara Boxer (D-Calif.), meanwhile, issued a pointed statement: "This funding can only be used to save education jobs that serve our children in public schools - and nothing else."
A few days later Steinberg announced he had amended state legislation "to allocate funds to appropriate $1.2 billion to the state Department of Education as soon as California receives the funds from the federal government pursuant to the federal Education Jobs and Medicaid Assistance Act." His press secretary spread the word on Twitter, but calls to Steinberg's office were not returned.

Popular in the Community