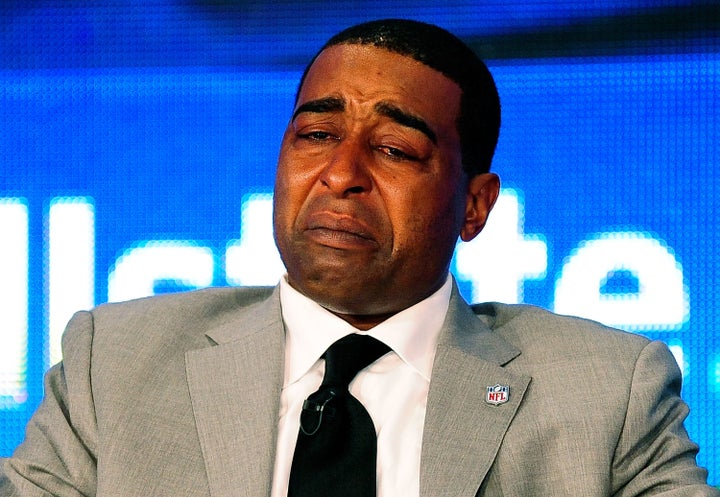 NFL Hall of Famer Cris Carter has apologized for comments he made a year ago at the 2014 Rookie Symposium, where he advised players to designate a "fall guy" in the event they get in trouble with the law. 
"Just in case y'all not going to decide to do the right thing, if y'all got a crew, you got to have a fall guy in the crew," Carter said as he doled out advice to a room full of young players. 
"Get yourself a fall guy," Borland says one of the former players advised. The former player, whom Borland declined to name, told the rookies that if they ran into legal trouble, their designated 
fall guy would be there to take the blame and, if necessary, go to jail. "'We'll bail him out,'" Borland says the former player assured them.

Borland was appalled. "I was just sitting there thinking, 'Should I walk out? What am I supposed to do?' " he recalls. He says he didn't leave the room because he didn't want to cause a scene, but the incident stayed with him.
Borland did not specifically name Carter in the ESPN interview, and he didn't have to. The Internet was quick to pull up the video, initially uploaded by the NFL and since taken down, identifying Carter in his 2014 presentation.
Carter apologized on Sunday evening in a series of Tweets: 
The NFL and ESPN, for which Carter is an analyst, distanced themselves from the veteran.
"We completely disagree with Cris's remarks and we have made that extremely clear to him," ESPN said in a statement. "Those views were entirely his own and do not reflect our company's point of view in any way."
The NFL called his comments "unfortunate and inappropriate." In a statement, the league said:
This was an unfortunate and inappropriate comment made by Cris Carter during the 2014 NFC Rookie Symposium. The comment was not representative of the message of the symposium or any other league program. The league's player engagement staff immediately expressed concern about the comment to Cris. The comment was not repeated in the 2014 AFC session or this year's symposium. 
PHOTO GALLERY
15 Hilarious Sports Fails
Calling all HuffPost superfans!
Sign up for membership to become a founding member and help shape HuffPost's next chapter