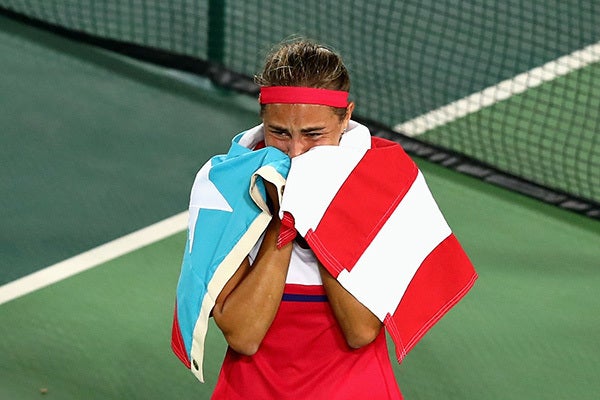 Puerto Rico is going through rough times as the financial crisis worsens and the island struggles to get the economy back on its feet. The future for some people right now is uncertain, which is why many are leaving to US states like Florida and Texas in the hopes of finding better opportunities in the future. To top that, news about the Zika virus spreading on the island is also having an adverse effect, particularly because it's keeping tourists away from visiting.
Each day, there is plenty of coverage about Puerto Rico's situation on local and international media, as well as on social media. As residents in the island brace for the November election, political candidates look for ways to get votes by discussing their proposals that will "save the island." People are just tired about this, particularly because there is lack of unity, many feel hopeless, there is too much uncertainty, and the situation is not improving at all.
Several efforts have been started on social media to counter the negative effect that this situation has on Puerto Rico, like #CrisisIsland, which a group of Instagram influencers on the island created to focus on the beautiful things that stand out, rather than the negative. This is one of a few things that have helped people forget for a while about the crisis, with excellent results in terms of impressions and the amount of user-generated content created. Then something else changed.
Tennis player Monica Puig, who is representing Puerto Rico in the Olympic Games at Rio de Janeiro, surprised many when she advanced to the singles semifinals last week. Puig, a professional tennis player who currently ranks #33 among other singles tennis players from the World Tennis Association (WTA), is also a medalist from the Central America and Pan American Games. Everyone knew she was good, yet no one expected she was going to win the first gold medal that Puerto Rico has ever won at the olympic games. Fast forward to last Saturday, Monica Puig is the Olympic gold medal winner and Puerto Ricans can't stop celebrating.
Right after the moment when Monica advanced to the semifinals, Puerto Ricans turned to social media to express their happiness and, particularly, show their support. In the midst of all uncertainty in the island, hopelessness, disagreements, as well as discussion about Zika and economic problems seemed to vanish, as people united for one cause: cheer for Monica.
From very creative hashtags, like #Puigñeta (made up by someone, using Mónica's last name and the last syllables of a very bad, yet strong word, commonly used in sports to denote one's feelings or emotions), to memes and gifs, Twitter, Instagram and Facebook were inundated with posts and people began to like, comment and share. This is one of the areas in which social media is big, because of its immediacy factor and the possibility for messages to spread and reach people throughout the world in a matter of seconds. Thus, the effect is stronger.
Here are five different social media highlights from this weekend:
1. Trending topics: Monica's official hashtag, #PicaPower has been trending worldwide since last Thursday, August 10th, according to Trendinalia. As of today, Monica and the creative new term, #Puigñeta are still trending in Puerto Rico: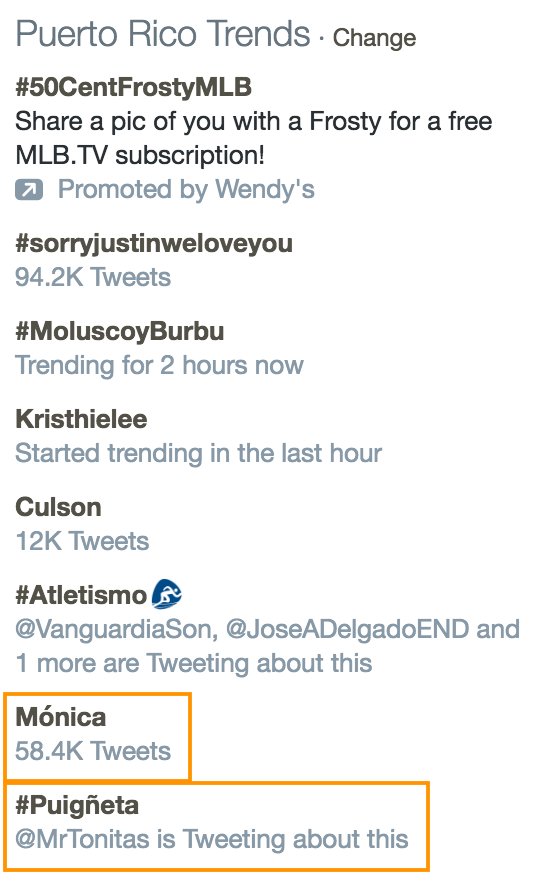 Here are some examples of posts which included this hashtag and which the main idea is to celebrate and stand united as one nation:
2. Memes and Gifs: People also turned to social media to publish creative pieces of media, also highlighting how Monica united Puerto Rico. Animated images were seen more after the final match. Most of these appealed to the patriotic feeling and excitement of most people, while others played with the importance for people to know where exactly Puerto Rico is located, just in case they didn't.
Translation: When your actions are able to unite and bring people together.
Translation: The door of San Juan is no longer black.



3. Brands joining the party: It is normal for brands and local companies to want to join the discussion for real-time marketing on social media. Here are two examples:
Translation: Hungry or not, today we are #PROUD! 
Translation: Now that everyone knows what one single Puerto Rican woman can accomplish, the only thing missing is for all of us to believe it. 
4. Celebrities posting uplifting messages: Public figures, including celebrities, political candidates, and government agencies also turned to social media to express how proud they are:
5. Citizen journalists reporting their own take on the situation: Many people took the role of citizen journalists and uploaded videos and photos of what was happening everywhere after the match: 
It is evident that most of the content shared on this article addresses the fact that Puerto Ricans have been moved with that victory. In the words of Maria de Lourdes Santiago, candidate for Governor of Puerto Rico for the Puerto Rican Independence Party: "This goes beyond an athletic accomplishment. It is the representation of hope in a difficult moment."
This is not far from the truth and I am deeply touched by the fact that for days, thanks to all the impressions created on social media and to massive interaction, we were able to put our differences aside and stand together as Puerto Ricans. In times of traditional media, the effect wouldn't have been as strong as this one.
Calling all HuffPost superfans!
Sign up for membership to become a founding member and help shape HuffPost's next chapter
BEFORE YOU GO