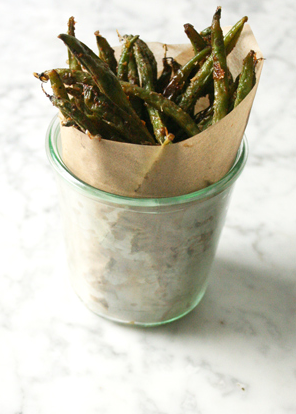 It's 3 p.m. You're well aware that you should be reaching for something virtuous to snack on.
Luckily, we've figured out how to make vegetables more alluring when hunger strikes.
These oven-baked green beans are the answer.
They're easy, satisfying and not at all bad for you.
Ingredients
1 pound fresh green beans, washed and trimmed
3 tablespoons olive oil
½ cup grated Parmesan cheese
1 teaspoon kosher salt
1 teaspoon freshly ground pepper
½ teaspoon paprika
Preheat the oven to 375°. Line a baking sheet with parchment paper.
In a large bowl, toss the green beans with the olive oil. Add the Parmesan, salt, pepper and paprika and toss well to coat.
Pour the green beans onto the baking sheet and bake until crisp, 10 to 15 minutes. Cool slightly before serving.