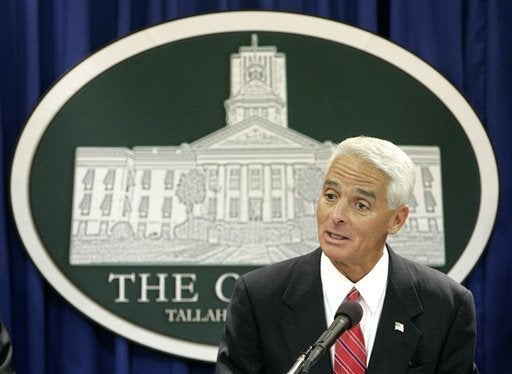 Another fierce ideological rift has opened up within the Republican Party. Conservatives are up in arms over Charlie Crist's Senate run and the support Crist has received from the national Republican establishment.
Crist, the governor of Florida who announced his Senate candidacy on Tuesday, is seen as a moderate on many issues, and his recent backing of Obama's stimulus plan has drawn the ire of many GOP activists.
Conservatives in the blogosphere are particularly incensed. Erik Erickson at the prominent blog RedState is calling for a boycott of the National Republican Senatorial Committee over its endorsement of Crist:
I can kind of understand them getting behind Specter. Both he and Chaffee were incumbents. But getting behind Crist in the Florida primary is wholly unacceptable for all the reasons and explanations Dan gave. ...

If the NRSC thinks this is smart, we must not waste our time or energy with them. Join me in pledging no money, no help, no aid, and no support for the NRSC's efforts in the 2010 election cycle.
Matt Lewis at Politics Daily sums up some other conservative reaction:
National Review's Jim Geraghty hit the nail on the head when he asked, "... how many Republicans have ever said, "Thank goodness the NRSC intervened in that primary"?

And fellow NRO blogger David Freddoso wrote: "As demonstrated here and by their completely unnecessary (and not necessarily correct) dissing of Pat Toomey's chances in Pennsylvania, the Senate establishment wants to pre-determine as many outcomes as possible."
Calling all HuffPost superfans!
Sign up for membership to become a founding member and help shape HuffPost's next chapter