Nine years after her brain injury, a popular singer releases an album to honor her journey and to inspire other survivors.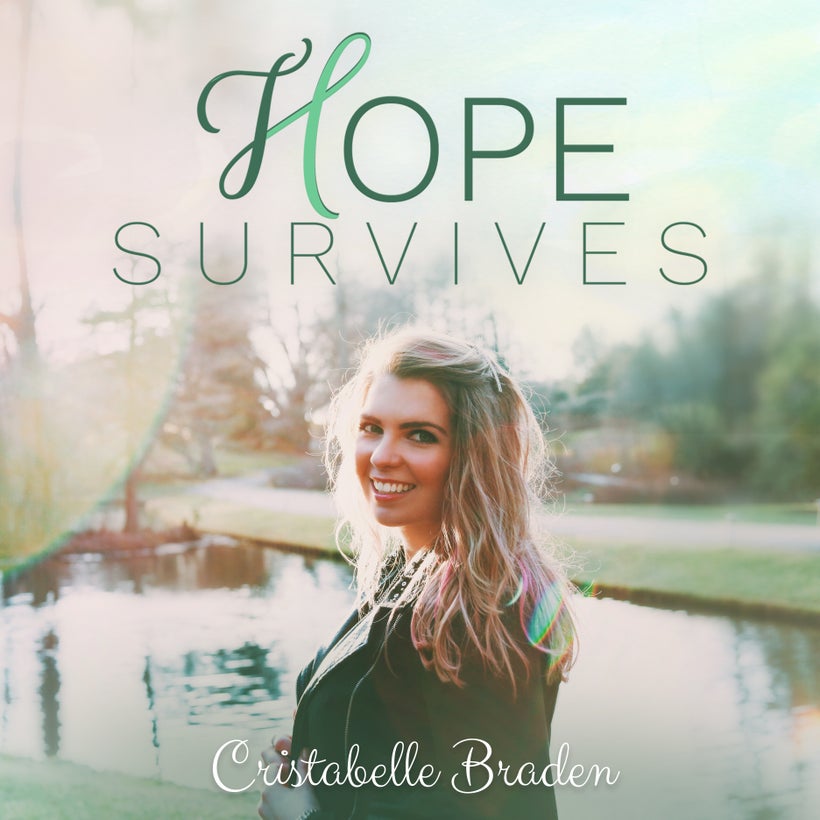 On February 3rd, I celebrated my three-year "Brainniversary." I was feeling nostalgic, reflecting back on all of the awareness that has been created during my journey — not only by me, but by some truly amazing survivors.
As I slowly began to come out of the fog around fourteen months, one of the very first inspirational brain injury survivors I came across was Cristabelle Braden. I discovered her just as she had released her original version of "Hope Survives" — a song that she considers "an anthem for survivors" (and is also the title of her newest album).
At the time, Cristabelle was seeking volunteers who would like to be featured in her corresponding music video by holding up a sign that explained what "hope survives" meant to them. I submitted mine and was honored to be included in the video (watch the video below) and a few months later I was also asked to do a "behind-the-sign" spotlight video explaining what my sign meant to me. I had already been writing articles for the Huffington Post, and was thrilled to have another outlet to spread awareness.
At her regular youth group meeting in December 2007, Cristabelle was participating in a running game when she hit her head against a cement wall and then also on the floor. Swelling in her brain caused a traumatic brain injury (TBI), and her life was forever changed in an instant. While other teens were hanging out at the mall and learning to drive, she was spending her days in rehab centers trying to overcome her memory loss, headaches, overstimulation, fatigue, and much more.
It was during her recovery that she turned to music as an outlet, writing songs as a means to cope with what she was going through—and something she had not done before. She wasn't able to hold conversations, yet was able to express herself through music, it was an unexpected surprise to her and those around her. Doctors told her she might not graduate from high school, but she persevered and graduated from college with a double major in music and religion.
Through her journey of recovery, Cristabelle grew more and more passionate about TBI support and awareness, and now has become very active as an advocate for brain injury. The goal of her organization "Hope After Head Injury" is to provide a support system which focuses on the emotional aspect on healing from brain injury. Cristabelle effectively uses social media to reach out to brain injury survivors and caregivers through an active online support group, weekly live video chats, and posts encouraging the community to keep going through the daily struggles of brain injury.
Hope Survives, her fourth album, is music that she wrote about her recovery, and includes a brand new version of the song "Hope Survives." This album was entirely written by Cristabelle, and tells her story of finding hope through the darkest times, never giving up, and continuing to fight despite the most difficult of circumstances.
The album's release on February 24th is a kick-off to Brain Injury Awareness Month (March) and she will be spending the entire month on tour. Her concerts are completely free of charge, and are held mostly at support groups, clubhouses, and churches. You can find her tour dates and cities: www.cristabellebraden.com
I recently had the opportunity to have a Q&A session with Cristabelle.
Q:. What prompted you to start writing music ... particularly in regards to TBI ("Hope Survives") ?
C: Well, I never wrote a song before the brain injury! While I was in the early stages of rehab therapy, I began to write my struggles into music and lyrics. It's just grown from there. My brain injury created a lot of difficulties in daily living, so my doctors and family encouraged me to focus on what I could do, not on what I couldn't. The first time someone asked me for a CD, I thought it was the craziest thing I'd ever heard. Why would I make a CD? Now, 9 years later, I'm a nationally touring singer/songwriter and speaker on brain injury—and I'm so grateful for this path.
Q: What do you hope your music evokes in others?"
C: I wrote these songs about my journey of living with brain injury. There are good days, and there are bad days. Some days I feel I can take on the world. Other days, I can't even get out of bed. These songs were written through all of it.
This is a very positive album. It's an album to go to for inspiration when you're having a really bad day, but it's also an album to listen to when you're feeling good. I've been told that this album impacts more than just brain injury survivors – everybody has a story, and this music is for everyone. It's meant to lift your spirits, to encourage you to keep going, and to remind you that there is ALWAYS hope! You are worth so much more than you realize, and your story matters.
Q: Who has been your biggest musical inspiration?
C: The first CD I remember listening to after my brain injury was "Lifesong" by Casting Crowns. They have a song called "Praise You In This Storm" that spoke so deeply into my heart... my entire life was upside down, I couldn't even take a shower or get dressed without assistance, and that album helped me to keep going. I hope that my songs can inspire others in their journey the way that the Casting Crowns have inspired me!
Jimmy Needham is another artist who has been an inspiration. His music really spoke to me during my journey of healing, and I would listen to it in the car on the way to and from my daily therapies. In 2012 I had the honor of opening for him at a concert at my college, and it was really incredible to finally meet someone whose music had been such a big part of my life and journey.
Q: How excited are you for your tour? What does it signify for you??
C: I can't wait to get on the road for the Hope Survives Tour. My favorite part of what I do is getting to meet people and hear their stories, especially other brain injury survivors and caregivers. This tour will be a combination of concerts and speaking events, through my organization, Hope After Head Injury.
It's the best way I could think of to celebrate National Brain Injury Awareness Month this year!
Amy Zellmer is an award-winning author, speaker, and advocate of traumatic brain injury (TBI). She is a frequent contributor to the Huffington Post, and has created a privateFacebook group for survivors and also produces a  podcast series. She sits on the Brain Injury Advisory Council (BIAC) through the Brain Injury Association of America's and is involved with the Minnesota Brain Injury Alliance. She travels the country with her Yorkie, Pixxie, to help raise awareness about this silent and invisible injury that affects over 2.5 million Americans each year.
Watch her "Hope Survives" music video:
Watch my "Behind the Sign" Video:
REAL LIFE. REAL NEWS. REAL VOICES.
Help us tell more of the stories that matter from voices that too often remain unheard.
This post was published on the now-closed HuffPost Contributor platform. Contributors control their own work and posted freely to our site. If you need to flag this entry as abusive,
send us an email
.