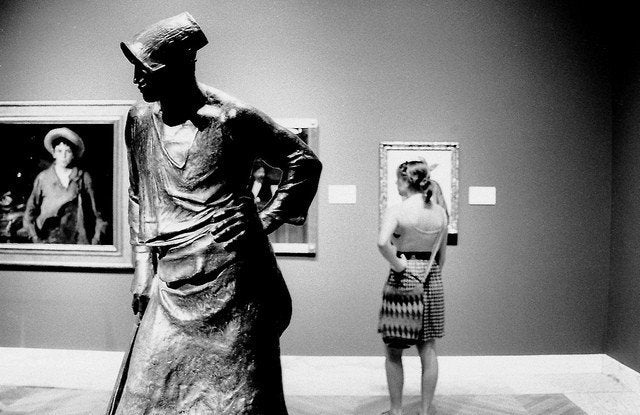 When summer dies down and fall arts events pick up, be on the lookout for a brightly painted van roaming Detroit streets: The drivers want to hear what you have to say.
CriticCar Detroit is a cross between citizen journalism and art review, mixed in with the excitement of an ice cream truck, according to Jennifer Conlin, one half of the team behind the project. The mobile video booth will appear at local arts and culture events, soliciting reviews and opinions from attendees that will be collected on a website.
"When I would be reporting in Detroit, the things people were saying were more interesting than anything I would say," explained Conlin, a New York Times contributor and Ann Arbor, Mich., resident. "I wanted to get all in ... I wanted to come up with something that gave people a voice."
The Knight Foundation and National Endowment for the Arts on Thursday awarded $80,000 to Conlin and partner Dan Shaw for the CriticCar Detroit project, part of the Community Arts Journalism Challenge. Their project was one of three winners from a pool of 233 applicants in eight communities.
While the CriticCar Detroit project will rely on Detroiters for material, as editor, Conlin will choose the events to review and help shape the website. She and Shaw are still in the planning stages, relying on focus groups and advisers who are keyed into the art scene and community.
The first thing, Conlin says, is to get the vehicle. They plan to deck it out in vintage Detroit ephemera to give video reviewers a fun experience. Conlin envisions it -- both the videos and the truck itself -- as a cultural marketing tool, creating more excitement around Detroit events.
That excitement about the burgeoning arts scene in the city originally sparked the CriticCar concept.
"I want to cover traditional and non-traditional venues," Conlin said. "There is something literally every day that I would cover in Detroit."
Diversity is a key factor in Conlin's project, and she wants to showcase a wide array of events, neighborhoods and citizen journalists. "[I want to] make sure we're not ignoring anybody, because Detroit has so many voices when it comes to the arts," she added.
That goal matches Knight's and the NEA's mission of engaging wide audiences in art in order to build community.
An entry on the Knight Arts blog by Eric Newton, senior adviser to the president at Knight Foundation, explains why the organization, along with the NEA, is looking for projects that think outside the box to create new forms of arts journalism:
Some lament the disaggregation of news, the unpacking that leaves specialty reporting fending for itself in the digital age. But to the entrepreneurial this is a time of great excitement. For the first time in generations, we can actively work to find brand new ways of providing the news and information that helps people run their communities and their lives. In the era of creative destruction of traditional media, we can emphasize creation.
CriticCar Detroit will be up and running in September. As she hammers out specifics, Conlin said it's important to her as a journalist to come up with a sustainable project, and hopefully create a model that could be applied in other cities.
"Forget the arts aspect for a moment. If this is a cool journalism model, I want this to work," she said. "I really wanted to do something for Detroit that was more permanent."
Related
Popular in the Community