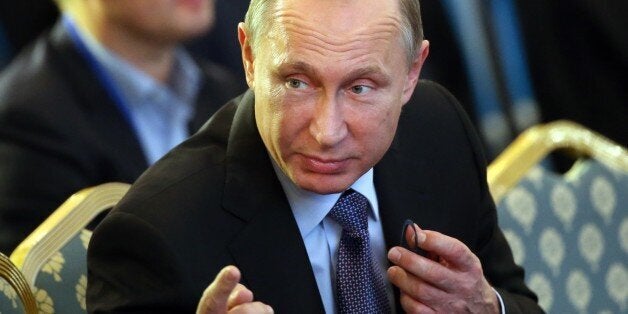 Critics of Russian President Vladimir Putin are snickering at poll results claiming he has an approval rating of 90 percent. In a slew of sarcastic posts and memes, they're slamming the findings as skewed and joking that by the end of the year, support for the president will soar into the triple digits.
The poll findings were released on Thursday by the state-owned Russian Public Opinion Research Center, which reports directly to Russia's Ministry of Labor and Social Affairs. The figures were published just weeks after Putin started a Syria bombing campaign that has largely targeted anti-government rebels in support of the Syrian president.
In May last year, after Russia's annexation of Crimea, Putin's rating stood at about 86 percent, according to the same polling center.
Translation: "Putin's rating reached 90 percent. Soon I will personally know all his opposition members."
Translation: "Putin's approval rating reached 90 percent, but to reach the maximum rating he still has 56 percent left."
Putin's backers, though, praised the poll and used it to bash President Obama. The U.S. has also been waging an air war from Syria's skies as Putin simultaneously conducts airstrikes.
Translation: "Did you hear that Putin's approval rating is 89.9 percent?"
More Stories from Vocativ:
REAL LIFE. REAL NEWS. REAL VOICES.
Help us tell more of the stories that matter from voices that too often remain unheard.