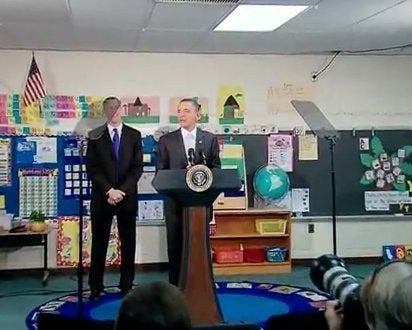 President Obama introduced his "Race to the Top" program during an event at Graham Road Elementary School in Falls Church, VA last week.
Critics, however, seemed to care little about Obama's explanation of the $1.3 billion project, which, according to the White House, is meant to encourage innovation and excellence in education by incentivizing competitive grants. They seem to be more interested in Obama's telemprompter use, a detail that the event's filmers did nothing to hide.
Conservative blog NewsBusters criticizes the media coverage of the event for omitting any mention of Obama's teleprompters:
In fact, according to LexisNexis and Google news, not one media outlet thought it was at all newsworthy that Obama, speaking about education reform, would bring his teleprompter to give a a five-minute speech to grammar school students seated in a classroom.
In another video posted by the White House, President Obama and his Education Secretary Arne Duncan can be seen fielding questions from students.
Popular in the Community