UNITED NATIONS – If Secretary of State Rex Tillerson is correct, the agreement to curb Iran's nuclear ambitions has to be changed or the United States would not stick to it.
President Donald Trump then told reporters he had made up his mind but would not reveal his decision. He must report to Congress by mid-October.
The deal was signed two years ago and approved by Britain, France, Germany, Russia, China, the European Union and Iran's foreign minister, Javad Zarif. In exchange for bans on developing nuclear materials, most sanctions were lifted. Then the 15-member UN Security Council voted to accept it.
With the exception of Israel, Washington has little support. At a closed meeting on Wednesday of the signatories, all told the United States no one supported its position.
In an apparent reference to North Korea, German Foreign Minister Sigmar Gabriel said, "This is not only about Iran."
"For which state would refrain from developing its own nuclear programs if it turns out that negotiated agreements…are not worth the paper they are written on?" he told the General Assembly on Thursday,
Federica Mogherini, the foreign affairs official for the European Union who chaired the Wednesday meeting, said everyone had told the United States, represented by Secretary of State Rex Tillerson and Ambassador Nikki Haley, there would be no renegotiation.
"The international community cannot afford dismantling an agreement that is working and delivering," she said after the session. "We already have one nuclear potential nuclear crisis — that means we do not need to go into a second one."
Ahh, that was them, not us, the Americans told their counterparts, diplomats said, referring to the Obama administration. This a new administration and a new situation.
France's president, Emanuel Macron, apparently wanted to find a way out for Trump. While saying the Iran deal had to be preserved in its current state, he proposed discussions with Tehran on its ballistic missile program, its role in the Middle East and what happens after some provisions of the deal expire in 2025.
Mogherini also said that issues out of the scope of the agreement could be tackled in other forums.
In a lively news conference following his speech to the UN General Assembly, Iranian President Hassan Rouhani warned that any breach of the agreement, called the Joint Comprehensive Plan of Action (JCPOA), could allow his oil-rich country to resume its uranium enrichment program for its nuclear reactor. Now it is forced to import the metal from Russia. He reiterated that Iran would never build a nuclear bomb.
"Either the JCPOA will remain as is in its entirety, or it will no longer exist. There will be absolutely no changes, no alteration, nothing done to the current framework of the current JCPOA."
Trump during his campaign and in his General Assembly speech not only disparaged the deal but the entire Tehran government.
"The Iranian government masks a corrupt dictatorship behind the false guise of a democracy," he said. "It has turned a wealthy country with a rich history and culture into an economically depleted rogue state whose chief exports are violence, bloodshed, and chaos. The longest-suffering victims of Iran's leaders are, in fact, its own people."
In answer to questions, Rouhani said he saw no reason to speak to Trump on other issues. "Before anything we are waiting for Mr. Trump to issue an apology to the people of Iran."
The agreement, negotiated mainly by former Secretary of State John Kerry and Iran's Zarif, took two years of pouring over each word. Left unsaid were Zarif's efforts to sell the deal to Ayatollah Ali Khamenei, the supreme leader, and the country's powerful Revolutionary Guard.
Rouhani said that if the United States breaks its commitment no other government would negotiate with Washington. "A government that chooses to trample upon her legal and legitimate international commitments – a conversation or negotiation with such a government would be a waste of time. "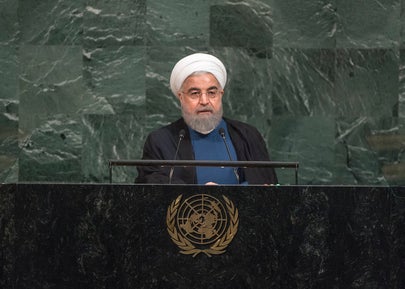 Popular in the Community