I recently visited my alma mater, UMass Lowell. It had been a while since I had been on campus and much has changed. UMass Lowell has 18,000 students and has risen steadily in the national rankings. Many new buildings have been added. It is a campus transformed. I graduated from UMass Lowell as an electrical engineering major. Now I was back in my role as chief digital evangelist at Salesforce. I was on campus as part of "Salesforce Day" – an event sponsored by the university's Manning School of Business. The event featured a variety of topics including technology market trends, CRM career panels and "Trailhead for Students" hands-on workshops.
I had the pleasure of speaking with students about digital business disruption in a packed Alumni Hall. The students were engaged and asked great questions. I was glad to spend the day on campus and pleased that UMass Lowell had adopted Salesforce customer relationship management (CRM) technology and 'connected campus' strategy.
I wanted to learn more about CRM adoption in higher education. This market has seen growth in recent years. I spoke with Lori Dembowitz, associate CIO at UMass Lowell, to get a better understanding of this university's strategy. Are there drivers for CRM adoption that could be applied more broadly in higher education? Dembowitz and her team are collaborating with numerous university stakeholders to deliver better stakeholder experiences and improved educational and business outcomes through a campus-wide CRM strategy.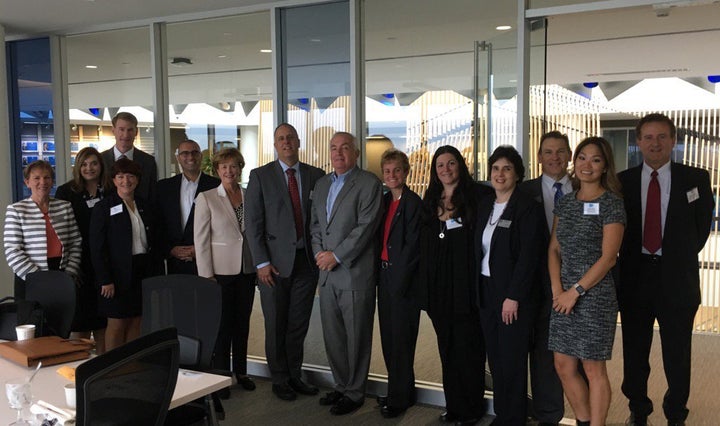 Dembowitz shares 10 business/IT lessons and strategic use cases for CRM in higher education:
1. Develop a CRM Strategic Plan Based on Student Success
At UMass Lowell, the university's guiding document is the "2020 Strategic Plan". Informed by its five Pillars of Excellence -- transformational education; global engagement and inclusive culture; innovative research and entrepreneurship; leveraging legacy and place; and entrepreneurial stewardship -- progress toward goals under each pillar are measured and shared with the campus community.
"Student success and student engagement are core tenets of the strategic plan. Departments throughout UMass Lowell work hard to meet or exceed student success goals," said Dembowitz.
Educause, a bellwether of higher education IT, features student success in its Top 10 IT Issues and Strategic Technologies for both 2017 and 2018. Technologies for "triggering interventions", "defining the student experience" and "offering self-service resources that reduced advisor workloads" were included. "Mobile apps for enterprise applications" highlighted the need for anytime, anywhere access to actionable information.
2. IT as a Strategic Partner - Collaborate, Innovate and Deliver Outcomes
At UMass Lowell, like many universities, IT's mission is to meet as much of the strategic plan as possible. We collaborate with colleagues and provide technologies that power digital transformation to meet university goals.
A few years ago, the university embarked on a business process re-engineering (BPR) initiative to improve student services. This project had executive support and involved several departments. IT partnered with the business and, together, we recommended a CRM strategy.
3. Better Connections, Better Experiences, Faster Outcomes
UMASS Lowell implemented a Connected Campus architecture to streamline the way the university powers student services and tracks student engagement. The connected campus architecture was designed to improve engagement with faculty and staff, parents, students, alumni, businesses and donors. The connected campus model mapped well to UMASS Lowell's cloud-first approach. The IT team could focus our efforts on designing and configuring the new student services solution (and not be concerned with an infrastructure build-out). IT was able to innovate and go from "vision to value" quickly.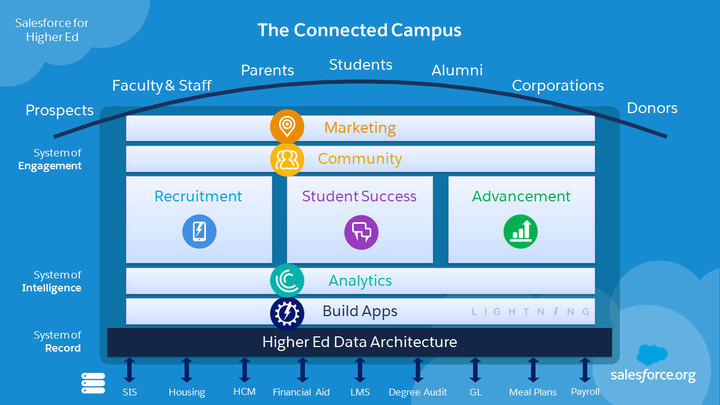 4. Develop an Enterprise CRM Approach - Simplify, Expand, Scale and Empower
At UMass Lowell, we view the CRM system of engagement as a strategic enterprise application (versus a departmental one). The guiding principles include:
A single instance of the CRM for the university
The CRM can provide a 360-degree view of the student
The CRM is a strategic technology used to facilitate student success
Data is a university asset – no duplication of records
The mission is to implement a flexible, configurable platform that could support the university's business processes and help us to innovate quickly to reach our goals.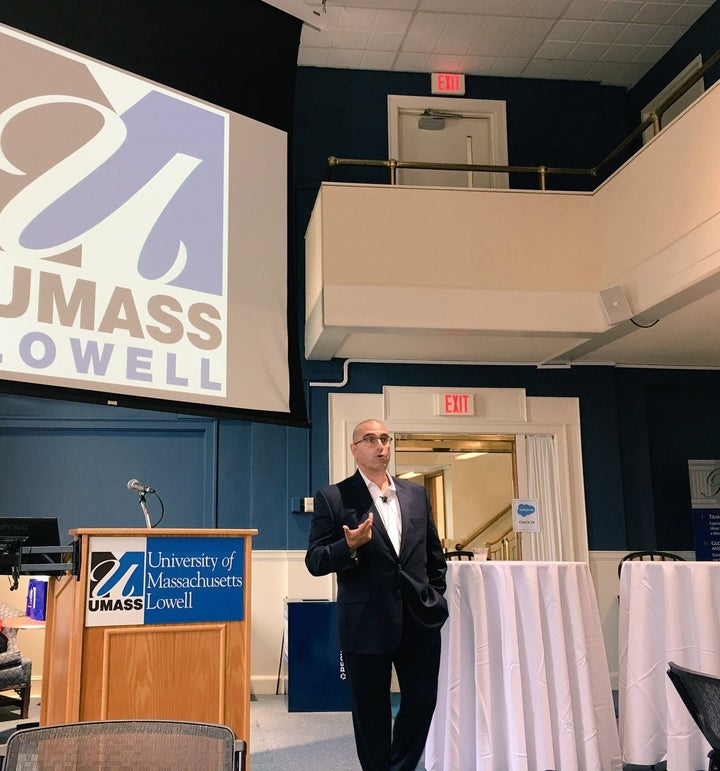 5. Student 'One-Stop' - Improving The Student Experience
Our first implementation was for The Solution Center, UMass Lowell's one-stop for student services, and home offices (Registrar, Financial Aid and Student Financial Services). Today, this multi-channel student services solution tracks over 100,000 cases annually. It enables us to route and handle student questions and provide timely answers. UMASS has a rich, actionable data set to assess and improve frontline services and pro-actively communicate with students via targeted outreach. Another important benefit: Students interact with the university as a single entity.
6. Improving Advising Services by Using Students Analytics and Collaboration
Reviewing a student's case history can help advisers identify where a student may need further assistance or academic guidance. Advisers use the CRM to track faculty and adviser input on a student's progress during the semester. Through an integration, early alert data is brought into Salesforce and interventions by advisers can be triggered from data collected in the system. This information has made a difference in helping students get back on track.
7. Stronger Student Retention and Proactive Engagements
Advisers leverage Salesforce for timely outreach to students if they have not yet registered for the next semester. A brief survey is sent to students via an email campaign after registration opens. This "nudge" reminds students to complete registration. With daily SIS data integration, advisers can see which of their students have registered and which still need personal outreach. Dashboards provide visibility into these metrics. Retention goals have been met or exceeded since these campaigns have run.
8. Career Services - Strengthening Connections with Future Employers
Career counselors use the CRM to manage student appointments for advising sessions. Staff log notes in the system when meeting with students. The CRM is used to manage career events and track both student and company participation. Student placements at co-ops and internships are managed in the CRM as are accounts and contacts at corporate partners. Building relationships with external organizations and tracking this information enables the university to leverage it for the benefit of students.
It all starts with recruiting the most qualified students. Salesforce and partner applications power undergraduate and graduate admissions recruiting and yield efforts. Data is brought into the system from several sources via data integration tools. Recruiting and yield campaigns are tracked and managed in Salesforce as are admissions events. E-forms collect information submitted by prospects and trigger automated workflow. Reports and dashboards enable the Admissions team to track results and assess progress year over year. In a competitive admissions landscape, powerful CRM tools can make a difference toward meeting enrollment goals.
10. The Future: AI-Powered CRM, Social and Advanced Analytics
With a data model designed for higher education, our UMASS Lowell connected campus provides us a holistic view of student interactions across multiple touch-points and a rich set of actionable information. We use CRM to develop and implement solutions that foster student success, improve the customer experience and track and cultivate relationships with companies and other organizations.
UMASS Lowell is on their fourth year of CRM implementation, continuously growing with new users across additional departments. Expanding advising functionality and social media integration are both areas of interest. Using artificial Intelligence (AI) technologies embedded in CRM will highlight opportunities for proactive outreach and service improvements. As UMASS Lowell moves forward with the university's data analytics platform, integrating CRM data along with other core data sources could identify patterns, trends and areas of opportunity across the student life-cycle.
This post was co-authored by Lori Dembowitz, Associate CIO at University of Massachusetts, Lowell.
Related
Popular in the Community