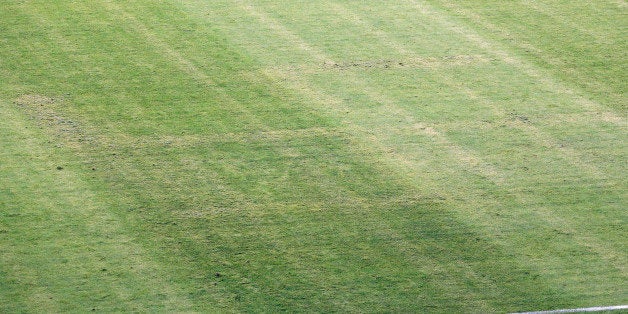 A Friday soccer match between the Italian and Croatian national teams was marred by an unusual sight on the field: a swastika.
Journalists at the match in Split, Croatia, and those following along on Twitter noticed the swastika, which appeared to have been carved or mowed into the pitch.
Stadium workers reportedly tried to cover the symbol during halftime after Italy complained to authorities from UEFA, European soccer's governing body. The match was a qualifier for the Euro 2016 tournament.
The two sides were already playing in front of an empty stadium as a result of UEFA sanctions against the Croatian soccer federation after fans exhibited racist behavior at a previous match against Norway.
"It's one of our problems and we are working to fix it," Davor Suker, the president of the Croatian football association, told the Associated Press. "Unfortunately something happened tonight too, but we would prefer not to talk about it now, we'll talk about it from tomorrow."
A spokesperson for the federation also apologized, according to the AP.
In addition to forcing Croatia to play behind closed doors Friday, UEFA fined the federation 50,000 euros. It is likely more punishments are coming.
Related
Popular in the Community