How American and European Taxpayer Funds via EBRD, EIB, EU and IFC-World Bank Were Used to Prop-Up the Balkan Region's Crony Capitalism and Criminality.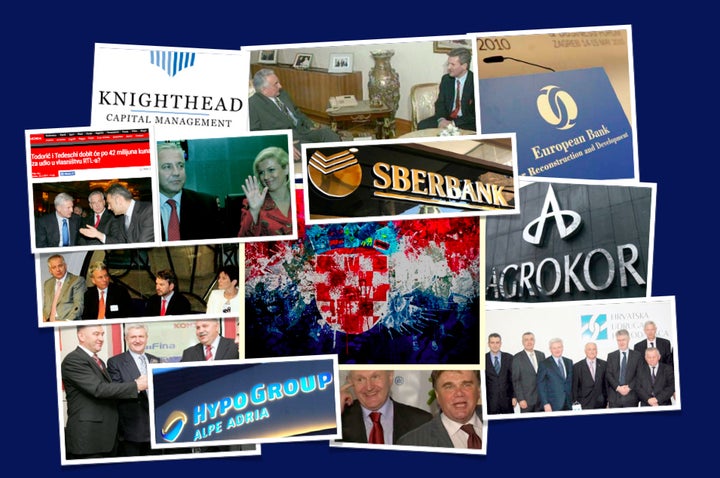 U.S. Ambassador to Croatia, Julieta Valls Noyes, announced in mid-October 2017 that American investors were interested to invest in ailing Croatia-based company Agrokor. The list of creditors, among which are large US-based investment funds was just made public. In light of the evidences presented, US authorities have a responsibility to undertake a thorough investigation into money laundering which has plagued Agrokor and Croatia for the longest time. Asset recovery by the US Department of Justice's (US DoJ) Kleptocracy Initiative would be more than welcome by citizens in Croatia and the rest of the Balkan region - bringing hope to an impoverished part of Europe with a message that justice can, and will prevail.
Investigation and asset recovery is necessary if the funds already invested by taxpayers from America and Europe are to be justified.
The Agrokor scandal - a legacy of lawlessness, cronyism and colossal political corruption festering in Croatia for the last 26 years, has rocked Croatia's government and is been spreading through the Balkans.
Agrokor was the HDZ political party's major success story in which one Croatian family ended up owning the country's major assets. Envisioned by the late President Franjo Tudjman, and implemented by the HDZ loyal party officials including prime ministers, cabinet ministers and bankers in the early 90s and the 2000s, Mr. Ivica Todoric's family was just one of the envisioned 200 families to own most of Croatia's assets.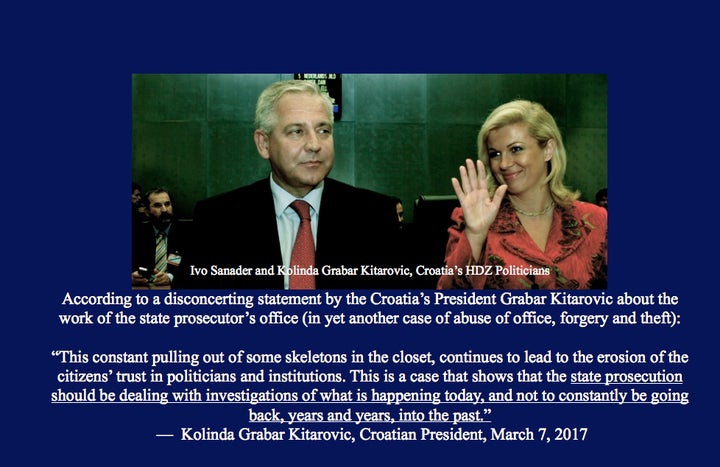 Croatia HDZ's prime minister Sanader forgave major tax debts to Agrokor while laws were changed to benefit the company. Agrokor became the largest recipient of state subsidies, the greatest importer of food, and the worst payer to suppliers and farmers, producing a vicious chain of illiquidity on the market. Agrokor's controversial asset transactions with other privileged tycoons in Croatia reveal a pattern of lawlessness, collusion and gross cronyism.
Croatia Agrokor's troubles became public in April 2017, when the company became unable to service its debt. One of its largest creditor, Russia's state-owned Sberbank demanded the repayment of its over €1.0 billion loan. Croatia's HDZ-led government then immediately passed an emergency law dubbed "lex Agrokor," to protect the company from bankruptcy.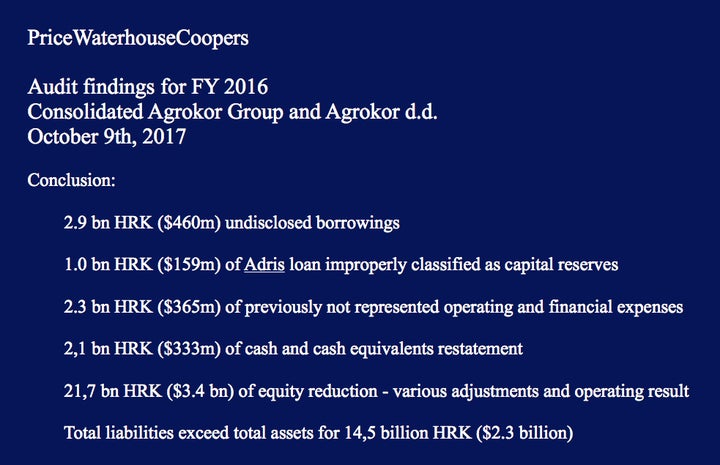 The recent findings of PwC's financial audit for consolidated Agrokor Group, released in October 2017, reveal significant mismanagement of the company and falsification of its financials - which were completely overlooked by Croatia's tax authorities. During Croatian President's meetings with President Putin and Herman Gref, CEO of Sberbank, in Russia in early October, Croatia's media reported that Sberbank may have provided closer to €5.0 billion to Agrokor, with an intention to launder over €3.0 billion through Croatia's banking system.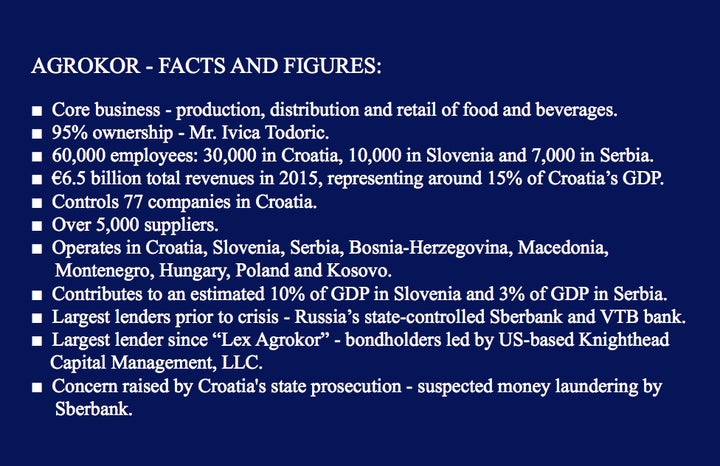 As the largest food manufacturer and retailer in Croatia, Todoric's Agrokor was using its monopoly position in the retail groceries market (including food oil, dairy, ice cream, bottled water, etc.), bank-rolling political parties and Croatia's presidential races, saved the country's National Bank Governor from personal bankruptcy, provided a number of officials to Croatia's governments with a revolving door to Agrokor (including the current finance minister and former National Bank Governor), and employed, among others, a former county president who is currently one of Croatia's members of the European parliament, a son of Croatia's current main state prosecutor, a spouse of the former head of the Competition Protection Agency and the current judge of the Supreme Court (also implicated in the Hypo Group Alpe Adria Bank scandal).
The same Todoric family dominated media advertising, print media distribution and resided in a castle (never converted in a hotel, as originally contracted), which was mortgaged through questionable Hypo Group Alpe Adria loans.
For pertinent details on Hypo Group Alpe Adria (aka Addiko in Croatia) financial mess, Europe's largest post-WWII banking scandal - read HuffPost and The Wall Street Journal.
The privatization audit of Unikonzum, taken over by Agrokor, released in 2003, pointed out to a number of irregularities and illegal procedures, during the privatization process, and subsequent acquisitions of shares of other companies undergoing privatization.
Despite it not being remedied, the European Bank for Reconstruction and Development (EBRD), which uses American taxpayers funds (having the US government among the donors), became a shareholder (8.3%) of Agrokor in 2005.
Furthermore, EBRD, IFC and Credit Agricole loaned €486 million to Agrokor in 2005. Agrokor's annual report from 2015 mentions 4 different investments financed by European Union member taxpayer funds. Finally, the state-run Croatian Bank for Reconstruction and Development (HBOR), which receives funding from EBRD, EIB (European Investment Bank) - American, European and Croatia's taxpayers, provided loans amounting to €48 million to four subsidiaries of the Agrokor Group this year, totaling over €120 million since 2006.
Croatia's current political structures and its politically influenced judicial system will not clean the Agrokor scandal, as they are not investigating nor blocking the illicit financial outflows via crime, corruption and tax evasion that have been hemorrhaging the treasury since 1991.
"This constant pulling out of some skeletons in the closet, continues to lead to the erosion of the citizens' trust in politicians and institutions. This is a case that shows that the state prosecution should be dealing with investigations of what is happening today, and not to constantly be going back, years and years, into the past."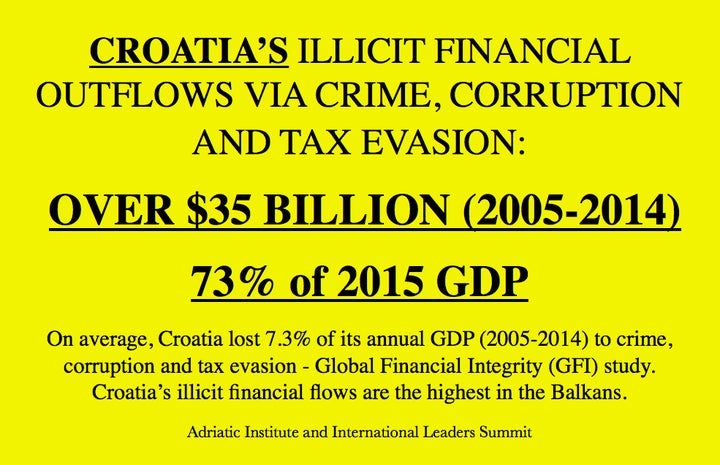 Related
Popular in the Community