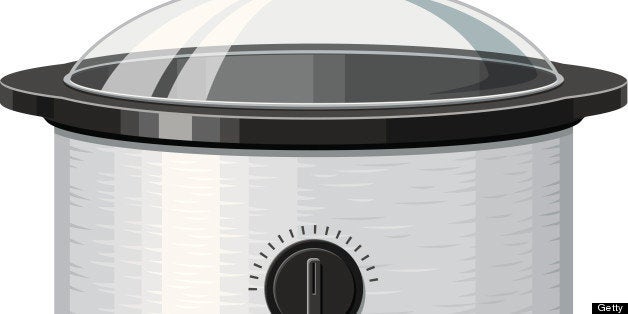 Think your Crock-Pot is only for meats and veggies? Think again. The slow cooker is great for all kinds of recipes, sweet and savory alike. Take this amazing Crock-Pot brownie recipe, for example. If you think you make warm, gooey brownies now, just wait 'til you try these.
Slow Cooker Triple Chocolate Brownies
Nonstick cooking spray
1 1/4 cups all-purpose flour (spooned and leveled)
1/4 cup unsweetened cocoa powder
3/4 teaspoon baking powder
1/2 teaspoon coarse salt
1/2 cup (1 stick) unsalted butter, cut into pieces
8 ounces bittersweet chocolate, chopped
1 cup sugar
3 large eggs, lightly beaten
1 cup walnut halves, coarsely chopped
Lightly coat a 5-quart slow-cooker insert with cooking spray. Line bottom with parchment paper and lightly coat with spray. In a small bowl, whisk together flour, cocoa, baking powder, and salt.
Place butter and chocolate in a medium microwave-safe bowl and microwave in 30-second increments, stirring after each, until chocolate is melted. Add sugar; stir to combine. Stir in eggs. Add flour mixture, walnuts, and chocolate and stir just until moistened (do not overmix). Transfer to slow cooker and smooth top.
Cover and cook on low, 3 1/2 hours. Uncover and cook 30 minutes. Remove insert from slow cooker and run a knife around edge to loosen brownies. Let cool completely in insert on a wire rack, about 2 hours. Turn out onto a work surface and cut into 14 brownies.
Note that if they come out a little raw in the center, they'll cook-through while cooling.
Popular in the Community