The two shoes I told myself I would never wear are Crocs and Uggs. My distaste for both started in high school, where girls would wear the furry boots with mini skirts and teachers sported matching Crocs with their kids. I remember sneering and ewwing at the sight of the bulbous rubber sandals and laughing at the fact that you can buy accessories to fit into their many perforated holes.
Five years later, I still boo the look of Uggs (except now I've learned that they're comfy, waterproof and good for the snow) but I've broken the promise I made to my younger self. I've given in to the rubbery comfort that are Crocs and realize that these are the most comfortable shoes I've ever owned.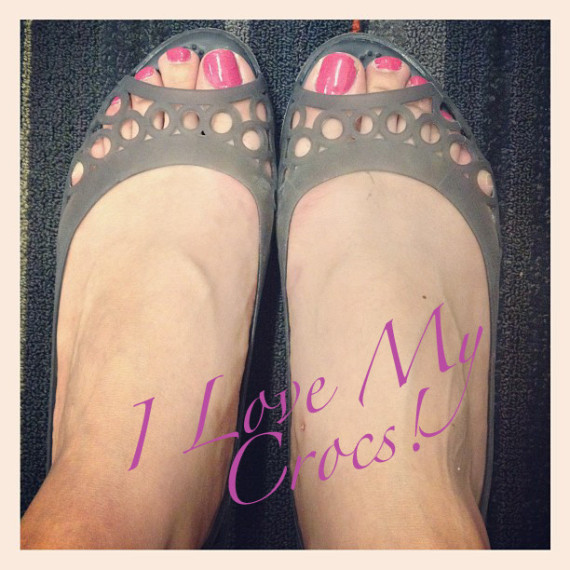 When I lived in Texas, my mother and brother drove me everywhere and I wore any shoes I liked. I graced my high school hallways in high-heeled boots and flats that would make any teenager squeal. But I've had ankle problems since I was little -- something about ice skating and ballet just ruined my poor feet -- and my mom was always determined to get me sturdy and fashionable shoes.
When I moved to New York for college and started developing my "street walk," I realized that the shoes that had kept my feet happy and cozy for so many years were failing me in the big city. The three years that followed were a nightmarish shoe-hunt odyssey.
I needed comfy sneakers for school so I got Converse but my ankles would be so sore after a full day of walking to and from class and my back would be aching. I needed professional black heels so I bought Kenneth Cole pumps but I got blisters all over my feet and was in pain all of the time. I thought that flats would be the perfect balance between necessity and comfort, but I couldn't find flats that were sturdy enough to support my ankles and soft enough to not give me blisters. I even spent an absurd amount of money on unfashionable flats from Born that seemed to work for a while, and then I started developing an odd bump on my right foot.
This past weekend, I found the solution to my pain and my odyssey finally came to an end. I bought my first pair of Crocs.
These Crocs aren't the swollen, garishly colored and punctured versions my former science teachers wore. These are super cute, black peep-toe flats that look almost nothing like their monstrous cousins and make me feel like I'm walking on clouds. Plus, they're perfect for rainy weather because they dry quickly and help to prevent foot odor.
I was nervous when I first walked into the colorful Croc store, which was filled with children happily running about and screaming. As I slipped my battered feet into the rubbery footwear, my surroundings melted away and I knew that I had found my one true shoe love. I chose a pair of black flats named Adrina, size 8 (half a size smaller than my usual fit) and walked out content with my decision.
I immediately texted my roommate: "Guess what? I got Crocs!" Unsurprisingly, she answered, "Really?"
It's been a couple of days since I made peace with my so-called fashion faux pas and I couldn't be more comfortable. I don't care if people snicker at the fact that I'm a Croc-girl now because I've got happy feet again.