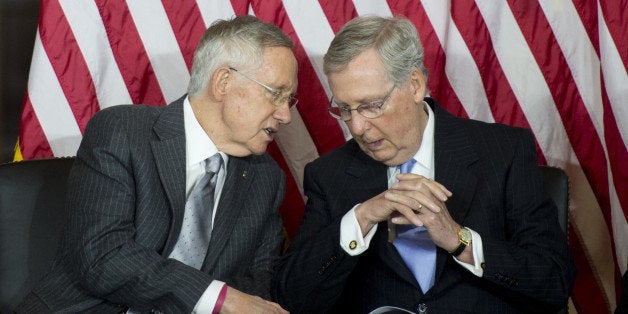 WASHINGTON -- Congressional budget negotiators from both parties have included a provision in the bill to continue funding the government into next year that dramatically changes campaign finance law to allow lawmakers to solicit even bigger contributions from the wealthiest donors.
The omnibus bill includes a provision (on page 1,599) to create three separate funds within the Democratic National Committee and the Republican National Committee. Each fund would be allowed to accept $97,200 from just one donor per year. If this change becomes law, it would mean that a single donor could give up to $324,000 per year, or $648,000 for a two-year election cycle, to finance the party's operations.
The change would effectively obliterate campaign contribution limits to the parties, while eviscerating the limits placed by the 2002 McCain-Feingold campaign finance reform law on how much a political candidate can seek from a donor. The current maximum a donor can give to a national party committee is $32,400 per year, plus an additional $32,400 per year to a separate fund to be used only in case of an election recount.
"It just wipes out McCain-Feingold," said Fred Wertheimer, executive director of the reform group Democracy 21 and key architect of the McCain-Feingold law.
"The last thing the American people want is for Congress to give big donors even more influence in politics, but that's exactly what this provision will do," Nick Nyhart, president of the reform group Public Campaign, said in a statement. "The biggest donors will be able to buy more access and influence and everyone else back home will continue wondering who their elected officials are working for."
For the party funds created by the omnibus bill provision, one would cover the financing of presidential conventions, another would cover building costs for the parties and the third would be simply be an increase in the limit to the existing recount fund.
Prior to the passage of the McCain-Feingold reform law, political parties were allowed to accept unlimited contributions from individuals, corporations and unions for party building costs. These funds were transformed into political accounts in the 1990s as they were used to run issue advertisements attacking opponents. The law was passed after a raft of scandals related to the raising of unlimited contributions for these accounts.
Wertheimer said the changes embedded in the omnibus bill will allow lawmakers to raise the same six-figure and seven-figure donations for the parties that led to the enactment of reform.
"This is extraordinarily corrupting money at these levels," Wertheimer said. "We're going to be back to the national scandals we had with soft money."
The inclusion of this provision in the omnibus came as a surprise to campaign finance watchers. The provision stems, in part, from a compromise reached last year over another government funding bill.
During the government shutdown fight of 2013, Republican lawmakers donned lab coats demanding that Senate Democrats re-open the National Institutes of Health, even while leaving other elements of the government shuttered. The Republicans lost that fight (eventually agreeing to reopen the entire government), but then-House Majority Leader Eric Cantor (R-Va.) emerged determined to show his pro-biomedical research bonafides. His office began heavily pushing the Gabriella Miller Kids First Research Act.
That bill authorized roughly $12.6 million a year for pediatric cancer research at the NIH over 10 years. To pay for it, the bill ended "the entitlement of any major or minor political party to a payment from the Presidential Election Campaign Fund for a presidential nominating convention." In other words, no more public funds for conventions.
The legislation wasn't initially embraced by Democrats, who scoffed at the idea that a leader from a party that endorsed budgets that cut more than $1.5 billion from the NIH was now pushing for an offset of $120 million. But Cantor lobbied hard, eventually persuading Sens. Tim Kaine (D-Va.) and Orrin Hatch (R-Utah) to get on board. Sen. Barbara Mikulski (D-Md.), whose state houses the NIH, gave significant cover when she assured skeptical lawmakers that she would make it work financially as chair of the Appropriations Committee.
In early March, the Senate unanimously agreed to its passage. President Barack Obama signed the law soon thereafter.
Though Cantor's bill was a domino in gutting convention public financing for conventions, Wertheimer places the blame with the Democratic and Republican Senate leaders, Harry Reid (D-Nev.) and Mitch McConnell (R-Ky.). He added that if President Barack Obama signs the bill, he will be a party to this, too.
"Once he signs this it becomes a three-party deal," Wertheimer said. "He's a partner in the crime here."
REAL LIFE. REAL NEWS. REAL VOICES.
Help us tell more of the stories that matter from voices that too often remain unheard.
BEFORE YOU GO
PHOTO GALLERY
2013 Government Shutdown