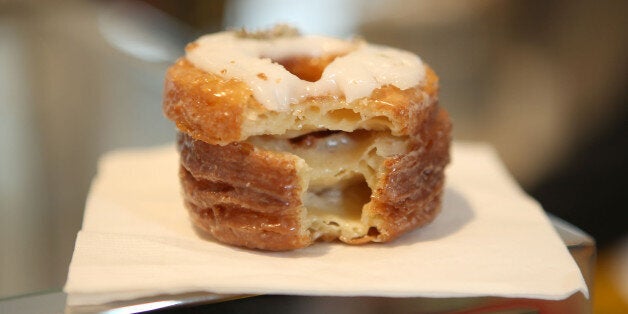 NEW YORK, April 8 (Reuters) - The New York bakery that invented the Cronut, the wildly popular hybrid pastry, reopened its doors on Tuesday, three days after the health department closed it because of a "severe mouse infestation."
About 50 customers lined up at Dominique Ansel Bakery in Lower Manhattan's SoHo neighborhood on Tuesday to buy the croissant-doughnut mix creations, undeterred by an earlier online video of a mouse scurrying through the shop.
It was the video that prompted city health officials to close the bakery on Friday because of "a severe mouse infestation," said a spokesperson for the New York City Department of Health and Mental Hygiene in an email.
The shop passed inspection on Monday, and customers didn't seem too worried about the pests.
"It's New York," said Marcin Gorski, 22, waiting in line in the morning before the shop opened. "A little mouse isn't going to stop me."
He said he sometimes sneaked out of work to buy one of the cream-filled round Cronuts with flaky layers and a glaze topping.
The Cronut was launched in May 2013 and quickly became "the most virally talked about dessert item in history," according to the bakery's website. Line-sitters were charging people too busy to wait up to $50 for the $5 pastry, the New York Post reported at the time.
French chef Ansel, the bakery's owner, addressed the morning crowd, saying that while the closure was a setback, the shop would recover like Rocky Balboa, the legendary film boxer.
"The theme is Rocky," Ansel said. "It's about you take a hit, you go down, but you come back up stronger. And we keep moving forward."
Although other bakeries around the city have produced their own versions of the Cronut, dozens of faithful customers still waited in line on Tuesday for a taste of the authentic pastry.
A Florida couple, Phillip and Sierra Olivares, said they had placed an order two weeks earlier and were picking up the treat on the last stop of their New York vacation before heading to the airport to go back to Orlando.
"Oh my gosh, it's so good," said Sierra Olivares after taking a bite. "I'm so glad we did this." (Reporting By Curtis Skinner; editing by Gunna Dickson)

Related
Popular in the Community