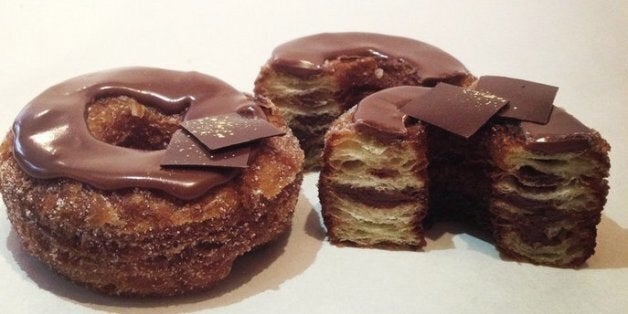 Craving a cronut (and not a cronut knockoff) but not planning to be in New York City anytime soon? Don't fear! Dominique Ansel Bakery and online gourmet food retailer Goldbely.com have announced a new partnership in which cronuts will be available for purchase anywhere in the continental U.S.
Starting at 6 p.m. EST Friday, Goldbely.com will be offering batches of cronuts for purchase every hour all weekend long. Availability will range from two cronuts per hour to about 20 cronuts per hour (limit: two cronuts per buyer). The December cronut flavor -- Valrhona chocolate Champagne with fresh orange-zest sugar -- will come with edible gold dust on Goldbely.com.
"Our whole goal is to find the most amazing dishes across the country and get them to people. This is obviously at the top of our list," Goldbely CEO Joe Ariel told The Huffington Post.
The teams from Dominique Ansel and Goldbely worked for several months to figure out how to ship cronuts without the flavor deteriorating. They finally came up with a method of baking the cronuts and instantly flash-freezing them.
"We realized so many of our fans were hand-carrying the cronut on planes to their family and friends, and wanted to find a better way for them this holiday season," said Dominique Ansel in a press release.
The online cronuts are available for the same price as the bakery version -- $5 a piece. Goldbely is swallowing all shipping costs. Packages will be sent via FedEx on Dec. 16.
While the cronut sale lasts only this weekend, there will likely be more to come from the Dominique Ansel and Goldbely teams.
"The intention is we will have many more fun things in the future," said Ariel.
Popular in the Community