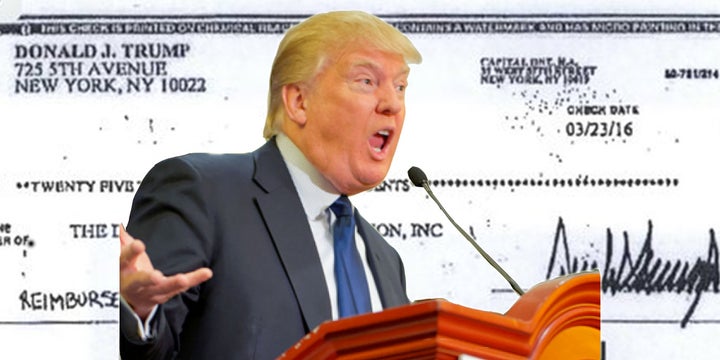 The President-elect admitted in writing to the IRS that he received cash from his Trump Foundation charity, and engaged in self-dealing.
This is the second bombshell result of law breaking by the Republican President-elect since last Friday, when he paid a million dollar penalty fine to the state of New York's Attorney General for violating education laws, when he settled fraud and racketeering lawsuits for $25 million.
The Washington Post's indefatigable reporter David Farenthold broke the story:
In one section of the form, the IRS asked if the Trump Foundation had transferred "income or assets to a disqualified person." A disqualified person, in this context, might be Trump — the foundation's president — or a member of his family, or a Trump-owned business.
The foundation checked "yes."
Another line on the form asked if the Trump Foundation had engaged in any acts of self-dealing in prior years. The Trump Foundation checked "yes" again.
To repeat, Donald J. Trump personally admitted in writing to the IRS that he mismanaged his charity and broke IRS tax laws.
Today's massive admission portends ill for Donald Trump as the New York State Attorney General's investigation into the Trump Foundation, which was shut down by government order in October - is just ramping up, as he apparently broke state law by soliciting funds without proper auditing.
Farenthold also found the notorious Tim Tebow helmet purchase, and not one, but two self-portraits purchased by Donald Trump by his foundation listed for the first time in its tax returns.
The three infamous vanity purchases by Trump cost nearly $50,000 and are listed as having a present worth under $2,000.
Trump never explained how these purchases had a charitable purpose, but succeeded at deflecting all questions towards Hillary Clinton's family foundation which has never been accused of actual wrongdoing.
Reports also indicate that the Republican candidate took time off the primary campaign trail to do a $150,000 speech by video link to a conference about Ukraine, and he routed those funds through the Trump Foundation as well.
His activities as a candidate raised particular alarm in New York, where audits are required for raising outside funds in excess of $25,000.
Trump skipped a Fox News debate in January 2016 and instead held a fundraiser for veterans - leading to the incident where ultimately he refused to honor his own pledge to donate - and raised over $1.5 million dollars nationally using the Trump Foundation.
The Wall Street Journal indicates that it's likely we will have no way of knowing how Trump managed his Foundation through this year's campaign until next November.
Support HuffPost
The Stakes Have Never Been Higher
Related
Popular in the Community