Dictators have a long and storied love affair with the arts. The Medici family, who ruthlessly ruled Florence for generations, served as patrons to Leonardo da Vinci and Michelangelo. Hitler was fond of Karajan and Furtwangler, and Stalin had a bitter love affair with Shostakovich and Rimsky-Korsakov. Today's dictators are no different.
After all, where's the fun in being a ruthless dictator with a vast, ill-gotten personal fortune if you can't spend it on a private concert with your favorite artist?
The latest singer to croon for a dictator is Spanish recording artist Julio Iglesias, who has sold millions of albums over a decades-long career, making him the best selling Spanish-language musician of all time. Last week, on Oct. 8 he performed in Malabo, Equatorial Guinea, a small, oil-rich country that has been ruled for 33 years by President Teodoro Obiang Nguema Mbasogo.
President Obiang has outlawed dissent by suspending many civil liberties, including freedom of press and freedom of speech, and prohibiting the existence of political opposition. Although the GDP per capita in this resource-rich country of 700,000 is $35,000 (comparable to developed democracies like the UK or Japan), two-thirds of the population lives on less than $1 a day. The majority of the country's vast oil wealth goes directly into the pockets of Obiang and his cronies.
The concert was held at the extravagant Sipopo compound, which boasts an $800 million conference center, an 18-hole golf course, and a five-star resort. Tickets for this lavish affair cost a minimum of 750€ ($973) in a country where half of the population lacks access to clean water. This concert is just one of several high-profile celebrity events -- including a concert by rapper Fat Joe and Argentine-Spanish singer Chenoa -- in honor of the birthday of Obiang's son, Teodorín, last June.
The president's son is a prime example of the corruption and kleptocracy inherent in Equatorial Guinea. The notorious criminal owns mansions, luxury sports cars, yachts, and private jets on three continents. Recently, his father appointed him "second vice president" (a position that did not previously exist) to grant him diplomatic immunity, thereby allowing him to escape money laundering charges in France, where his 118€-million mansion was seized as part of the investigation.
Iglesias is also a repeat offender in indulging dictators' whims in exchange for a generous bundle of cash. He made a music video with Gulnara Karimova, the daughter of Uzbek dictator Islam Karimov, in 2008. Karimov's regime has been accused of numerous human rights abuses, including the torture and killing of his opponents by boiling them alive.
Iglesias is not the only star to be contracted by Karimova. Just a year later, Sting also agreed to perform at an "arts benefit" put on by the president's daughter. Although warned beforehand by human rights organizations, he decided to play at the concert, stating, "I am well aware of the Uzbek president's appalling reputation in the field of human rights as well as the environment. I made the decision to play there in spite of that."
Another dictator whose spoiled offspring used misappropriated funds to hire their entertainment is the late Muammar Gaddafi. During Colonel Gaddafi's bloody 42-year regime he ruthlessly crushed dissent, tortured and executed political opponents, and earned the ire of the international community by funding militant groups abroad. He used his country's natural resource wealth to stamp out opposition while at the same time lining his own pockets.
Colonel Gaddafi's son, the aptly named Hannibal, has used his family's vast fortune to wriggle his way out of charges -- from spousal abuse to drunken police chases -- in European countries. In 2010 singer Beyoncé, accompanied by her husband Jay-Z, performed a private New Year's Eve concert for Hannibal and company in the Caribbean. Mariah Carey, Usher, Nelly Furtado, and 50 Cent also performed concerts for the Gaddafi clan. They later said they had no idea what they were supporting, and claimed to have donated their exorbitant fees to charity.
Hilary Swank, who appeared at a birthday bash for Chechen president Ramzan Kadyrov, also claimed no previous knowledge of that dictator's crimes. Her support staff was warned by human rights groups before she left for the event, yet Swank still sang the warlord's praises, wishing him a happy birthday at the party. Singer Seal also performed at the same birthday bash, but later defended his actions, claiming "he was playing for the people" and imploring the media to "leave him out of politics."
In fact, Seal was not playing "for the people." He was paid large sums to perform a private concert for the nation's elite. The "people" of Chechnya could not afford to attend a concert with an international recording star. As with Iglesias performing a concert at an $800 million complex where tickets sell for nearly $1,000 a pop in a poverty-stricken third world country, the excuses don't hold up to scrutiny.
What these singers don't grasp is the way their image is co-opted to legitimize and whitewash brutal regimes. After playing for Gaddafi, Mariah Carey defended herself by saying that she was "unaware of whom she was booked to perform for."
Not all celebrities fall prey to the "I didn't know what I was doing" excuse. In 2010, Jennifer Lopez was booked to play a concert at the Cratos Premium Hotel in northern Cyprus, for which she was to receive a reported $3 million. Turkey has occupied the northern part of the island of Cyprus since 1974 and its rule has been fraught with human rights abuses. After learning about the circumstances surrounding the performance, Lopez chose to back out of the gig. Recently, actress and MTV host Amanda Seales declined an invitation from the government of Equatorial Guinea to join the Sullivan Summit -- an event hosted by the Leon H. Sullivan Foundation, a U.S. charity paid by Obiang to launder his reputation. Seales chose to educate herself about the human rights situation in the country before accepting the all-expenses-paid trip.
A few notable celebrities have refused to perform for dictators and instead used their fame and power to denounce human rights violations around the globe. Bono wrote a song, "Walk On," in support of Burmese democracy leader Aung San Suu Kyi. Madonna joined a slew of other international artists in calling for the release of imprisoned punk band Pussy Riot at a recent concert in Russia.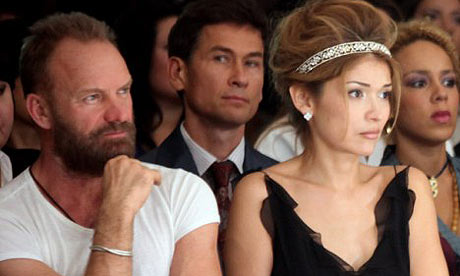 Sting and Gulnara Karimova, daughter of the president of Uzbekistan. Photo: Getty.
There's evidence that these stars have influenced their contemporaries. Sting felt compelled to respond after his performance in Uzbekistan prompted a public outcry. He tried to explain his actions and donated his $1 million concert fee to charity. Afterwards he openly criticized President Karimov's human rights record and his music was subsequently banned from the airwaves in Uzbekistan. More importantly, Sting learned his lesson: He refused to perform a concert in nearby Kazakhstan in 2011 after learning about a group of protesting oil workers who were gunned down by government security forces. Although most people only know of Kazakhstan thanks to Borat, the satirical character played by Sacha Baron Cohen, the sad truth is that this nation is ruled by one of the world's most ruthless dictators, Nursultan Nazarbayev.
In today's increasingly connected and informed world, dictators can no longer hide behind a cloak of secrecy. They are forced to find new, creative ways to convince the world that they are benevolent rulers -- including using the names of these popular artists for positive PR. After Iglesias performed in Malabo, the government of Equatorial Guinea posted on its website that the singer "acknowledged his surprise at the level of development of the city of Malabo, and at the image that he found in the country, so different from the one the international media often show."
It's clear from the case of Iglesias that stars cannot simply ask to be "left out of politics." They cannot be ignorant about the topic of human rights. Societies are built on a foundation of freedom -- the freedom to speak up when something is wrong, the freedom to express dissent. A celebrity endorsement, whether explicit or implicit, emboldens dictators in their denial of fundamental freedoms to their people. They must pay a price. And those who endorse them with their presence, like Iglesias, should be called out for their disgraceful conduct.
Pedro Pizano is the Strategy and Development Associate for the Human Rights Foundation and Global Media Liaison for the Oslo Freedom Forum. Follow him on Twitter and on Facebook.
Support HuffPost
The Stakes Have Never Been Higher
Related
Popular in the Community