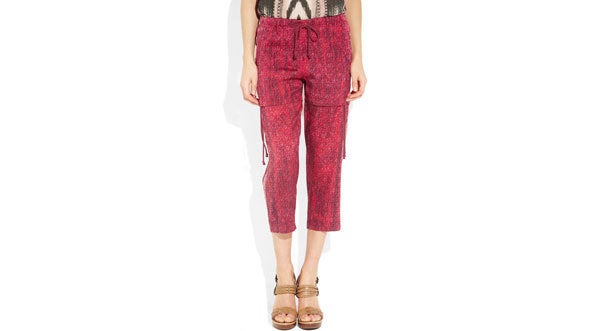 There are so many terrific and flattering summer style options for post-50 women that I often wonder why we insist on wearing things that simply don't look good on us. And I put the ubiquitous cropped pant -- at least those that hit us in all the wrong places -- top on the list.
When I first saw women wearing them a few years ago, I thought, "Oh, cute!"... until I tried on a pair, which made my, uh, well, certain areas of my body look a little larger than life, while my husband innocently noted that my legs looked half their normal length. Hmmm. Satisfied that at least I tried, I went back to my normal, below-the-ankle length jeans and linen pants in the summer, and assumed this fashion trend would soon disappear.
That's when I embarked on my "cropped pants study." I knew there had to be a certain length and cut to these pants that were modern and flattering. I was right.
Generally speaking, if cropped pants are a certain length, they can look dreadful, making us appear shorter and heavier, no matter what age, weight or height we are. Not good.
The good news, though, is there a length you can buy that is flattering, stylish, modern and very comfortable, which, at the end of the day, is really what it's all about. And the more comfortable you are, the comfortable you feel, which ultimately leads to being more confident.
Since spring is here, and summer is right around the corner, now is the best time to start thinking about your perfect pair of cropped pants.
Let's do a quick review of the options, including those that fall into the "steer clear" category:
The "don't wear unless you are stick skinny" (which shouldn't be any of us, and I know that's definitely not me) length is slightly above the ankle and flared, as in this photo: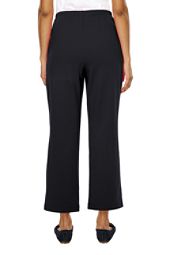 Do you see what I mean? The length and cut make this model look unnecessarily wide and frumpy.
Here's another example of a flared-at-the-bottom cropped pant. I'll let you be the judge.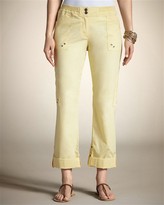 Okay, now let's take a look at another cropped pant option: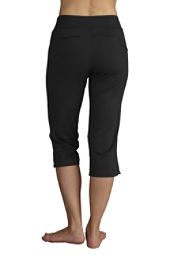 These pants are slightly below the knee, which is usually a more flattering length on just about everyone. Another plus is they don't flare out at the bottom, which is a fashion "yes" if they are regular length pants or jeans, but a definite "no" if they are cropped.

What to do if you have cropped pants like the "don't wear" ones above? Bring them to your tailor (your new best friend) and have them hemmed to the most flattering part of your leg... and that could even be right at your knee. And if they're the right length, but just flare out too much, your tailor can narrow them a bit. Or, donate them and start over.
When you find a pair that's just right, it might be a good idea to stock up in basic go-to colors such as black, white and tan.
Here is my favorite pair of cropped pants (from Theory), which I bought on-sale in both tan and white.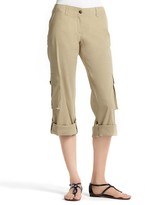 I live in these during the summer. Put them together with a white tee-shirt, a pair of flats or wedges and some silver bangles, and you've got the perfect warm weather outfit. Add a cute cropped jean jacket or snug cardigan (I live in the Merona Essential Cardigan from Target) when the temperature cools down in the evening.
Another great option, especially if you need to dress things up a bit, is a "city short," which comes down to that same point at the knee as our dresses and skirts should be (most flattering length). The best cut is fitted and straight, not pleated or puffed out around the thigh.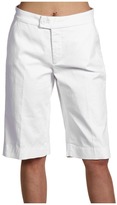 The look is as if you took a great fitting pant and hemmed it to the knee (which is, in fact, something you can do). A pair in black looks sexy and polished in the summer, as can white and khaki, and easily can be dressed up with a jacket or cardigan. Simply pair with kitten heel sling backs or wedge-heel sandals, a crisp white shirt or t-shirt, and wear it to work, dinner or a girls night out. You can even throw them on with a pair of Tom's loafers for a cool, easy and stylish look for day.
Pick up a few of these options (steer clear of those "no" cropped pants), several well-made t-shirts in different colors (including white), some big chunky bracelets and you'll be comfortable, cool and very stylish... all summer long.
* * *
Barbara Hannah Grufferman is the President of Best of Everything Media, Inc., author of "The Best of Everything After 50", a guide to positive aging, and is at work on her second book, "Fifty Rules: What Every Woman Needs to Know Before Turning 50" which will be published in late 2012. Visit www.bestofeverythingafter50.com for more tips on living your best life after 50. She can also be found on Facebook, Twitter, and Pinterest.
Popular in the Community