I just spent roughly 63 hours on trains from Washington, D.C. to Seattle and I did it for fun. Seattle was merely the destination printed on my ticket. My real destination was the way I got there: Amtrak's Capitol Limited and Empire Builder, two fine long distance services of the national passenger railroad.
There's certainly a faster way to make the trip. In fact, I flew back to D.C.
But lost at 35,000 feet is the ability to truly experience this vast country and its people. I read an edition of the Minot Daily News, met fascinating people from places like Rugby and Williston, N.D., slept in a comfortable roomette (Amtrak's most basic sleeping car accommodation) for 3 nights and ate (usually) delicious food with strangers in the dining car.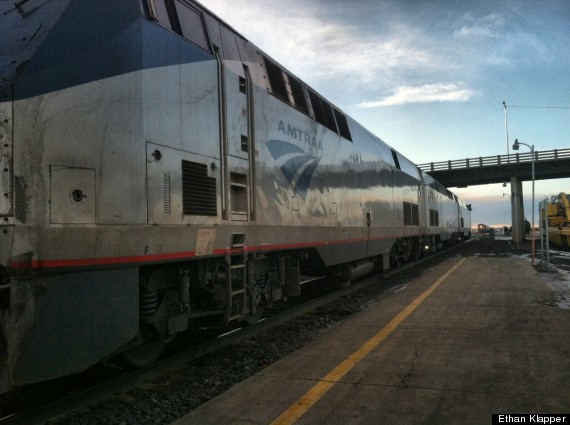 The westbound Empire Builder stops in Shelby,
Mont. (Scroll to the bottom for more photos.)
I got off the train for a few minutes during its longer stops in places I've never heard of. I learned the fascinating history of some of these areas. I even learned about the different pieces of farm equipment that could be spotted from the train as it zoomed by.
It's something everyone should experience and it's relatively inexpensive.
For some reason, trains have always fascinated me. I look forward to even the shortest trips between D.C. and New York, where The Huffington Post has its headquarters and where my family lives, on Amtrak's Northeast Regional and Acela Express. So last year, after 5 years of doing a few of these short hops a year, I decided to do something new. Last March, I took my first long distance train: The 780-mile, almost 18-hour Capitol Limited, between D.C. and Chicago. It was a great experience, I happened to run into a friend and colleague on the train, and I disembarked knowing that I would want to do something like this again.
Fast forward to this January. After a busy holiday season, due to Congress' schedule, I decided to do another long train trip during a month when fares are among the lowest of the year. I found a great deal on Amtrak.com to take the Capitol Limited and the Empire Builder in a sleeper car, and booked it right away.
A roomette on Amtrak is a small, private room with two facing seats that recline to a fully flat 180º, on which your sleeping car attendant places a small mattress with linen. There was room for my backpack and duffel bag, and not much more. A shared restroom is located down the hall; a shower was on the lower level of the bi-level Superliner (as Amtrak calls it) sleeping car. Larger bedroom options are also available.
Meals in the dining car are included when traveling in an Amtrak sleeper car; tips as well as food from the snack bar are not.
Each sleeper car has its own attendant, which is not an easy job. Unlike the train's conductors and engineers (known as the operating crew), who are not permitted by law to work more than 12 hours at a time, the on board service crew - the car attendants, dining car and kitchen staff and lounge attendant - stay with the train its entire way and get very little sleep. In the case of the sleeper car attendants, they could be responsible for the comfort and needs of more than 40 passengers at once.
My two attendants -- Phil on the Capitol Limited and Rolando on the Empire Builder -- approached their jobs slightly differently but provided superior customer service under less than ideal circumstances. In this case, Phil had to deal with a last-minute equipment swap and a broken hot water heater and Rolando was working with very little sleep due to a train derailment that forced his train to Chicago back to Seattle and caused Amtrak to book him and his fellow crewmembers onto a flight instead in order to work the train.
Amtrak Train No. 29: The Capitol Limited
The Capitol Limited is a daily train named for its eponymous predecessor, which was the premier train of the defunct Baltimore & Ohio railroad. It operates overnight in either direction, and is timed to connect with the arrival and departure of Amtrak's long distance trains that operate in the Western U.S.
Traveling westbound this time of year, the scenery is unfortunately limited. The sun sets shortly after the train crosses the Potomac River at Harper's Ferry, W.Va., about 90 minutes after it leaves Washington, making that the trip's scenic highlight. The train, while not full, was not empty either. My fellow passengers seemed to be a mix of inauguration-goers who stayed in D.C. a few extra days to take advantage of cheaper fares, attendees of the March for Life (which took place the day before) and a handful of people who just needed to get somewhere and didn't want to (or couldn't) fly.
Dinner, as with all meals in the Amtrak diner, was with some fellow passengers. I had a steak, which was delicious, while chatting with a math professor at a university in Illinois and two older women.
I went to sleep (though had some trouble sleeping) shortly after the train departed Pittsburgh around midnight and woke up just after our departure from Toledo, Ohio. Breakfast was French toast -- a railroad tradition -- with a woman who was rather quiet and a gentleman who was the exact opposite.
Due to the padding of schedules, we arrived into Chicago about 20 or 30 minutes early. As trains physically cannot make-up lost time en route (there's no breaking speed restrictions and no taking shortcuts), Amtrak adds extra time to the schedules of its trains to recover any lost time. On this day, the Capitol Limited did not need it.
I had about 6 hours in the Windy City, which was windy, cold and seemingly devoid of people this Sunday. My only adventure was a trip down the block for some delicious Chicago deep-dish pizza at Giordano's.
Amtrak Train No. 7: The Empire Builder
Amtrak's Empire Builder is a daily train that travels between Chicago and Seattle and Portland. Traveling westbound, as I did, train is split into two sections at Spokane, Wash., with one heading to Seattle and the other to Portland. Empire Builder was the nickname of James J. Hill, who built the now-defunct Great Northern Railroad into a giant. Great Northern first ran the Builder in 1929, with Amtrak assuming the route upon its creation in 1971.
Today, the Builder is one of two long distance trains that Amtrak has upgraded service on. Champagne was passed out to passengers in the sleepers upon our departure from Chicago, and on the second day, Rolando the car attendant did a wine tasting for us - I even walked away with a complimentary full bottle of wine!
Leaving Chicago a few minutes late, we traveled through an ice storm. There was something special about traveling in comfort and at full speed by rail while passing seemingly treacherous roads.
That night I had dinner with three other people traveling to various points in Minnesota. I noticed that few, if any people on this particular train were traveling the full distance. There was lots of traffic between Chicago/Milwaukee and Minneapolis and points in North Dakota and Montana and Seattle/Portland. The only sleeper car heading to Seattle (there was one going to Portland as well) never seemed fully occupied, save for maybe the second night when a large group of skiers boarded in Whitefish, Mont.
Speaking of the second day: It's a long one. I woke up in snowy Devils Lake, N.D., passed through Minot and Williston, N.D. (home of an oil boom). Shortly after the train crosses the Montana border, and save for a couple of fascinating-looking bluffs right at the border, the train spends the next 8 or so hours traversing a seemingly endless expanse of plains and farmland, which is not the most interesting scenery. I kept myself busy by reading, and there was the aforementioned wine tasting.
That night, as we passed through Glacier National Park in the dark (my one big disappointment was not being able to see the stunning scenery in daylight), I had by far the most interesting dinner I have had in a while. I was seated across from two brothers, older men originally from Williston. At least one of them was an oilman. He told me that he had the most to drink that day in 14 years. Despite his drunkenness, he made a good point about something on the minds of everyone in Williston: With the boom, everything became more expensive, from real estate to food. Many people who have lived there a long time can hardly afford to live there anymore.
The second night was mostly uneventful, save for the skiers who boarded in Whitefish and were drunk and loud, finding every public address announcement made by Rolando to be funny. Thankfully, they quieted down soon enough. Plus, the sleeping accommodations on these trains are surprisingly well insulated.
The third and final morning of the westbound Builder is spent mostly traversing the Cascade Mountains, which includes a slow journey through the 7.8-mile long Cascade Tunnel, the longest rail tunnel in the U.S. Six to 9 inches of snow had fallen overnight, and we had to proceed slowly. Despite the delay, we made up the time due to Amtrak's schedule padding and actually arrived in Seattle about 8 minutes early. Not bad!
As the focus of my trip was the train and not its destination, my stay in Seattle was brief. While there, I walked around Pike Place Market, and toured the Museum of Flight, which I highly recommend (you can climb aboard one of the planes formerly used as Air Force One!). The next morning I flew back to D.C. on Virgin America, via Los Angeles, a considerably faster way to make the trek back.
When I got to Seattle, I really did feel a sense of accomplishment. I had made it to the opposite coast, crossed three time zones and I got there without stepping aboard a plane or even exceeding 79 mph at a time. I had seen the country in a way that relatively few have gotten to since the introduction of passenger jets in the 1950s. I had met people I would not normally meet and even shared meals with them.
Seeing the country like this was worth every penny to me, and then some. I look forward to doing it again.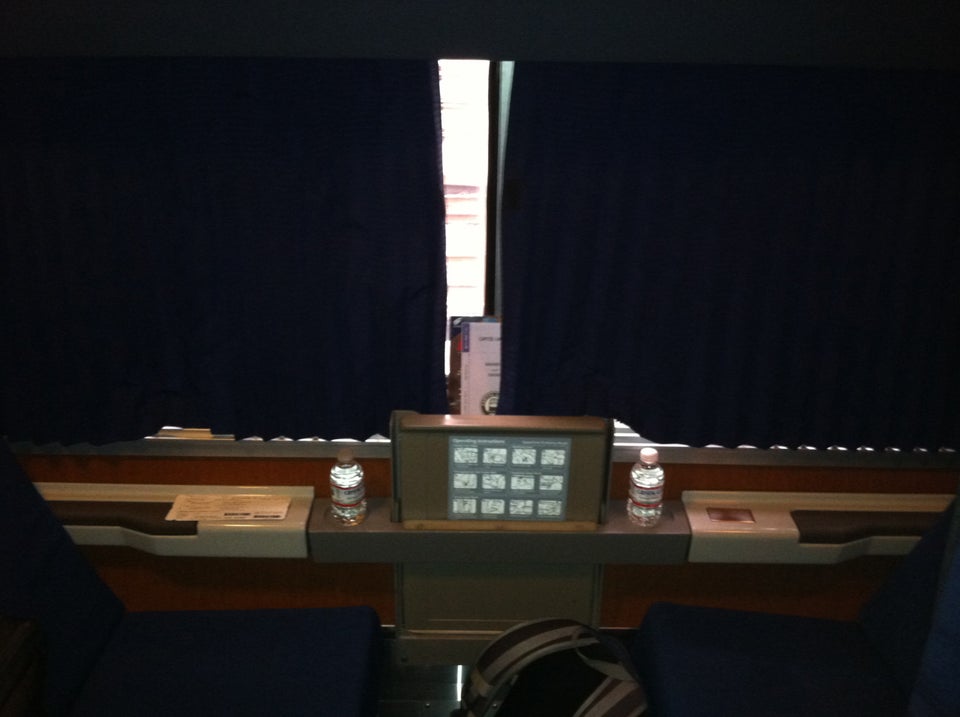 Across The Country With Amtrak
Popular in the Community