I entered this huge building 8:30 am on a Monday. As I was looking around me, a tiny Egyptian pyramid was the first thing that caught my attention. This setting was starting to intrigue my curiosity. I took two steps forward and saw a couple of pictures pinned on the wall of people brushing their teeth and others having food. I started to wonder even more when I saw a room that seems to be inspired by Russian culture. I stopped for a moment to think what this place could be.
Turns out I was at the headquarter office of AirBnb that is located at the heart of the city of San Francisco! Last month my fellow Palestinian entrepreneurs and I took a tour there, and the level of creativity invested in it amazed me. This visit made me realise that Airbnb aims to create a work environment that would reflect their business model in every single aspect, without having to get into long explanations, and to give you the chance to live the experience the moment you join their network, no matter who you are.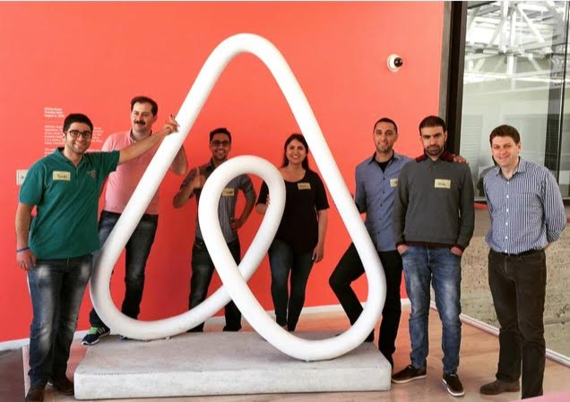 It's not difficult to see how exposure to different modes of thinking within the right ecosystem cultivates creativity and innovation. From the perspective of an outsider, this is a critical component of what makes Silicon Valley so special. There's a critical mass professional, motivated and entrepreneurial minds from a variety of disciplines that accelerates information sharing, entrepreneurship and success in the Bay Area to an extent that has mystified it to those living outside this microcosm.
Fortunately for a group of tenacious, budding entrepreneurs based out of Palestine, the US Consulate General in Jerusalem and Leaders Organization, the NGO I work for, have partnered to demonstrate the unique characteristics that together create the Silicon Valley. Twice a year we take Palestine's brightest entrepreneurs and immerse them in an intensive silicon valley experience, connect them with international entrepreneurs and facilitate a crash course in business strategy, entrepreneurship and innovation.
The Palestinian House in Silicon Valley has been sponsored by the U.S. Consulate General in Jerusalem for the past three years. The US Consul General in Jerusalem, Mr. Donald Blome, believes it to be "a major U.S. priority [...] to help move the Palestinian economy to a model of healthy and sustainable private sector-led investment, growth, and job creation. The Palestinian House in Silicon Valley is giving a group of bright, motivated entrepreneurs the skills and exposure to funding they need to create new and innovative companies that provide growth and jobs for the Palestinian people."

Mukul Agarwal, a managing partner at Bootup Ventures where we were hosted in San Francisco for the past three weeks, expressed the importance of being here, especially for those from developing countries: "Silicon Valley is the mecca of entrepreneurship," said Agarwal. "It is an eye opener towards disruption, in the way they promote entrepreneurship, communications building and the power of the network".
Entrepreneurs visiting the valley will acquire critical knowledge and then transfer the entrepreneurial spirit to their ecosystem. Although they might not have the same infrastructure, this experience would allow them to create it, so that other entrepreneurs would start building innovation around it. " I believe that Silicon Valley expands your horizon," added Agarwal, "It will allow you to look at things and problems for multi-dimensional perspective."
"It's valuable for Palestinian startups to come to Silicon Valley because it's a top tier market in the tech sector, easier to find talent with prior startup experience, potential acquirers are easier to meet and will be more likely interested in acquiring you. We are fortunate that our partners in the US Consulate General are just as committed to connecting Palestinian and American entrepreneurs. Their commitment is what enabled this program to run successfully and smoothly for the past three years and continue to create new opportunities for more Palestinian entrepreneurs" -- Mohammad Ibrahim, Leaders Organization representative in the United States.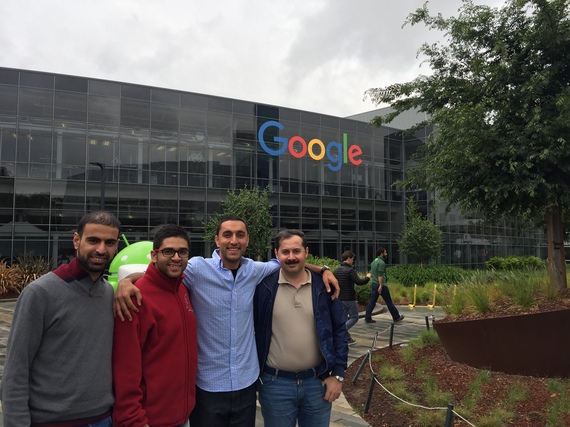 As our visit at the Silicon Valley came to an end, I was reflecting on those three weeks we spent. Touring in Google, Facebook, Airbnb and others headquarters in the beginning of our stay in San Francisco and seeing the amount of creativity and innovation invested in these companies got me even more excited for our short residency in Silicon Valley. It made me set high expectations for this experience. I hoped that, as I saw in Airbnb, bringing people from different backgrounds together with diverse knowledge and skill sets will maximise the generation of ideas and creativity. Fortunately, my expectations were exceeded as I saw our Palestinian entrepreneurs successfully integrating with others, being exposed to new perspectives, and generating innovative ideas or improving on previous ones they had.
REAL LIFE. REAL NEWS. REAL VOICES.
Help us tell more of the stories that matter from voices that too often remain unheard.