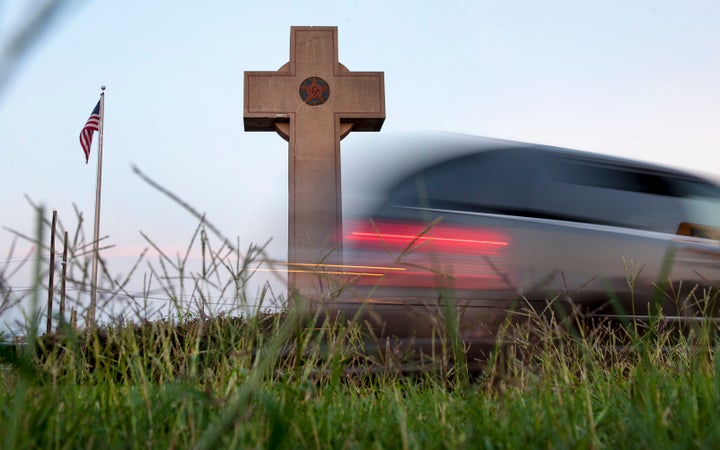 A Latin cross-shaped monument in Maryland built 90 years ago in memory of fallen World War I soldiers is an unconstitutional endorsement of religion, a federal appeals court ruled.
The U.S. Court of Appeals for the 4th Circuit decided in a 2-1 ruling Wednesday that the Peace Cross on a publicly owned suburban Washington roadside "has the primary effect of endorsing religion and excessively entangles the government in religion."
"The Latin cross is the core symbol of Christianity," Judge Stephanie D. Thacker wrote. "And here, it is 40 feet tall; prominently displayed in the center of one of the busiest intersections in Prince George's County, Maryland; and maintained with thousands of dollars in government funds. Therefore, we hold that the purported war memorial breaches the 'wall of separation between Church and State.'"
The monument's defenders vowed to appeal the ruling to the Supreme Court.
The American Humanist Association filed a lawsuit after residents complained of "unwelcome contact" with the Peace Cross and said they were "offended by the prominent government display," according to the ruling.
The monument was built in 1925 to honor 49 men from the area who lost their lives in the war. The words "valor," "endurance," "courage" and "devotion"are inscribed on its base, with names of the soldiers.
Many argued the monument is more of a historical landmark than an overt symbol of religion:
Public displays of religion often end up in court. This year, a federal appeals court ruled a New Mexico 10 Commandments monument at a city hall unconstitutional. In 2015, Oklahoma's Supreme Court issued a similar ruling about a 10 Commandments statue on statehouse grounds. Rutherford, Tennessee, was forced to remove the 10 Commandments display from the courthouse in 2004, but the sheriff was allowed to move it to his office.
Related
Popular in the Community