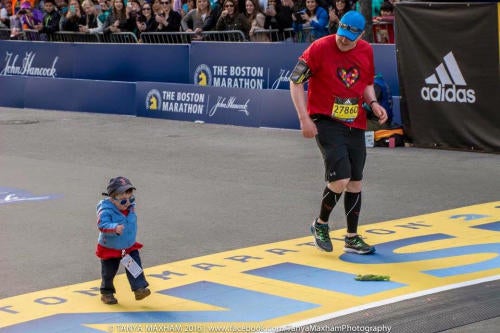 My favorite moment from last year's Boston Marathon was watching a proud father and his 2-year-old son cross the finish line together. The video is especially poignant, because the little boy will never have a chance to run a marathon. He has cardiomyopathy and needs a new heart.
The father, Scott Middlemiss, lost his first son, Joseph, to cardiomyopathy. On Monday, he will be running in the Boston Marathon for the third time in memory of Joseph and in honor of his surviving son, Jack, and other children with cardiomyopathy.
Scott is someone I admire for his courage and generous spirit. He joined the Children's Cardiomyopathy Foundation – an organization I formed 15 years ago – when Joseph was diagnosed at birth. Scott quickly became an informed and supportive parent within our community of affected families.
Over the years, Scott posted updates and shared videos of Joseph playing the drums and singing his favorite Beatles' songs. Joseph seemed to be the picture of health and a ray of hope to newly diagnosed families. If Joseph was thriving, their heart kids could, too.
Joseph appeared stable, but then he caught a virus his heart could not fight. Joseph died unexpectedly at 6 years old. Our cardiomyopathy community was in disbelief. It was a reminder to us all that we can not let our guard down with this unpredictable heart disease.
A common virus can be deadly for children with cardiomyopathy because their heart is already in a weakened state. Just this week, Jack, Joseph's younger brother, was in the hospital fighting a virus similar to the one that took his brother's life. It was a very distressing and frightening few days in the hospital for the Middlemiss family.
Cardiomyopathy is an extremely variable disease with a different presentation and outcome for each child. Research is vital to improving how children with this disease are treated. Through a multi-center study the Children's Cardiomyopathy Foundation funded, there is now a risk calculator that cardiologists can use to evaluate which high-risk children should be considered for a heart transplant after their diagnosis. Unfortunately, the study was published two weeks after Joseph's death. However, the findings have applied to his younger brother, Jack, who was placed on the heart transplant list shortly after his diagnosis.
Scott's Boston run will benefit the Joseph Middlemiss Big Heart Foundation, which he and his wife, Kate, started in memory of Joseph. Every year, they contribute to the Children's Cardiomyopathy Foundation in the hopes of advancing more life-saving research – research that could help their son Jack and the thousands of children living with cardiomyopathy.
I wish Jack could be with his dad at the finish line on Monday, but his health is still so precarious. Even though he is out of the hospital, he is still waiting for a new heart because there is no cure for cardiomyopathy. Having a chronic heart condition changes lives forever. Cardiomyopathy sidelines kids from too many activities and steals precious moments from families. This is what motivates Scott Middlemiss to run for a cure. I am grateful for his efforts in raising awareness of an underrepresented disease and for wanting to make a difference. Our cardiomyopathy community will be cheering for him as he runs on Monday and for little Jack to get the phone call about his new heart.