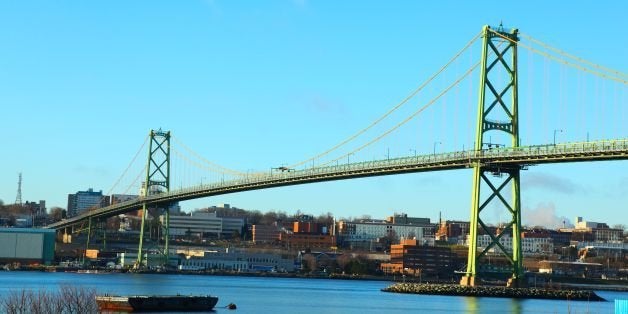 Late one autumn afternoon, in 1983, I drove my tired 1968 Rambler Rogue across the Connecticut River, as I did nearly every day. My dear friend and intellectual companion, Jonathan Diskin, was in the passenger seat, with an unlit hand-rolled cigarette in his left hand. We were on our way home, to Northampton, MA, after a day of hard intellectual labor at UMass-Amherst, where we were graduate students. A typical ride on a typical day.
As we crossed the bridge into Northampton, Barry Manilow's "Mandy" came on the radio.
A little background. "Mandy" was a #1 hit for several weeks in 1974 -- my sophomore year in high school. It was everywhere. It was ubiquitous. It was unavoidable. Nine years later, it still cropped up often -- on soft rock/easy listening stations, at the dentist, on the elevator, in the mall, and in the supermarket.
My high school friends and I didn't listen to Barry Manilow. We were cooler than that. We listened to Neil Young, Bob Marley, Bob Dylan, Aretha Franklin, Cream, Jimi Hendrix, The Who, James Brown, Traffic, Frank Zappa, Muddy Waters, Stevie Wonder, Joni Mitchell, The Grateful Dead, Marvin Gaye, and Woody Guthrie. Not Barry Manilow. Our music was meaningful and, as noted above, cool.
So when, at this moment in 1983, "Mandy" intruded -- yet again -- on my aural experience of the universe, I reflexively moved to change the station.
And then I thought, "You know, actually, I've always kind of liked this song."
I then endured a brief wave of anxiety.
I paused. I looked at Jonathan. And I confessed: "You know... I actually like this song. In a way." Jonathan looked at me. He was unshaven, with his cigarette now dangling from his mouth. In his backpack were books by Gramsci, Althusser, and Rosa Luxemburg, and an early REM bootleg tape. He raised his eyebrows, and began to laugh. A big laugh. A generous laugh. "Well, Timothy..." he said, "Today, I think, you are finally an adult. Turn it up! Let your freak flag fly."
And so I did. (My memory is that I hit that dramatic final note just right: "And I neeeeed YOU!")
When the song was over -- when the strings had finally faded out -- Jonathan turned to me and said, with a smile, "I'm proud of you, Tim. But please don't ever play that shit around me again!"
When my partner, Katherine - a very cool person, for sure -- and I became seriously involved, in 1999, it took me a while to muster the courage to tell her this story. I'm grateful that, when I finally came clean, she responded with characteristic generosity (and, also, a characteristic hint of mockery). I would come to learn, later, that Katherine knows all the words to all the songs in "White Christmas."
"Mandy" just rolled around on my device and, frankly, I've enjoyed it. With this essay, the confession tour continues.
And, what's more,.I've seen "Mamma Mia" three times.
And my middle name is Herbert.
Mandy -- she gave without taking. You have to admire that.
REAL LIFE. REAL NEWS. REAL VOICES.
Help us tell more of the stories that matter from voices that too often remain unheard.