In recent years, a residential feeling has been invading offices, and work has invaded the home... but apparently these cross-market influences aren't stopping there. Many more markets are beginning to influence one another, and with them the finishes, materials, and even experiences that users have within those spaces.
Mark Hirons and Meg Osman with Cannon Design, an integrated global design firm, recently shared their perspective about the increasing blending of markets. Osman, Executive Director of CannonDesign's Corporate Commercial market, said, "Data is driving our design decisions, and that is coming across all markets. Our workplace strategy teams are now being brought into higher education, healthcare, ambulatory care projects, which would have been thought of as outside of our expertise in the past. Now, what we are finding is that a lot of the same design principles we use in corporate are flourishing on these projects, too."
In some ways, retail has been on the leading edge. For the last decade, retailers have had to make a compelling reason to come to a physical store when shoppers can simply go online. Now we face the same challenge in other vertical markets, too. Why go to a classroom if I can go online? Why go to work if I can meet virtually? What retail was forced to understand before other verticals is that they need to make the physical location an experience. Shoppers must feel gratified, engaged, and enticed to go to the store. We now see increasing challenges in the recruitment of students, employees, and even medical practitioners, and that same mindset of engagement is equally critical to integrate into the design of schools, corporations, and healthcare facilities. In this online age, it is imperative that we reach an understanding of why people come to any physical location, then design those environments to celebrate and engage those consumer desires.
As we look to integrate this idea of an immersive experience, principles of hospitality design certainly come into play. Layer in the residential feeling of postures and materials that has been burgeoning in the workplace, and each of these vertical markets starts to feel, well, blurry. Hirons says, "Whether corporate, healthcare, education, or any other space for that matter, why will someone chose one space vs. another? What are you creating that makes me want to go there, work there, be cared for there, or learn there? This is what clients are realizing. Space is a 3D manifestation of your brand and becomes a strong statement about who you are."
Osman believes that this is one of the reasons their corporate commercial group has recently been invited in on an increasingly diverse portfolio of projects. "Many incredibly varied organizations still have similar goals. They are looking to attract the brightest and best talent, and then sustain them." Hirons adds, "We are exploring, researching, and dissecting the same things we would explore for office workers - circulation, collaboration needs, work functions, and technology - but now for scientists or healthcare practitioners. With this we are able to take our process from corporate design and apply the thinking to new and different markets."
The University of Utah is an example of applying CannonDesign's corporate commercial thought process to an academic environment. Osman says, "If we think about these young, entrepreneurial 'maker culture' members, then look at traditional educational facilities, they're not suited for one another at all."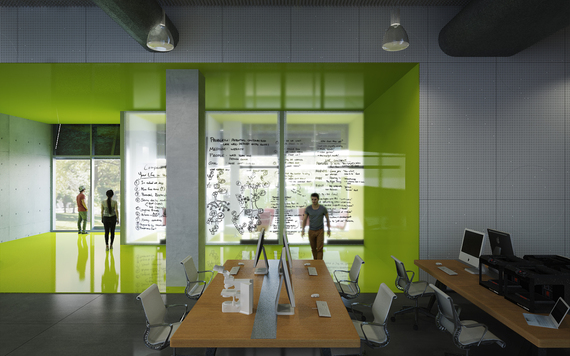 CannonDesign tackled this project with the idea of creating an environment to redefine entrepreneurial education. The first 400 recruits will occupy a brand new facility in the fall of 2016 called Lassonde Studios. This innovative building embodies student residences and 20,000 sf of "garage" space where any student on campus can build a prototype, attend an event, or even launch a company. The idea is that students can live, create, and literally launch companies from one space. A collaborative process between the design team, university leadership, student housing, business school representatives, and members of the Lassonde Entrepreneur Institute led to extensive design experimentation. The result is a nimble space built off of a flexible grid system, allowing the university to reconfigure rooms and expand as student needs change.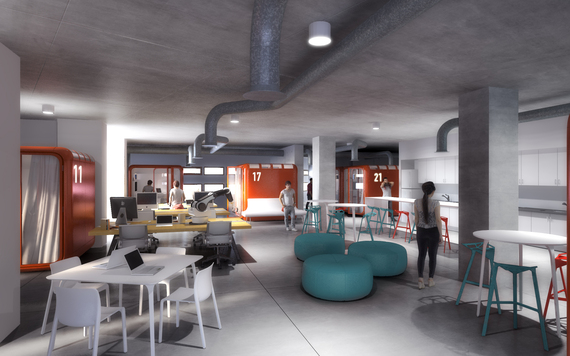 "Our goal is five years after it opens, it'll be an entirely different-looking building. Universities usually build something that lasts 50 to 100 years, but when you're an entrepreneur, things change rapidly." Troy D'Ambrosio, Executive Director of the Lassonde Entrepreneur Institute, says, referring to the flexible nature of the space.
CannonDesign also applied the corporate design process to the healthcare realm in the University of Minnesota Ambulatory Care Center. Hirons says, "What we do with any project is learn the unique organization's DNA and match that with appropriate products and applications to make the space work." In this case, the desire was to create a healthcare space as focused on the user experience as a retail environment or workplace, with the goal of not just creating a better experience for patients, but enhancing the recruitment and retention of staff as well.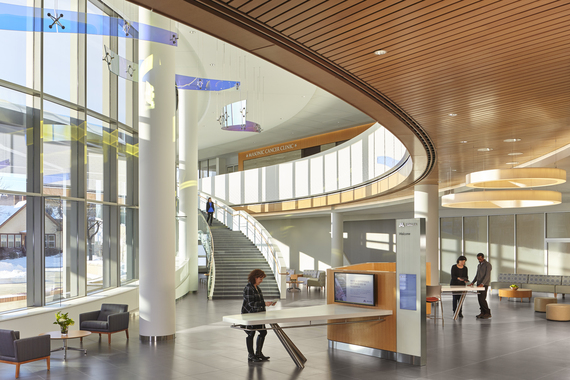 Hirons says, "In healthcare we begin to explore things like: How long is it taking to get to a patient? Where are the pain points in that experience? Again, the data can tell the story. Then we must ensure we are doing the right thing from a design standpoint while being fiscally conscious."
One of the concepts that helped to fuel the customer experience they wanted for patients was: the Apple store. Osman says, "When you walk in to this new ambulatory care facility, you are met one-on-one, with only an iPad between you and the check in staff, just like an Apple store. There are no more lines or waiting areas. Each patient is escorted directly into an exam room. The whole brand and experience of this new space will be totally different from any other ambulatory care facility. When you build in these warmer, inviting branded customer service experiences, people will choose this facility over another. No one wants to feel like a number, but this is the last place you want to feel like a number."
It's no secret that the pace of change is accelerating in every market. As we look to the future, perhaps blurring the lines between each of these once unique vertical markets will open the door for innovation through collaborative research between studios to achieve successful cross-market design.
Calling all HuffPost superfans!
Sign up for membership to become a founding member and help shape HuffPost's next chapter