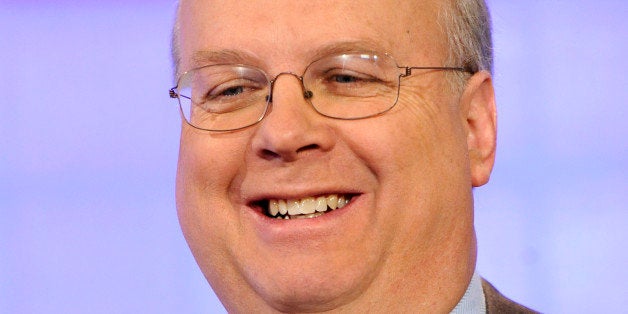 Crossroads GPS, the top-spending dark money nonprofit in the 2012 election, will report on Friday that it raised $180 million last year, according to the Wall Street Journal.
It had previously been reported that Crossroads GPS and its sister super PAC, American Crossroads, had together raised in excess of $300 million for the 2012 campaign. But the two groups, both co-founded by former George W. Bush adviser Karl Rove, hadn't disclosed the full amount of their respective hauls.
In total, the Crossroads groups raised more than $325 million in the 2012 election cycle -- more than all the spending by independent groups in the 2010 election combined. They spent a whopping $176 million on federal campaigns in the 2012 election, and Crossroads GPS spent an additional $89.4 million on issue advertising targeting campaigns for president, the Senate and the House.
Crossroads GPS is not required to disclose its donors because it is registered as a 501(c)(4) nonprofit. However, the tax filing obtained by the Wall Street Journal did list the amounts given to the group by individual donors, without listing their names. Overall, 291 donors made contributions to Crossroads GPS, with an average donation of $618,000. The largest donation from a single source was $22.5 million.
The Center for Responsive Politics reported on Thursday that two trade associations were among the donors to Crossroads GPS in 2012. The Alliance for Quality Nursing Home Care gave $500,000, and the AGC Public Awareness and Advocacy Fund gave $100,000, according to CRP. Politico also reported that casino mogul Steve Wynn was a major donor to Crossroads GPS.
The largest grant from Crossroads GPS was a $26.4 million gift to Grover Norquist's Americans for Tax Reform. Norquist's group spent $15.8 million on election activities in 2012.
Both Crossroads groups were founded within months of the Supreme Court's 2010 Citizens United ruling, which opened the door for corporations and unions to spend unlimited sums on independent political activity. A subsequent lower court ruling allowed in individual donors, too, and led to the creation of super PACs.
REAL LIFE. REAL NEWS. REAL VOICES.
Help us tell more of the stories that matter from voices that too often remain unheard.
BEFORE YOU GO
PHOTO GALLERY
Karl Rove Through The Years