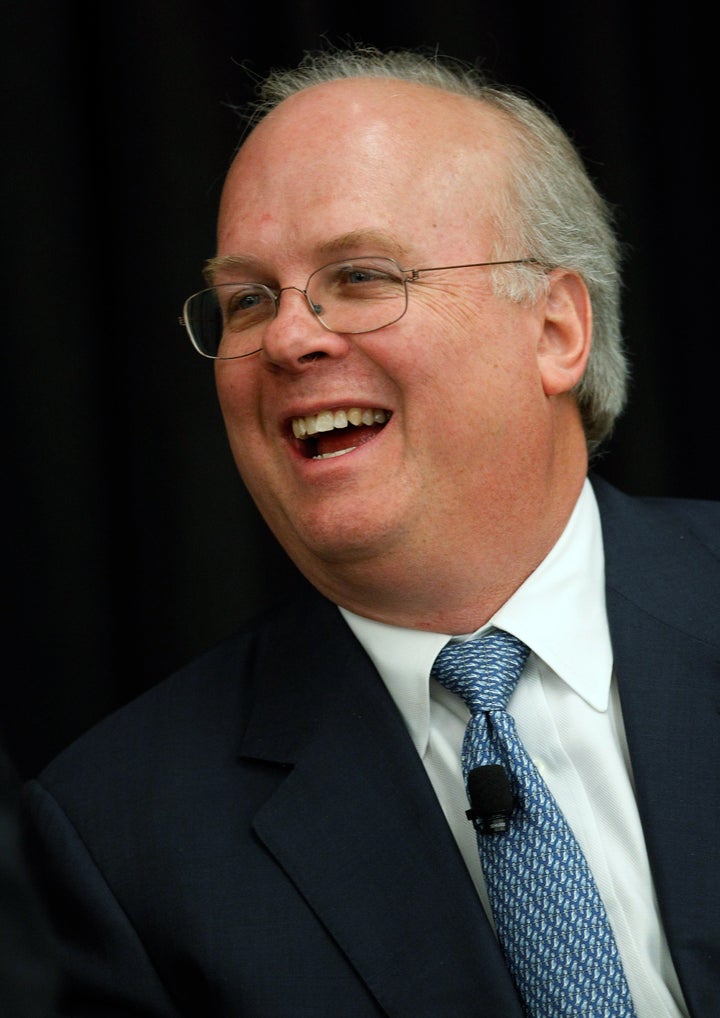 WASHINGTON -- The Internal Revenue Service should crack down on organizations that are soliciting anonymous tax-free donations for blatantly political purposes, two good-government groups demanded Wednesday.
Political organizations like Karl Rove-affiliated Crossroads Grassroots Political Strategies (GPS) have embraced 501(c)(4) tax status as a way to secretly funnel unlimited contributions from big donors into colossal political-advertising buys -- unleashing a flood of secret campaign money the likes of which haven't been seen since Watergate.
Unlike section 527 of the tax code, which was explicitly created for political advocacy groups, section 501(c)(4) doesn't require groups to disclose their donors. But that designation was intended for what are known as "social welfare" groups.
Furthermore, they say, many of the overtly political groups currently claiming 501(c)(4) status don't come remotely close to meeting even the existing standards -- Crossroads GPS being a prime example.
"If you look at the facts and circumstances here, you can't reach any conclusion other than that the overriding purpose of this organization is to influence elections," said Fred Wertheimer, president of Democracy 21 and dean of D.C.'s campaign reform community.
"They're in the business of electing Republicans and defeating Democrats," he added.
American Crossroads GPS has not yet been granted its 501(c)(4) status by the IRS, but it was one of several mostly conservative, often interrelated organizations that started reaping unlimited clandestine funds after the Supreme Court's decision in Citizens United vs. Federal Election Commission blew away caps on campaign donations established post-Watergate.
The group was so successful that it inspired copycats on the other side of the political spectrum, most notably Priorities USA, a Democratic group launched in the spring by former aides of President Barack Obama.
"Groups like Crossroads and Priorities, in our mind, are violating the existing regulations," Wertheimer told HuffPost.
IRS guidelines say social welfare groups "must operate primarily to further the common good and general welfare of the people of the community (such as by bringing about civic betterment and social improvements)." That explicitly "does not include direct or indirect participation or intervention in political campaigns on behalf of or in opposition to any candidate for public office," although a group "may engage in some political activities, so long as that is not its primary activity." Another IRS advisory states that 501(c)(4) groups "may engage in only limited political campaign activity."
The petition requests the commission to issue clear new regulations establishing precisely what type and level of campaign activity is allowable. And it cites language in the statute and in court rulings indicating that only groups operating "exclusively" as social welfare organizations qualify for the exemption.
"That means you can't do more than an insubstantial amount of campaign activity and retain your 501(c)(4) tax status," Wertheimer said.
The petition states: "In order to provide a clear definition of what constitutes an insubstantial amount of campaign activity, the IRS regulations should include a bright-line standard that specifies a cap on the amount that a section 501(c)(4) organization can spend on campaign activities."
And that bright line, the petition says, should be a low bar: "In order to comply with court decisions that limit spending for non-exempt purposes to an insubstantial amount, the bright line standard in the regulations should limit campaign expenditures to no more than 5 or 10 percent of the expenditures in a taxable year by a section 501(c)(4) organization."
Political groups organized as 501(c)(4)s currently take the position that as long as they spend 49 percent or less of their money on overtly election-related campaign activity, then they qualify for the tax status.
But if they do qualify -- which is far from clear -- it's by categorizing what they call "advocacy ads" on the "social welfare" side of their ledgers.
These advocacy ads might meet the Federal Elections Commission's narrow definition of what constitutes electioneering communication, but they are nevertheless overtly political; almost without exception they slam elected officials in swing districts.
Crossroads GPS spokesman Jonathan Collegio could not be reached for immediate comment Wednesday morning, but he has previously stated that his organization operates "comfortably within the guidelines set out by the IRS" for social welfare groups. "GPS invested millions of dollars in social welfare issue advocacy advertising before the FEC's 60 day reporting window last summer," he wrote in an email in May.
said Bill Burton, co-founder of Priorities USA, said he rejected "the argument that we are not an organization that is primarily dedicated to a social welfare purpose."
He denied that his group's purpose is to influence elections. "Our focus is on strengthening the middle class," he said. "Priorities USA was formed to help advance the middle class, and focus on issues that are important to middle class Americans."
The petition also calls on the IRS to explicitly rule out the increasingly common practice of 501(c)(4)s raising large amounts of money from anonymous donors -- then funneling that money to related 527 organizations, who can then spend it on campaign ads.
The petition calls for quick action: "The IRS must recognize the urgent need to prevent section 501(c)(4) organizations from being improperly used to spend hundreds of millions of dollars in secret contributions to influence the 2012 presidential and congressional elections," it states.
Wertheimer said he knows he is up against a long tradition of the IRS avoiding doing anything that smacks of political payback. And rulemakings can take years.
"But we're trying to force the issue," he said. "If they [the IRS] don't do anything, we'll have to look at what our options are."
Meanwhile, the money continues to pour in. The Wall Street Journal reported in March that Rove and fellow Republican strategist Ed Gillespie announced that Crossroads GPS and its 527 twin American Crossroads would be "raising $120 million in the effort to defeat President Barack Obama, win a GOP majority in the Senate and protect the party's grip on the House in the 2012 election."
Should groups like Crossroads GPS be denied their 501(c)(4) status, or have that status revoked, their tax problems could be considerable. Experts consulted by The Huffington Post have said they could suddenly owe the government a lot of money, either in taxes on donations received and/or or in the form of a hefty fine for violating disclosure rules.
And going forward, of course, they would have to disclose their donors.
WATCH Crossroads GPS's latest advocacy ad, then weigh in below:
This story has been updated to include further comment from Priorities USA co-founder Bill Burton.
Popular in the Community