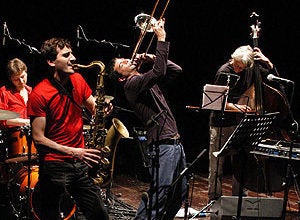 As autumn creeps in, I find myself scrambling to see as many live performances as I can, in the knowledge that just a few months down the road, when the temperature bottoms out and my blood has the consistency of a Slurpee, I won't be as keen on leaving the house.
And so I found myself at Jazz Showcase on a Wednesday night for a gig by the Maya Jensen Quartet -- Dan Tabion on piano, Jarrad Harris on sax, Charles Heath on drums, and the eponymous Ms. Jensen on upright bass. They're all young performers and seem to be keenly aware of the long shadows in which they toil; but when Jensen took the stage, she staked a claim -- and whether or not it was intentional, it was a stunner. The Showcase's backstage curtains (which frame an enormous, matinee-idol portrait of Charlie Parker) are a rich blood orange; and Jensen's spaghetti-strap, below-the-knee cocktail dress (she would've been right at home in an episode of Mad Men) was virtually the exact same shade. It was as though the curtains, and thus the whole stage, were set for her alone. The effect was riveting. Girl was stealing a march on Charlie Parker. Way to say "I belong here."
And the ensemble did belong. There was no timidity in the playing -- in fact the players felt sufficiently confident to begin trading in their very first number -- but there was admirable restraint as well. Great jazz players remind you of how exciting understatement can be, and while there were plenty of athletic runs in the solos (Tabion and Harris were in superb form), they were delivered with the kind of maturity you expect from musicians twice this age. With jazz legends, there's almost a sense of exhalation in the playing -- and surprisingly, the player who came closest to that was Heath, whose bravura solo on "Alone Together" had the kind of delicacy you'd expect from a woodwind.
The quartet was joined by a singer, Stacy Rene Erenberg, for two numbers; she had no trouble fitting into the groove. With a beautifully supple instrument and a gift for wry phrasing, she exuded cool the way a room deodorizer exudes spearmint. In fact, when she left the stage, all the cool seemed to waft after her; and for the remainder of the set the players were ablaze. Prior to this they'd stuck mainly to standards -- "If I Was a Bell," "Love for Sale," "I Didn't Know What Time It Was" -- but now they cut loose on some bebop classics, concluding with Sonny Rollins's "Oleo," which Jensen and Harris launched into at such blistering speed that I actually gripped the edge of my table. When the number ended, you could almost hear the squeal of brakes. Unfortunately I had to leave before the second set, but I can't help wondering how that went; quite possibly there was collateral damage.
Not quite a week later, all the way across town, I stopped by Katerina's for a late set by Tony Do Rosario -- the first in his "Jazz Guitar Sessions" series, which pairs him with a different partner on the second Tuesday of every month. For tonight's debut he was joined by Dan Bruce, as well as by bassist Nathan Kawaller.
Katerina's is a far more intimate room than the Showcase and I ended up seated right at the front, as I ran into two colleagues who'd snagged a table: Randy Morris, another guitarist, and Brian Buhman, a bassist. The hour was late and the atmosphere disarmingly private, like I'd walked into a living room instead of a club. I almost felt I should've brought a hostess gift for Katerina.
With one set already under their belt, the trio was well warmed up, sufficiently so to start the second with George Shearing's "Conception," a killer head that do Rosario joked you should avoid "if you want to keep playing music." Undaunted, he, Bruce and Kawaller plunged into it with all the élan of La Quebrada cliff divers.
They followed with Ornette Coleman's "Turnaround," and then, almost as a palate cleanser, to a couple of standards, "Darn That Dream" and "I Remember You," which they playfully unraveled like balls of yarn. And from there -- you could almost hear them cracking their knuckles beforehand -- they sallied forth into genius land, taking on Charlie Parker's "Dewey Square" and Thelonius Monk's "Monk's Dream."
The pairing of Do Rosario and Bruce was almost an iconic one -- in the way of, say, Superman and Batman. Two guys doing exactly the same thing, entirely differently. Do Rosario, one of the most lauded guitarists on the Chicago scene, is an animated performer, feinting and pivoting like a boxer; sitting down in mid-solo, being driven to his feet again by sheer energy; occasionally laughing in surprise at his own virtuosity.
Bruce, by comparison, maintained an almost Zen-like stillness; he barely moved the entire night. He seemed to be hinged only at the wrists -- or at most, during one of his astonishing solo runs, at the elbows. What made this contrast in performing styles so revelatory is that the actual sounds produced were so texturally compatible. For all the athleticism of his attack, do Rosario's playing glittered with fleetness and nuance; and for all the studied composure of Bruce's, he played with boldness and daring.
Kawaller more than held his own, and even threw down some solos the featured artists had to scrabble to live up to. He so relentlessly kept things swinging that you had to wonder what might conceivably stop him. The roof caving in, possibly. It would depend on how much roof.
During one of the breaks, Brian flashed his new iPod Touch and demo'd some of the apps. I became aware that my jaw was hanging slightly open. I know this is journalism I'm engaged in here, I'm not supposed to stoop to product promotion. But dang. I'm just sayin'.
Jazz Showcase is located at 806 S. Plymouth Ct; see its upcoming schedule at www.jazzshowcase.com. Tony Do Rosario's Jazz Guitar Sessions occurs the second Tuesday of the month at Katerina's, 1920 W. Irving Park Rd. Katerina's web site is www.katerina's.com; Do Rosario's is www.tonyguitar.com.

REAL LIFE. REAL NEWS. REAL VOICES.
Help us tell more of the stories that matter from voices that too often remain unheard.