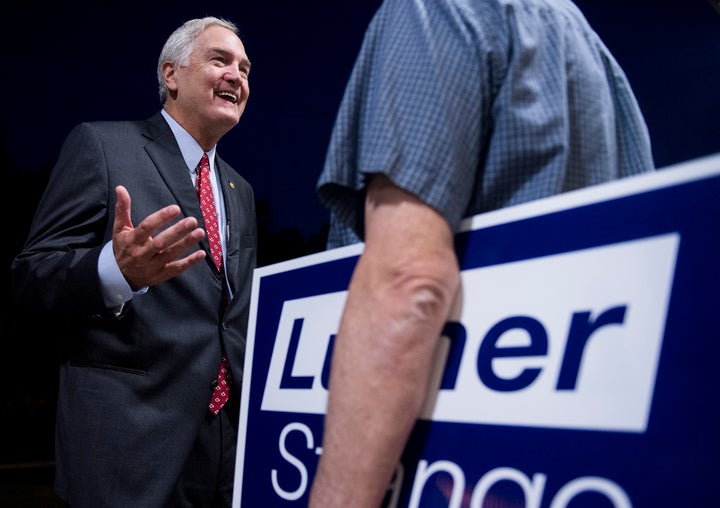 Nineteen candidates are contesting tomorrow's primary for Attorney General Jeff Sessions' old seat as U.S. Senator for Alabama, but few have made an impression on Alabamians.
Current Sen. Luther Strange (R-Ala.) is miles ahead in terms of money raised. Strange, formerly the state's Attorney General, was appointed to the Senate in February by Alabama Gov. Robert Bentley, who has since resigned in scandal. As of July 26, Strange has raised more than $3.2 million for his campaign — six times the amount of his closest competitor. Two-thirds (almost $2.2 million) of Strange's total campaign funds have come from large individual contributions, and nearly all the rest ($916,000) has come from PACs. With such a large pool of donations, Strange has been able to spend more than $2.2 million, with most of that money going toward ads.
Rep. Mo Brooks (R-Ala.), who currently serves Alabama's 5th District in the House of Representatives, has raised the next highest amount with a total of about $540,000. Brooks has also received a majority of his funds from large individual contributions. Since he already had a campaign account to draw on, Brooks has been able to spend almost double what he has raised, with a disbursement total of nearly $940,000.
Another frontrunner, former Alabama Chief Justice Roy Moore, raised just under $460,000 as of three weeks ago. Moore, a favorite of Alabama's evangelical voters, was suspended from his position as chief justice of the state's Supreme Court in May 2016 after refusing to comply with the U.S. Supreme Court's nationwide legalization of same-sex marriage. Moore has had the most success with small donors, but still received 65 percent of his money from large individual donors. Unlike Brooks and Strange, he reports receiving no contributions from PACs. So far, he has spent roughly $286,000 while campaigning for senator.
Strange, Brooks and Moore espouse similar policies but differ in their branding. With support from his colleagues in the Senate, Strange has become the establishment candidate, raking in nearly all the PAC money. Brooks also has a Washington flavor to his campaign because of his experience in the House, but portrays himself as the conservative alternative to Strange. Moore, the only frontrunner who has not worked on the Hill, has had an anti-Washington theme to his campaign.
The three Republicans have also fought to prove who is most loyal to President Donald Trump. Ultimately, Strange received Trump's endorsement. Strange has also been the favorite of Mitch McConnell's super PAC, the Senate Leadership Fund, which has spent more than $2.7 million in support of Strange and against Brooks and Moore.
A majority of the SLF's spending has been dedicated to attack ads. Over the past month, SLF has produced 10 ads related to the Alabama special election, according to its YouTube account. Seven of these ads have been attacking Brooks, capitalizing on clips of him saying "you can't trust Trump with anything he says" and that people who voted for Trump will regret it. The two ads targeting Moorewere focused on his six-figure salary as chief justice. The 10th, and most recent, ad is a six-second clip about Trump's endorsement of Strange.
Brooks has defended himself against these SLF ads, saying he does support Trump and even donated $2,500 "to help President Trump Win." However, this is slightly misleading, as Brooks' leadership PAC donated to the Republican Party of Alabama, not Trump's campaign. According to the Center for Responsive Politics' Donor Lookup database, Brooks also made a $5,000 donation to the state GOP from his own pocket.
Of the other 16 candidates, only three have raised over $100,000, and seven haven't even filed an FEC report. One of the seven unsuccessful fundraisers is Mary Maxwell, a Republican who moved from Australia to Alabama just to campaign for the open Senate seat. Despite living internationally for the last 40 years, Maxwell meets all of the requirements to run: She is at least 30 years old, she is a U.S. citizen, and she has lived in Alabama for at least one day.
It has been 20 years since Alabama last had a Democratic senator, and Trump won the state last November by almost 30 points. As a result, the focus in this election has rarely strayed from the Republican candidates. Even though a Democratic victory is a long shot, Soren Jordan, an assistant professor of political science at Auburn University, said the lack of interest from the national Democratic Party is still "pretty astonishing."
As with Democrat Jon Ossoff's expensive, ultimately unsuccessful, campaign in the Georgia 6 special election earlier this summer, Jordan said he expected the Democratic Party to also pick a favorite in the Alabama election. But they have yet to do so, and without national support, the Democratic candidates have struggled to keep up.
"This [election] is really the last gauge for either party before the 2018 season really heats up," Jordan said. "But Democrats don't really seem to be treating it that way, allowing a field of (admittedly long-shot) candidates to run through the primary with little cohesion or direction."
The top fundraiser for the Democrats in the Alabama Senate race is former U.S. Attorney Doug Jones with less than $288,000. Jones was recently endorsed by former Vice President Joe Biden. The other four Democratic candidates who have raised money are even farther behind, each with totals under $30,000. One of those candidates, however, has led Jones in several polls thanks to name recognition: Robert Kennedy Jr., who is unrelated to the more famous Kennedy family.
The Democratic and Republican primaries on Aug. 15 will trim down this long list of candidates. If no candidate for a party receives more than 50 percent of the vote, the top two from that party will take part in a September run-off election to determine the nominees for the general in December.
Jordan said it is highly unlikely any candidate will garner more than 50 percent. Moore was at 35 percent support in a poll by the Trafalgar Group on Aug. 11, with 17 percent still undecided, according to The Hill. Strange was well behind at 23 percent, with Brooks still in the running at 20 percent.
If Moore and Brooks are able to freeze Strange out of the run-off, the senator would become a lame duck. "If Strange isn't up in the general, or even in the run-off, he becomes a potential target for Senate Democrats looking to build bipartisan solutions to health care, tax reform, and a host of other policy issues," Jordan said.
Turnout for the primary elections on Tuesday is not expected to be high. Without a presidential election on the ballot to boost interest, the primaries will most likely see about 20 to 25 percent of voters participate, according to Alabama Secretary of State John Merrill. An ordinary primary in Alabama tends to have 30 to 32 percent voter participation.
REAL LIFE. REAL NEWS. REAL VOICES.
Help us tell more of the stories that matter from voices that too often remain unheard.