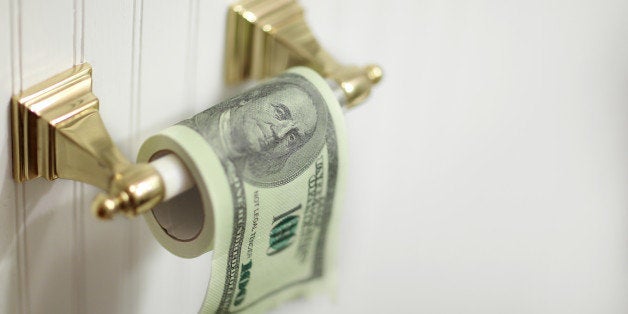 People everywhere are using crowdfunding sites like GoFundMe and Kickstarter to raise money for start-up businesses and social causes.
Users can visit their pages and "pledge" money. In return, they often get rewards, such as a personal note or a mug.
But there's a growing trend towards crowdfunding personal lifestyle choices, like luxury cars, lavish weddings, extravagant honeymoons and dream vacations. Even nose jobs and breast implants!
What's wrong with people? When did it become okay to pimp total strangers for large sums of money?
Parents are even starting to lose their minds by crowdfunding their kids' birthday parties.
Forget living within your financial means. Now you can one-up the Joneses by using their money to move into a larger home in a better neighborhood with a bigger yard. Perfect for that 5-in-1 combo Moon Bouncy Castle you've been wanting to rent! 
It's like winning the lottery. Money's practically falling from the sky. So I've been thinking, if everybody's so ready to throw their cash around, what do I want and what would I give in return?
My mortgage
This interest-only bs isn't cutting it. Help fund my principal payment. In exchange I'll send you a bushel of zucchini from my garden. And my neighbor's garden. And my neighbor's neighbor's garden.
Private middle school
Enough of the whole slumming it at public school thing. Help fund my son's private middle school education. In exchange I'll send you the crust from my picky eater's turkey sandwich.
College
Since you're paying, we're going to have a fourth kid and we want each of them to have a college education. Help fund their tuition. In exchange I'll send you a bill for their housing and books.
A weekly housekeeper
I'll likely be too busy managing all of my crowd funding campaigns to clean my house. Help fund my housekeeper. In exchange I'll send you a family of dust bunnies and the lint from our clothing dryer.
A built in pool
Even though we'll probably never use it here in Seattle, it's quite the status symbol so why not? Help fund my Olympic-sized pool, equipped with a swim up bar, naturally. In exchange I'll send you a beach towel that says "I'm here to make you all look smart."
A private island
Sometimes a family just needs to get away to a place where they have manservants willing to wait on their beck and call. Help fund my private island. In exchange I'll send you the miniature umbrella from my fancy cocktail.
Allowance
We reserve the right to increase this amount at any time, in accordance with inflation and our children's motivation level. Help fund my kids' monthly allowance. In exchange I'll send you a snapshot of my 7-year-old picking up dog poop.
Braces
We'll happily cover the cost of saltwater taffy and caramel apples. You help fund my kids' orthodontic work. In exchange I'll send you a free sample of his acne medication.
Bar/Bat Mitzvahs
Help fund my kids' Jewish coming-of-age ceremony. In exchange I'll send you an invitation to attend. Note: You'll still need to bring a gift. Otherwise it's just rude.
Retirement
Lord knows we won't be able to count on our kids with their penchant for holding out their hands and their complete lack of work ethic. Help fund my retirement. In exchange I'll stop asking you to fund things.
While it's fun to think about my wish list, If I ever really create a campaign for any of these things please come kick me in the knee, hard, and steal my wallet. Because I'll totally deserve it.
How about you pay for your own kid's birthday party? In exchange, I'll pay for mine.
Calling all HuffPost superfans!
Sign up for membership to become a founding member and help shape HuffPost's next chapter